Longtime readers know that one of the joys of summer, for me, is my little backyard garden. What started years ago with a few containers on the deck has steadily expanded into a series of boxes where I spend half my July wrestling with vines that need to go UP THE TRELLIS, dammit, UP.
Some plants I grow from seeds. Zucchini, for example, is perfectly happy when you stick a seed in the soil and then completely ignore it for the next two months. Provided you do anything less traumatic than run it over with a car, zucchini will happily flourish until you have zucchini muffins coming out of your ears. (Or until you make zucchini fritters for dinner, like I did last night. Monkey's comment: "YUM! These taste just like FRENCH FRIES!" It only took two cups of oil to find a way he likes zucchini, folks.)
Other plants, I go to the garden store and buy little ones, either because growing from seed is complicated or because I'm lazy. This year Otto was headed out to run some errands around Easter and I said, "Can you pick up a few tomato plants? I forgot to start seeds so we may as well."
"Sure," he said, because he is swell. "What kind do you want?"
I hemmed and hawed. We've grown a lot of different varieties, and let's face it: if you like tomatoes, is there any such thing as a BAD kind when you've grown it in your backyard? I say no. So I kind of waved my hands around and suggested he "use his judgment."
Uh. That may not have been the best word choice, especially given that Otto was primarily going out to buy tools, and was in full MANLY MEN NEED BIG THINGS mode.
He returned with four plants. Please note for the record, ladies and gentlemen, that NONE of them were either Romas or San Marzanos, which is a shame because those are really the best for freezing/canning/saving for later. Also, none of them were a cherry tomato variety, which means I cannot have the unparalleled joy of catching Monkey out in the garden, stuffing fruit off the plants into his cheeks like a chipmunk. But okay, that's fine. What did he get, instead?
He bought Goliaths. Why? "They looked good."
Had Otto given any thought to why these tomatoes are so named? Well, no, he hadn't. GUESS why they're called Goliaths! Go on, guess!
If you guessed "because they are giant-ass plants which bear humongous, mutant fruits" you are CORRECT!
I'm not really set up for plants this big in my little boxes out there, but I'm doing the best I can. He bought the plants, I planted them, and I'm determined to keep them alive and thriving. Which means I spend a goodly portion of each day inserting new supports, tying up branches which are collapsing under their own weight, and randomly declaring, "Holy CRAP, check out the SIZE of that thing!"
In the end, though, Otto wins. He always does.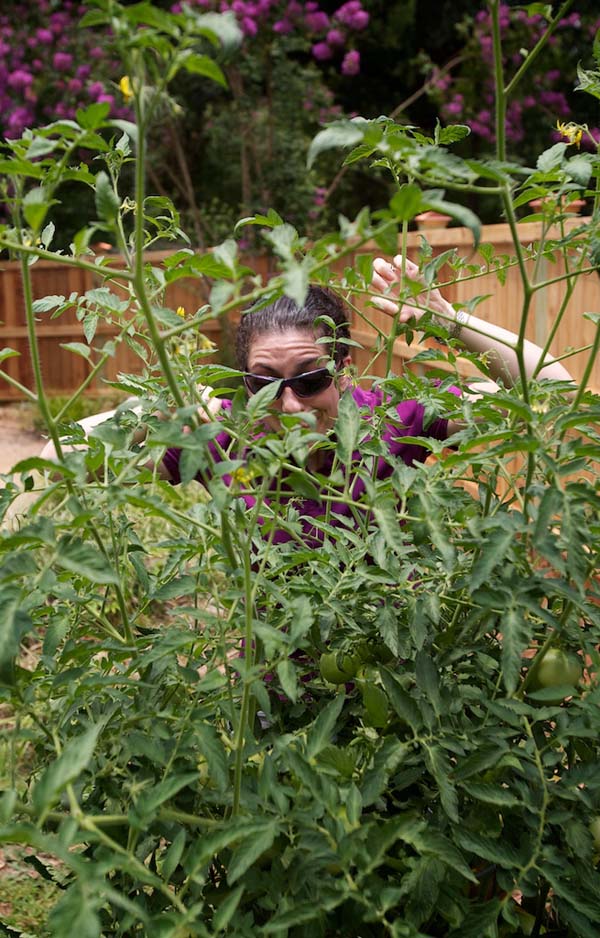 Here I am looking extremely attractive, waving my arms like a lunatic and growling at Otto from behind one of the plants. (For reference: I am exactly five-and-a-half feet tall and I am STANDING ON MY TOES in this picture.)
The occasion for today's tomato-fest is that the first one is finally ripe. I picked it, and I didn't even break my wrist.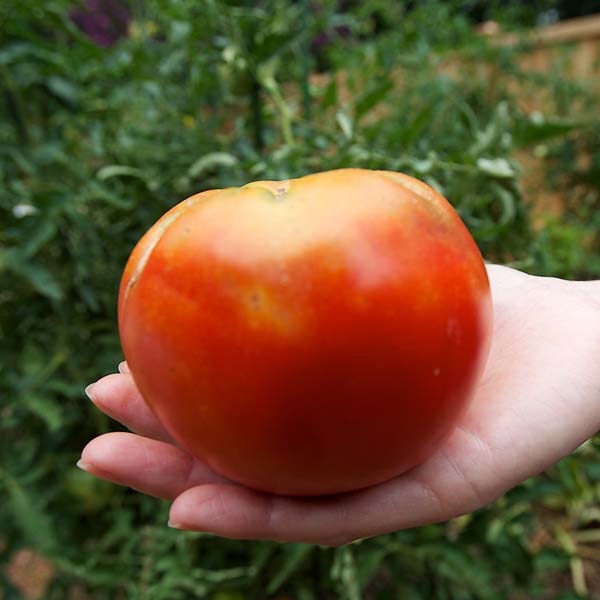 Um, what am I supposed to do with this? Especially when I have about two dozen more that are going to be ripe next week? TOMATO SANDWICHES FOR EVERYONE!
Otto stared solemnly at the tomato in my hand and finally said, "It's the size of your BRAIN!"
"You're smarter, though," he added, lest I take offense.
I wasn't offended. I mean, that tomato is pretty impressive, but it's still just a tomato. What are the chances of them becoming sentient and killing us in our sleep? Really small, right? RIGHT??