I thought there was nothing I like better than when a reader so totally gets my family, they feel the need to call my attention to something that would make us happy.
Alert reader Jamie did just that: She emailed me earlier this week with this link to say she was thinking about me. In case you don't feel like clicking, that leads to this little DIY gem: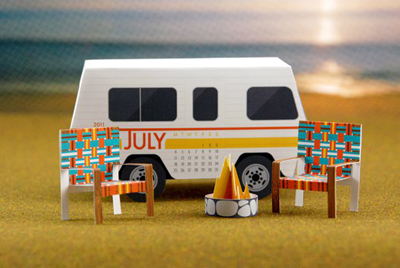 Awesome, right?
I immediately thanked Jamie, printed out the necessary images, and delivered it to Otto with a flourish. "I have a project for you!" I declared. Otto chuckled and set to work. Just a little bit later he presented me with his finished creation.
Yesterday, Otto and Monkey were out, and Chickadee came into my office and asked if she could have some card stock. "What for?" I asked, because I am a mom and forever asking stupid questions like that.
"You'll see," she said. "You'll like it, I promise."
I gave her the card stock.
A little while later she returned, told me to check my email, and then asked me if I could print what she'd sent me. I started laughing, but I printed it for her, and she then invited me to Otto's office to see what she'd done.
It turned out to be this:
See, the original scene didn't look enough like OUR camper. For one thing, it didn't have our awning or flag. For another, what's camping without Licorice and marshmallows? Exactly. Chickie then made me promise I wouldn't say anything, but just let Otto find it later.
Lately Chickadee has been kind of giving Otto a hard time. I'm not sure what's going on, but I think it's equal parts of "now that I'm sure you're not going anywhere I'm going to be just as obnoxious to you as I am to my mother," "I just spent two weeks getting fed the message that you're an interloper" and "I'm a 13-year-old girl and therefore clinically insane most of the time." Whatever the cause, I know it's normal, but it still drives me crazy. I just want the people I love to be nice to each other, IS THAT SO MUCH TO ASK? (The answer—as anyone with more than one kid knows already—is: Yes.)
But every now and then I get a nice little reminder that actions speak louder than words.
I can live with that.