We're packing up and heading home; as always, this trip has had its ups and downs, but it's still bittersweet to close up the camper and hitch up and drive back to everyday life.
As I walked through the campground this morning, I chuckled (as I always do) at the different things people do to personalize their campers. There's all sorts of signs ("The Smiths Second Home!" and "Kick off your shoes and grab a beer!" and such) and strings of lights and even hanging plants and lawn ornaments. Our camper is bland by comparison. But we do put up our flag as soon as we park, just as a reminder of what we, as a family, stand for.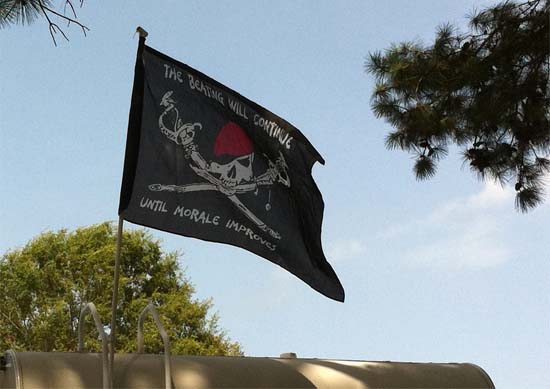 (It either means that the family that laughs together stays together, or that rotten children should totally look out. I can never remember which.)
Happy Love Thursday, everyone. Whatever form love takes for you and yours, don't leave home without it.