Another object lesson in love:
Owning a dog with hair rather than fur means that she must be groomed on a regular basis, which is both expensive and—for my particular dog—traumatic. But a little black dog in the south needs to be clipped if she's going to avoid heat stroke. Generally speaking, Licorice is just relieved to get sprung at the end of her beautifying, and my lavish affection about what a pretty girl she is and how delightful-smelling she's become is its own reward. Or something.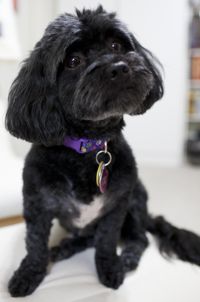 For some reason, however, after yesterday's grooming appointment, we came home, as usual, and I praised her and smelled her sweet-smelling head, as usual, and Otto played some ball with her, as usual, and then Licorice puked all over the futon in my office. Not usual, and also really disgusting. But at least she managed to get it all over her belly, too.
I don't think she's sick—she's a delicate flower with a nervous stomach, dontchaknow—and she endured the combo sponge/sink-bath I gave her (less than an hour after paying someone else to wash her) and looked very guilty while I scrubbed the futon. She still smells vaguely off.
And I love her anyway. She's an expensive, troublesome, unsanitary pain in the ass, but LOOK AT THAT FACE. Exactly.