I find camping very relaxing. It is only while camping that I do not feel guilty sitting down with a novel and devouring it in one sitting. At home there's always something that needs cleaning or otherwise attending to, whereas at a campsite, I consider reading and napping to be the two main categories of strenuous activity.
The children, however, do not have a need to loll around and relax. They scoff at relaxing! They are plenty relaxed! They are so relaxed, they need to poke at each other and run around in circles, and then THAT will be considered calm in comparison to what comes next, which is generally the Whining Olympics of She Took That Shell I Found Well He Won't Stop Humming In My Ear, etc. They are so relaxed that they would like to go swimming now, please, and have a snack now, please, and by the way, when are we going to see Boatguy?
You may remember Otto's friend Boatguy from our trip last year. He graciously towed my kids all over the lake, and the kids remembered that he is WAY more fun than me and Otto. Fortunately, he was there, too.
Even better, this year his son and his son's friend were there, too, so BONUS—extra kids!
[Aside: What the kids remember from last year is the tubing. As we prepared to go out on the boat the first time, this year, I said, "WHAT IS THE NUMBER ONE RULE OF BEING ON THE BOAT?" and Monkey obediently replied "Wear a life jacket!" But Chickadee knew exactly what I was thinking of—she grinned and yelled, "Grab the ropes!" so I had to throw her punk self overboard. Too bad the boat docks in what is only about two feet of water at the shore.]
Two kids on a tube is fun, but FOUR kids on a tube is complete mayhem, so naturally the entire gaggle of them did multiple runs that way before they decided that maybe just three would be a little bit better. I'm afraid my delicate bird-like offspring were getting a bit battered by the other two boys; both of these nine-year-olds were bigger than Monkey (at 11-and-a-half), and one of them outweighed Chickadee, too. Nevertheless, as the oldest and the only girl, Chickadee played the Regal Queen card for all she was worth, insisting the boys let her be in the middle of the tube whenever she was out, and then agreed without argument—Monkey, because he nearly always cedes to her wishes, and the other two boys because I suspect they feared she might cry or otherwise leak cooties on them if they refused. This meant that Chickie rarely got thrown from the tube (it's the kids on the edges who are most likely to get flung), and once she did, she decided to ride in the boat for a while.
And that, of course, is when the real fun began. With just the three boys on the tube, Boatguy took them on a wild ride. Then clung for dear life, but sometimes, dunking is inevitable. Call me a sadist, but I never tired of scenes like this: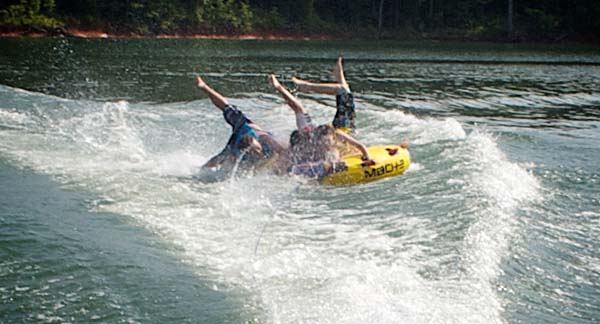 And believe you me, the kids slept well that night.
Of course, once we got home yesterday, the kids slumped in front of the television, happy and relaxed, while Otto and I unloaded the camper and did a bazillion loads of laundry and dishes. I didn't find that terribly relaxing, but last night, having it all DONE and then sleeping in my own bed… well, that was. Particularly with memories of watching my children pinwheeling across the lake after losing their grip on the tube. Heh.
So, given that I didn't post much this long weekend, I have a twofer for you today! Not only do you get that picture of the boys doing lake ballet (ha!), you also get a new post from me at Off Our Chests. Come on over and check it out, won't you?