The children have been out of school for a day and a half, and already the dog has gone completely insane.
To be fair, there's a crew here working on the new fence, and when you are a 12-pound vicious guard dog that requires a lot of running back and forth from one end of the house to the other, barking and whining, just in case the pounding and trucks in the yard hadn't yet alerted you to the fact that INTRUDERS are AFOOT. The fact that said intruders are hard at work erecting a dog run for your spoiled furry ass is apparently not a deterrent to this behavior, by the way.
But even yesterday, before the banging and clanging began, the dog was already on the edge of clinical insanity. I suspect that she—like me—goes off the rails pretty quickly when her sleep is disturbed. And when the kids are at school, she sleeps almost the whole time. Now that they're home? No such luck.
[I typoed that at first as "no suck luck," which is all kinds of wrong because truly, it IS suck luck.]
Instead of spending the day burrowed under the couch in my office, snoring and dreaming of chasing squirrels, Licorice is now subjected to a endless stream of daily indignities. Like, Monkey is perfectly happy to sit down on the couch, bend forward until his face is upside-down in front of her, and then grab her and pull her out from her cave. Chickadee, on the other hand, will simply fling herself to the floor and scooch, worm-style, until she's worked her way under the couch WITH the dog, who eventually flees in terror.
Once awakened, the dog then wants the children to adore her, as is her right as Princess Fluffybottom Spoiledkibble. But GUESS WHAT? Once the child in question has poked her, woken her up, displaced her from her cave, and teased her for a bit, that same child is generally all "Licorice, stop jumping on me" and "This is MY breakfast, Licorice" and "It's not my turn to take the dog out!" And then the dog is all LOVE ME FEED ME TAKE ME OUT TO PEE and the children mysteriously vanish in a cloud of whining and GUESS WHO is left to tend to the dog?
My efforts to stuff her back under the couch don't always succeed, I can tell you that much.
And yesterday Chickadee thought it would be nice to take the dog down to the pond with her, which was SUPER EXCITING for Licorice until she… well, reports are a bit fuzzy, but apparently a "little drink" turned into a "little swim." And that's all good and well, but it turns out that if you come back to the house covered in swampy pond mud, you're going straight into the kitchen sink for a bath. OH THE HUMANITY.
So now the dog is racing through the house, protesting the racket outside, trying to steer clear of sticky fingers inside, and hoping against home that someone, somewhere, will eventually give her something to eat. Because if there's one thing she knows even more surely than that the INVADERS outside must be SCARED OFF, it's that she hasn't eaten in far too long.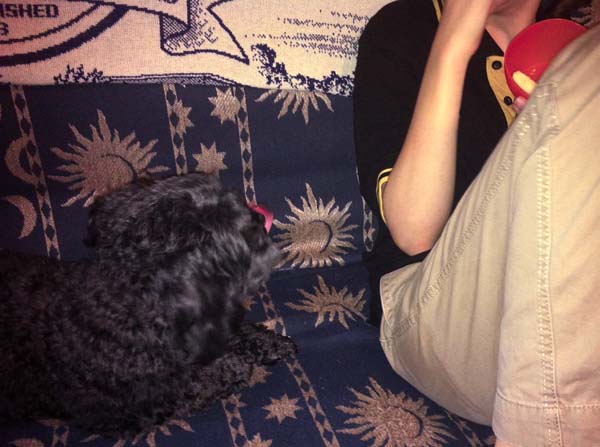 "Are you going to eat those apples? All of them? I'm SO SO HUNGRY!"
Last night while Otto and I were sitting on the couch watching television, Licorice hurled herself onto the adjacent loveseat, vanquished the pillows on top, and then wedged herself into the crack between the two seat cushions. As we laughed at her, she lay as flat as possible, given away only by her wagging tail. A hard day of being tormented done broke her little doggy brain, clearly.
(I keep telling her she needs to tone it down just a little if I'm ever to talk Otto into a second dog, but so far, no dice. Maybe after the fence guys leave.)