Monkey claims that 13 is his lucky number, in large part, because it's mine. He still thinks I'm cool; he still wants to like what I like and do as I do.
You, on the other hand, suffer under no such delusions. If I say it's black, you are all but legally obligated to say that it's white. If I dance to a song, you roll your eyes and make a mental note of the song's now inherent uncoolness. If I remind you to thank me for something, you deadpan, "Thank you so much, Mom, you're are quite simply the very greatest," and don't even crack a smile until I start laughing.
But you also curl up with me on the couch to watch television; plunk yourself down in my lap as if you were still a preschooler instead of just a few inches shorter than I am; demand I join you in jazz hands or link arms and skip with you; and rest your head on my shoulder and catch your breath when you're trying not to cry. Because I am yours and you are mine, and today you are a teenager, even though you're still my baby.
I don't know if you remember that you used to dread growing up. Every birthday brought tears and angst; I spent every night before reassuring you that nothing would change until you were ready. The tough exterior you showed the world all but crumbled in the face of what you feared was more change.
This is the first year I can remember since you were a baby that you didn't freak out and melt down. You're ready; you're ready for your last year of middle school, ready to plan for high school, ready to think about carrying out various whispered schemes you and your friends giggle about and no longer share with your parents. Despite your belief that I get more and more stupid as you get older, I do realize that you're telling me less and less, and that what you tell me is carefully curated and sometimes just manufactured to shield your budding independence. Believe it or not, I was 13 once, too. I get it. Just remember that when you do need or want me, I'm right here, okay?
I worry that lately there's been too much emphasis on your missteps. I wish we could just shrug our shoulders and say, "Oh, well!" and all agree that you'll do better next time, instead of the drawn-out battles and litany of consequences. We do what we feel is necessary to shape you into the magnificent human we know you can be—really already ARE—but I assume that even the Dalai Lama had to be grounded sometimes, sweetie. It's all a part of how growing up goes. But don't you forget that this is one small piece of it.
Because one of the truths of this age is that for every time I say, "I'm disappointed" to you, I've said, "I am so proud of her" three or four or ten times to other people. And both statements are true, and I'm working on remembering to make sure you always know it. SOMETIMES I am disappointed in your choices. ALWAYS I am fiercely proud of the young woman you ARE, of how hard you work, how far you reach, how deeply you feel and how fully you care, even as you set your chin and insist you don't. It is BECAUSE you are so incredible that our expectations are so high, because we need you—maybe even the world needs you—to remember to use your power for good.
You have no idea, yet, how much power you have. That's as it should be. But I'm asking you to just trust me on this one.
I joke that you are my mini-me, but more and more, I see that's such a small slice of truth in the bigger picture. You are so much smarter, more beautiful, funnier, and emerging as your own unique and wonderful self. We have similarities, of course. But you are all you. I wish I could take the credit, but I don't think I can. You're a force of nature.
In keeping with your awesomeness, you came home early from being with your dad and I came home early from my conference and together we enacted the First Act of 13, which was this: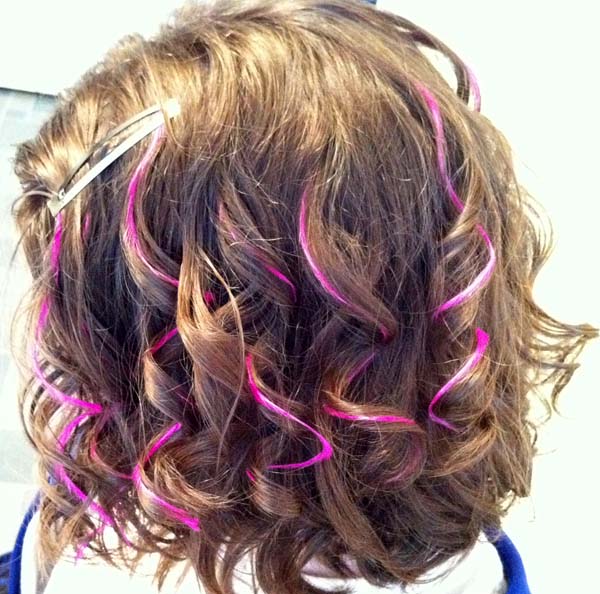 For months we negotiated the bleaching/dying/streaking of your hair, and finally my stylist saved us—had we heard of feathers? We hadn't, but now we're experts. The time we spent in the kitchen yesterday, attaching your new adornments, then playing with curling and arranging them, seems like a somewhat unfair present for YOU, because it was so much fun for ME to watch you be so delighted.
There were a couple of presents this morning, and there will be a few more, later. "I have another present for you, if you want," I told you over breakfast. "I think you're old enough to read my birthday post to you, this year."
"Wait. You write a post about my birthday?"
"Every year, kiddo."
Your mind was clearly boggled. "You write a post about my birthday EVERY YEAR? I thought you didn't want anyone to know who I am!"
That made me laugh. Baby, everyone who reads me knows who you are, they just don't know what you look like (you know, on the outside). I've been sharing you for half your life. But only because it would be selfish to keep this much awesome all to myself.
Happy birthday, my little Chickadee. Welcome to teenagerdom. I'll have my jazz hands ready for you whenever you need them. Don't forget that.
I love you so much-ess, you simply have no IDEAS (ha)!
Mom