By the time Chickadee got home from school yesterday, she was all sweetness and light again. She wanted hugs and kisses and to cuddle and was full of stories from the day and things she'd been meaning to tell me and pretty much just brimming over with "I am sorry except I can't actually SAY that."
Just like that, the events of the morning are set to rights. In her perception, anyway. I try to go with it, to suck up the goodness when it happens. Like the little girl with the little curl, when she is good she is so very, very good. So I roll with it. I take a quiet moment to remind her that I vastly prefer THIS to THAT, and sometimes it brings a muttered, "I know…" and I move on, quickly, before it goes sour again.
Monkey has a bit of a cold and put himself to bed early, after which Chickadee and I sat on the floor of her room, chatting and getting her packed up for this weekend's band trip. ("This one time? On the band trip?") Licorice kept moving back and forth between us, deeply concerned.
What she (Licorice, not Chickadee) really wanted to do was curl up in one of our laps, but she couldn't, on account of there was a BIG SCARY SUITCASE sitting there. You may recall that Licorice—whether due to the circumstances of her pre-rescue life or just general fear of change—suffers from Post Traumatic Suitcase Disorder, and the appearance of a suitcase always sends her into a downward spiral. I'm telling you, this dog becomes downright depressed. Otto was packing for a business trip earlier this week and the dog dove under the bed AND CRIED.
Last night she just became very fidgety, and would curl up in my lap for a bit of petting and then jump up and go nudge Chickadee until she petted her, and then she'd go sniff the suitcase with suspicion, and head back over to me, lather, rinse, repeat.
So Chickadee and I chatted, and folded clothes, and rubbed Licorice's ears and assured her that everything would be okay, and while we reassured one very nervous pup that everything was going according to plan, I couldn't help but look over at my gorgeous half-girl, half-woman and believe it, myself.
I was on the verge of having a tender moment, is what I'm trying to tell you.
But Licorice was not soothed, and then this happened: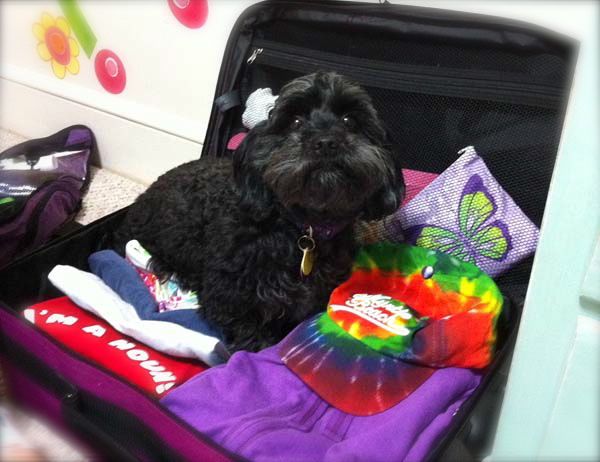 (No, she didn't get in there of her own accord. Chickadee coaxed her, and while I simply had to have the picture, doesn't the poor thing look TERRIFIED? So pitiful.)
We laughed and laughed and finally I told Licorice that she has to let Chickadee go, and no, she doesn't get to go with her. But she'll be back. And we're always very glad to see her when she is.
I'm even a little sorry it took a bit of puppy torture for me to realize that that's absolutely the truth, for both of us.
Happy Love Thursday (even if Karen didn't call it that, today), everyone. The best love feels a little terrifying, doesn't it?