I took my last Prednisone pill this morning, and am eagerly looking forward to returning to sanity in the nearish future. I hope. Also, Otto reports that I ground my teeth so loudly last night I actually woke him up, so I guess the continued pain in my jaw isn't much of a mystery. One of these days I'm going to be all, "OH EM GEE, YOU GUYS, I WOKE UP WITH A MOUTHFUL OF BUSTED TEETH TODAY!" And you'll think I'm exaggerating, like I always do, only it will be true because WHY LEARN TO COPE WITH STRESS when you can simply destroy your sanity and smile in one fell swoop?
The funny (not funny-haha but funny-weird, because the idea of waking up toothless is actually frightening to me) part is that I don't really feel all that stressed out. I'm not sure why my brain is suddenly convinced that the fate of the universe rests upon my ability to clench my jaw with a thousand pounds of neurotic force.
But yesterday was Quite A Day, so maybe it's Stress even though it's not Bad Stress. Or something.
So we had three extra kids for the day. Three extra boys. And I adore them all, and didn't hear a single fight or even unkind word the entire day, which I consider a minor miracle, so believe me when I tell you that truly, they were no trouble at all. But the volume in the house was set to LOUD all day long. Chickadee and I got to escape for part of the morning when we went to Open House over at the middle school, but the rest of the time she was my unofficial Helper, having been bribed to help shepherd the boys through the day and thereby earn herself a new lunchbag for the coming school year. [That one's a long story, involving the untimely demise of last year's bag due to some poor choices on her part. She was told to make do with something else this year or buy her own, but yesterday cheap babysitting labor seemed a reasonable exchange for goods.]
So: Loud house. Tried to do some work, while also protecting the dog from the mad stampede of boychildren. (All three visiting boys are prone to running up to her and screaming, "LICORICE!" in their excitement. Licorice—being a delicate flower—finds this a little scary. And then she wants her mommy.) Then it was time to hit the middle school.
Once crammed into the gym at Chickie's school, I found myself having several important revelations.
1) Summer is a long time when it comes to pubescent children. All of the boys grew a foot since I last saw them in May, and all the girls I haven't seen suddenly have… ummm… huge tracts of land.
2) Deodorant is your friend. I wish more of the middle schoolers understood that.
3) The sound system at the middle school is designed to make anyone using a microphone sound like they have a mouthful of marbles. So the principal got on up there with great gusto and shouted out, "GOOF MRNING SHDNTS!" and then seemed shocked when we all just stared blankly. Good times.
This year the middle school employed something called a "Schedule Wizard," which was super awesome because it randomly assigned electives AND did smart things like give one of Chickadee's friends two social studies classes and gave several of them 9-week-long blocks of alternating classes which are actually 18 weeks long. So all the kids stood in the hallway comparing schedules and FREAKING OUT because ZOMG SPANISH, I NEED SPANISH, WHY DIDN'T I GET SPANISH AND ALSO I ALREADY TOOK ART AND SINCE WHEN IS ART ONLY 9 WEEKS AND GIRL I LOVE YOUR HAIR! Wooooo.
A bunch of us tromped to the registrar's office and got things fixed, but then the girls started begging us to "ask for them to switch this class too" because they just happen to like a certain teacher, which gave us parents a golden opportunity to explain that a missing science class is an emergency, but liking that one teacher better because she hands out candy is not. (I said they grew boobs, not that any of them grew a lick of common sense.)
After that was said and done, we came back home and it was time to feed everyone. Otto and I fixed five different pates of food; the boys all had lunch meat, while Chickadee had sunbutter. Some boys eat cheese, some do not. Half the kids had grapes, half had veggies. IT WAS ALL VERY COMPLICATED, as my general philosophy on food is that you can take it or leave it, but with three out of the five children in residence having sensory issues that result in picky eating, I felt like doing a bit of lunch accommodation was stacking the deck in our favor for a calm afternoon.
Lunch was a jolly, if slow, affair, and then it was time to swim. I had planned to get everyone set up outside and then sneak back inside to do some work while Otto played lifeguard, but then the power went out for about an hour, so there was nothing to do but stay outside and swelter.
The kids had fun, though. This was the noodle train: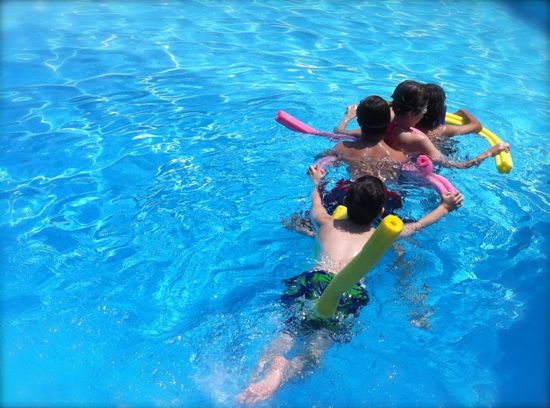 (At the time of that picture, it was short one child who had decided it was important to stand up on the deck and repeatedly ask the others who wanted to go inside and play Nintendo.)
Eventually the power came back on and the children shriveled up like prunes (these two items are unrelated, I think) and we got everyone out and dried off and dressed and packed up, and then it was time for Open House over at the elementary school. We all made it over there in one piece and only one boy was wearing his pants backwards when we arrived, so, you know, small victories and all of that.
At one point Monkey and his BFF were pretending to lick each other as we made our way down the hallway to their classroom, and his friend's mom said, "None of that," and I added, "Yeah, not until you guys are in high school" and she gave me a funny look. I should really learn to think before I speak, sometime.
So there was teacher-meeting and ice-cream-eating and a merry time was had by all, and then finally the festivities were over and just us four returned home. Last night is a blur; I think I may have fallen asleep on the couch, not sure.
In short: School starts Monday. We're ready, I think. Also, Five Full Plates does indeed live again, and I'm owning up to needing more than my desk can give me. I have no idea where the summer went, but I'm kind of looking forward to the fall, hopefully with all my teeth intact and a bit of regular exercise in the mix.
Failing that, I always have the option to flail around in the pool screaming, "NOODLE!" If yesterday was any indication, that's pretty good exercise and stress-relief, right there.