90% of the time that I'm here in the house, the dog is in the same room with me. She's my furry little shadow, and although I periodically complain about it ("Um, hello? Could you not bodyslam the bathroom door while I'm in here peeing, DOG?"), I have to say that it is quite ego-boosting to be so loved, even if it's by a neurotic creature with a brain the size of an egg.
Now that Otto and I no longer share an office, though, during the summer—when he's home more, and often working in his office upstairs—she sometimes forgoes sleeping on the floor of my office to trot upstairs and sleep on the floor of HIS office. Which is fine.
Except that sometimes I get a little jealous, you know, because there simply is no pleasing me.
Related: Know what's SUPER FUN? Trying to get a dog to play with you when she really just wants to take a nap.
Yesterday I took a break and wandered upstairs to Otto's office, whereupon I found the dog laying on the floor. She was sleeping quite peacefully, and barely raised her head to acknowledge my entrance before dropping it back down and trying to resume her nap.
Naturally, I took that as a challenge. I lay down on the floor near her and commanded her to come love me.
She wagged her tail but didn't move.
So I said, "Licorice! COME! COME SEE MOMMY!" in that high-pitched and annoying faux-excited voice that dogs are programmed to perceive as "I HAVE A DEAD SQUIRREL IN MY POCKET JUST FOR YOU!"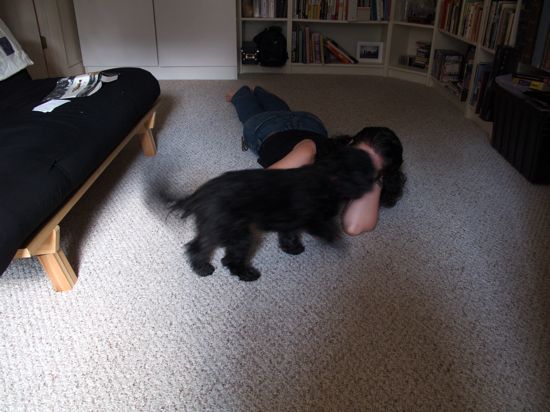 That got her up and coming my way with a lick, but she tried to wander off when she discovered that I was totally lying about the squirrel.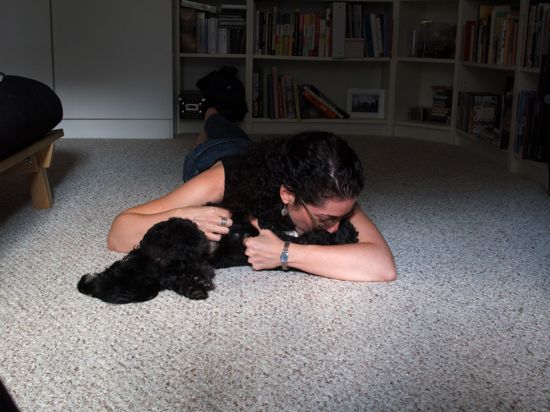 And because I'm a big believer in honoring personal space, I grabbed her and began smooching her while singing, "You're trapped! I got you! There's no escape now!"
While she endured these ministrations, I then exhorted her to KISS ME BACK, because I am a demanding bitch that way.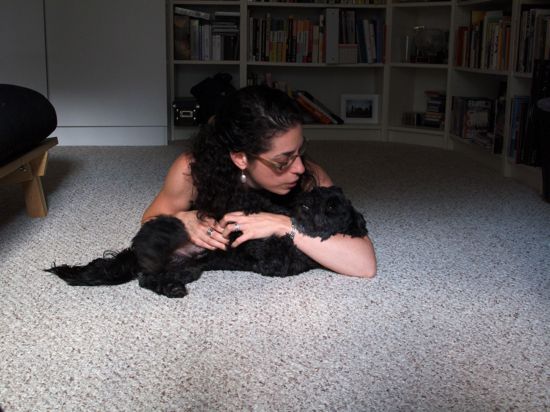 When that doesn't work, I resort to softly saying, "Please?" That usually makes her feel sorry for me.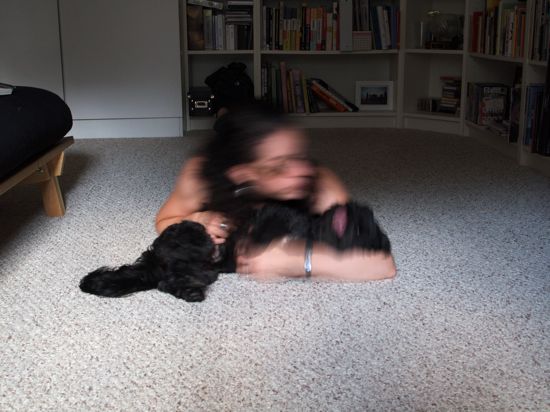 Of course, no sooner does she start licking me then I remember that she is QUEEN OF ALL DEATH BREATH and commence trying to ricochet my face away from her noxious tongue of stankitude.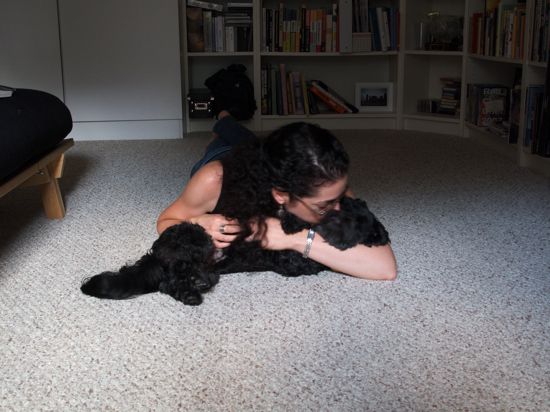 But I think that hurts her feelings, so then I have to kiss her some more.
Lather, rinse, repeat.
Eventually she tires of this game.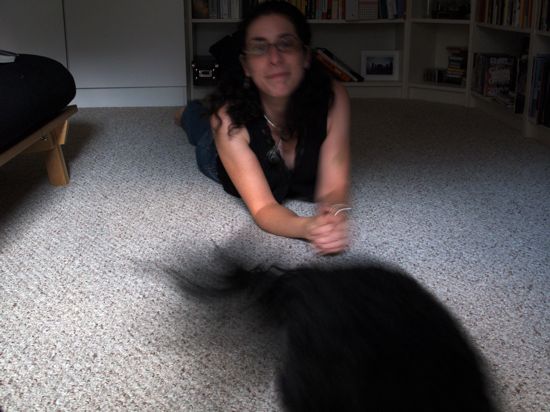 Then she makes a beeline for Otto. He assures her that Mommy is just crazy and it's okay.
Then she usually slobbers all over his camera before leaping into his lap and coating his face. This usually makes him shout something nurturing like "OH, ICK!" before dropping her on the floor.
She sneezed a couple of times and then lay down on the floor and tried to go back to sleep. (I only poked her a little.)
What a lucky dog!