I know that every year I get a little loopy about my garden; in much the same way I can barely believe I'm an adult (with a driver's license and kids and everything), it still amazes me that I can grow things that turn into delicious food. I must've slept my way through botany in high school, because it still blows my mind. Soil and seeds and water make FOOD? It's like some kind of wonderful black magic.
Of course, it's also a pretty nearly-instantly gratifying kind of thing, too. Plant, water, wait a month or two, enjoy the fruits (and veggies!) of your labors. For a devotee of Short Attention Span Theater such as myself, that's a pretty rewarding payoff in a not very long period of time.
Of course, there are demons to slay along the way: Two years ago I focused on vanquishing the slugs, and last year I dueled the tomato horn worms in the Battle of Squick. This garden thing is not without its trials, is what I'm saying.
Still… plant, water, maybe slay some bugs, wait, and then enjoy.
This year my zucchini and squash have been producing merrily for weeks, now. And everything else is just starting to catch up. I've done battle with the slugs and faced off with the aphids and have sprinkled diatomaceous earth on a slew of other generic bugs, and still the garden grows.
Of course, several of my pepper plants died, for unknown reasons. And one of them—still alive, mind you—sits there not growing at all. It hasn't died, but it hasn't grown. Very curious.
The neglected peas and beans have wound their way up and around and over and down again, and if the flowers and bees are any indication, good things are about to happen.
One tomato plant croaked. Its replacement seems happy.
I planted. I water. I weed. I wait. Mostly, it pays off.
There's a tired metaphor in there about parenting, I'm sure, but I'll spare us all. This is just what happens when I'm missing my babies. I torture the dog and I coo to my plants, and the kids come back just in time to save me from starting entire conversations with the kitchen appliances.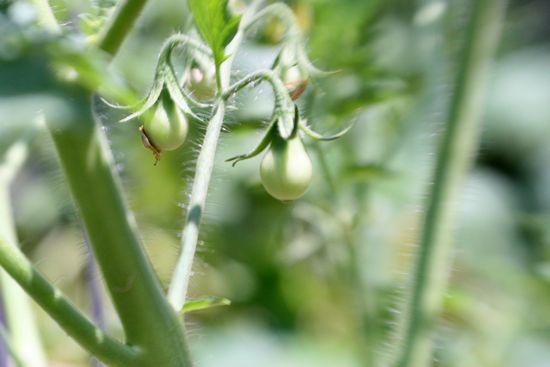 These will be yellow pear cherry tomatoes, soon. Monkey likes to sneak outside first thing in the morning and pick himself a snack of them before anyone else is even up. At least, he did last year. These ones aren't ready yet, but I think of them as his tomatoes, anyway.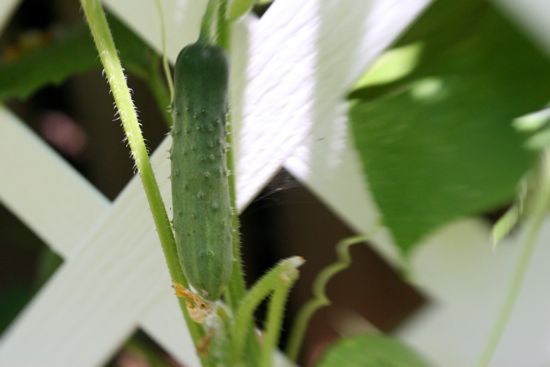 Awwwww, wookit dah widdle tiny cukie! It looks like a angry little gherkin! Don't worry, it's going to grow up into a normal cucumber. I am thinking of trying my hand at making pickles this year, in no small part because Chickadee the Picky Vegetarian is never happier than when there are pickles on the table. "Everyone loves pickles!" she exclaims. "They're part of an important breakfast!" (No, we don't eat pickles for breakfast. I try not to ask.)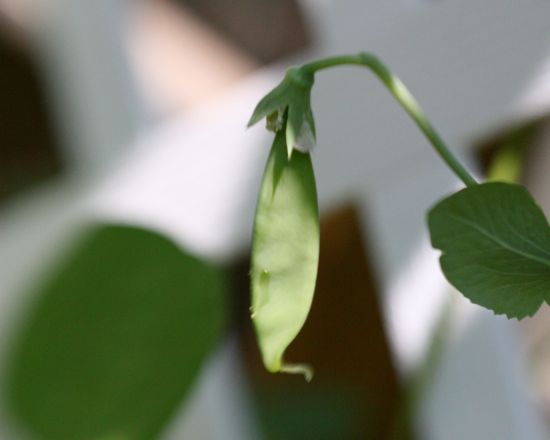 I couldn't help myself; this is the second peapod I've spotted… the first one was off the vine and in my mouth before I'd even stopped to think. It tasted like live sugar. I can hardly wait for the rest of them, which I will plan to use in multiple recipes but which will be devoured, raw, before I even get them into the kitchen.
Plants are easy. I plant, I water, I weed, I wait. I cross my fingers. I hope. I savor.
Happy Love Thursday, everyone.