Otto and I have now been married for coming up on three years; I've been divorced for almost seven. My point is that there has been plenty of time for my "new life" to become the new status quo, and no matter how I look at it, there is no angle from which anything about the existence I now enjoy should be surprising or new-feeling.
Except.
There were bad years before the divorce, bad time DURING the divorce, bad years after the divorce—basically plenty of time in which my life marched along to misery and broken dreams and just the tiniest sliver of hope for better days ahead. I always said that kind of hope was torture; there were times when I wished for acceptance, instead, rather than what seemed like such an unattainable state.
And it turns out that THEN still impacts NOW.
The result is that I am still surprised, sometimes, to acknowledge that life is good. That the sky hasn't fallen. That I can exhale. Not that I can take it for granted—because I never want to do that—but that there is life after Bad Times and I can stop looking over my shoulder for what I've somehow convinced myself is the inevitable crisis yet to come.
It's a process, of course. I'm always learning and time does make it easier. (Also, the periodic day-to-day crises are a good reminder that I shall never want for things to fret over. Lucky me!) Otto has graciously shepherded me through many stages of adjustment, and up until a few months ago I really believed I'd slain the necessary demons and truly embraced the Here And Now, but then we got the dog.
We have no idea what happened to Licorice before she was rescued. We've seen her initial rescue pictures; she was half-bald and the hair that remained was tangled and matted. She was emaciated and pitiful. She was shy with people but not feral or anything—eventually she'd warm up and then love you very much. She came to us mostly physically restored, but still somewhat timid.
At the beginning of her time with us, she followed me around like a duckling. So far as she was concerned, I was Mama and Boss and as long as she could see me, be close to me, she would be okay. I was happy to heap love upon her pretty much whenever she asked, so it was all good.
Months passed and the remainder of her missing fur grew in, shiny and luxurious. She began waiting at the door, tail wagging non-stop, whenever the bus brought her kids home from school. She would still stay here in the office with me, but she no longer needed to be in my lap or laying on my feet every moment.
Today, you would never know she was anything other than an happy, healthy (not to mention SPOILED ROTTEN) dog. She plays with toys; she bounds around the yard; she wrestles with Monkey and licks Chickadee awake every morning.
And an interesting thing has happened: Whereas she used to come leap into my lap (if she wasn't already there) whenever the doorbell rang or visitors appeared, Licorice now spends a good portion of her day poised on the arm of our easy chair, staring out the front window, ready to alert me to any changes outside.
She's reached the pinnacle of doggie/family bonding: She is now our protector.
Sure, at her size ("Twelve pounds of terror!" as we say) it's not like she'll truly be able to fend off a crazed ax murderer, but SHE doesn't know that. So far as she's concerned, she has her post, her duties, and life is grand.
I doubt she sits around thinking about what happened before, or worrying that all of this could go awry. Dogs don't do that, right?
Imagine my surprise to discover, walking past her on her "perch" the other day, that having this tiny sentry by the door was the thing that made me realize that Yeah, this is my family, my home, my current reality… and the backstory is ancient history.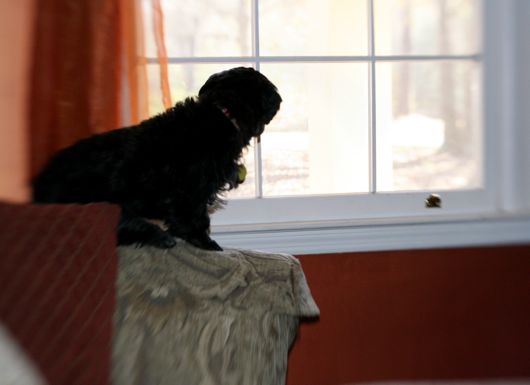 We loved her back into herself, and now she's doing the same for me. Kind of makes the expensive kibble seem like a pretty good bargain.
Happy Love Thursday, everyone. Here's hoping you know the protective, restorative power of love in your home, too (furry or not).