For the first time in my life, I have made a sizable, life-changing resolution for the new year. This will be the year I take my health more seriously. Otherwise known as: The year I learn to love or at least tolerate exercise, or die in the attempt. Otherwise known as: The year I refuse to get my ass kicked in a friendly little competition just because I have all the willpower of a jar of mayonnaise.
Mmmmm… mayonnaise….
Wait. Where was I?
Oh! Right. The competition starts tomorrow. So today, Otto and I went out to lunch for my favorite food on the planet and I ate myself silly. And then spent the ride home commenting on how full and happy I was, and how I would savor this day in all its deliciousness on account of I'm about to be horribly deprived as we head into 2010.
The thing is, I have never felt LESS deprived of the good things in life, and although eating and being a slug are two of my favorite hobbies, I'm going to be hard-pressed to feel sorry for myself this year.
Life isn't all roses and sunshine, it's true. But it's pretty damn good.
The kids are spending the week with their dad, but they'll be back this weekend. Apparently at some point before they left, they decided to have a little bit of fun in my car. If you've been reading me forever, you may remember that I mentioned the ducks that ride on my dashboard in this post. [Side note: Something I didn't mention in that post—partly because I was still completely wrapped up in our then-recent car accident—was that the ducks were actually given to me by Otto, many years ago.] Anyway, the ducklings fit inside the mama duck's body, and usually they face outwards, like they're watching the road.
I noticed a couple of days after the kids left that now the ducks look like this: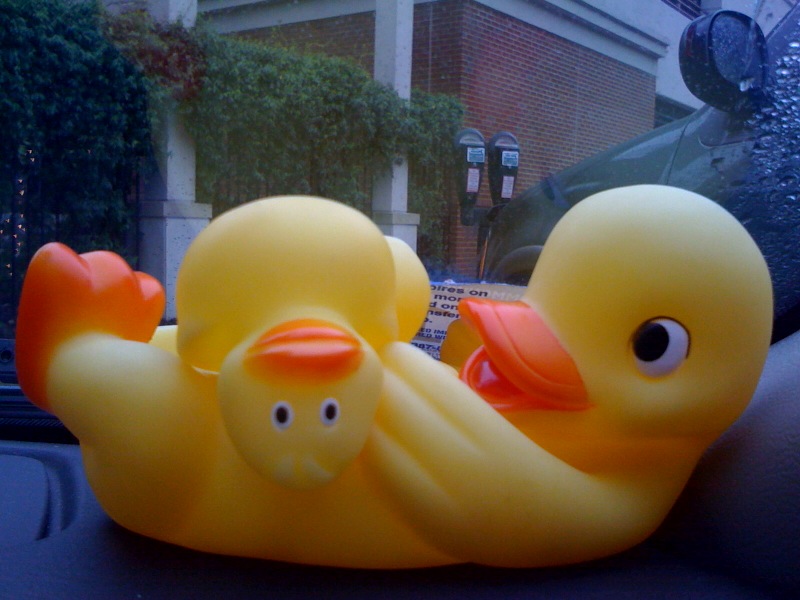 (I'm pretty sure that's Monkey who's hanging out upside-down, while the Chickadee-duckling is still looking at the windshield, probably enraged and embarrassed by her little brother.)
I'm ready to have my ducklings home with me. My silly, silly ducklings.
In the meantime, I've been meaning to tell you about my favorite Christmas gift this year. Ever since we got Licorice, we have been joking about an Emergency Backup Dog (ala Dave Barry). Chickadee has decided that Licorice, being small, should actually be the backup, and that we need a new MAIN dog. Monkey is just excited to think about having a second dog. And Otto STRENUOUSLY OBJECTS on the grounds that he's pretty sure he never even agreed to the first dog.
Nevertheless, my husband loves me so much, he didn't want me to go without. No sir. So on Christmas, I received this:
(Why yes, that IS a dog in a jar. Yes, it IS a little creepy. I also laughed so hard when I opened it that I nearly wet my pants. Just sayin'.)
I also think it's worth noting this week that although we brought Licorice home with the full knowledge that older dogs sometimes don't change as much after rescue, although we would've been perfectly okay with that, she continues to rediscover her puppyhood much to the delight and destruction of the household.
She got a stocking full of toys for Christmas, you know. While I worked this morning, she did this:
(In case you're wondering, that's a multi-incision squeakerectomy and a complete disemfuzzelment. Dr. Licorice wants you to know that everything went smoothly and she's pleased to inform you that she's quite sure the patient is now completely dead.)
In the next ten weeks I'll be eating less and exercising more. I will be tired and cranky and will almost certainly whine about the marked lack of ice cream in my life. And I will be missing absolutely nothing, because I'm pretty sure I already have it all.
Happy New Year, and happy Love Thursday.