Yesterday dawned and brought with it a fever and listlessness for the girlchild, so I got her brother packed off to school and her set up on the couch and tried to salvage the day. I worked, she dozed. Somewhere towards lunch I stopped to stroke her hair and prepare myself to murmur "Poor little bunny" as needed.
Whether this had been brewing for a while (I think it had) or she was just miserable enough with whatever yuck she was fighting (she was) or a combination of the two (almost certainly), before I knew it I was listening to a tale of woe, a catalog of complaints that ranged from typical friend politics right down to actual bullying.
And oh how I wished that "poor little bunny" would have any effect on the antics she was describing, that she'd been dealing with for months and not telling anyone. I did what I could; I listened, we talked, I contacted the school, and when she dozed I put dog toys on the couch with her so that Licorice would snuggle up.
It all feels inadequate, of course, and this morning brought better health but fresh fears. "They'll know I told," she cried, rubbing Licorice's belly, as I helped her gather up her things. "It's just going to get worse." I told her we would do everything we could to make sure it wouldn't.
In the meantime, Monkey decided to celebrate his sister's improved vigor by barfing up his breakfast.
So Chickadee went off to school—trudging up the driveway like a lamb to the slaughter, splitting my heart anew—and Monkey got back into his pajamas and lay down on the couch with his stuffed puppy and a bucket.
After a while, he came to lay down in my office, and Licorice (who was bothering me instead of tending to him) decided that maybe his stuffed puppy was one of her toys. That was briefly hilarious, and then we took turns arranging her actual toy, her beloved stuffed monkey, in various spots on MY Monkey.
She would sit and watch us, then leap onto the couch to retrieve the monkey, stop and lick Monkey's face, and then take off again. (And then I'd steal the monkey back and put it on him again.) This made for a solid five minutes of entertainment, which I'll certainly take over spending the morning hunched over a bucket.
When Licorice tired of this game, she allowed herself to be captured.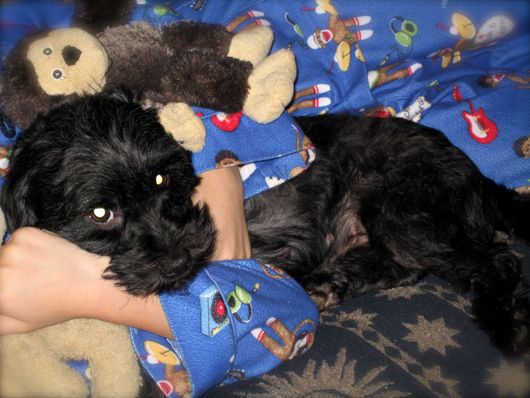 While I don't think we yet have conclusive, scientific evidence sufficient to declare her the cure for the common cold, random virus, puking bug, mean girls, or bullies, I'm just saying she's awfully nice to have around for this stuff, anyway.
There's too many things I can't make all better for them. But I'm glad to be able to give them something to hold onto, in the meantime.
Happy Love Thursday, everyone. Hold on tight to the good stuff. If it licks your face, so much the better.