I've had labels on the brain, this week. Go figure.
The irony is that we all seem to believe that labels = organization, and when I married Otto we gained a fancy electronic labelmaker that the kids seem to think is some wondrous hybrid of the Wii and the circus. There is never a happier day than when Otto lets them take out the labelmaker and label something.
So I've been noticing our labels on things. Bread flour. Wrenches. 2007 Taxes. They're everywhere. They're usually very illustrative. They add order to our world. They're supposed to make things make sense.
I'm cute when I get all literal and ponderous over simple stuff, aren't I?
When Licorice came home, the kids begged to make a label for her crate. "Why?" I asked them. "It's not like we have OTHER dogs in here—or like dogs can read—or that we might forget that crate's her special space and accidentally, I don't know, put groceries in there."
But they insisted, and there's no harm in it, so I relented.
Chickadee typed and printed and now this is where Licorice sleeps: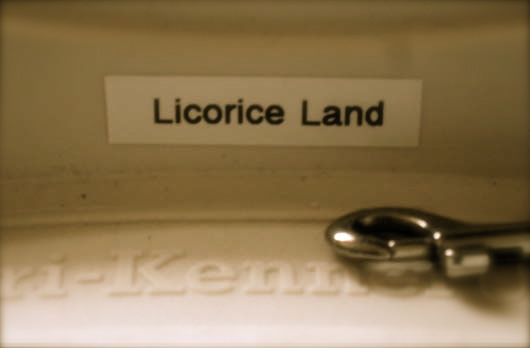 It tickles me every morning when I let her out, and every night when I put her to bed. It's not just Licorice's crate, it's LICORICE LAND! Destination of all things Licorice! A kingdom where the Milkbones flow freely and there are always plates to be licked and squirrels to chase!
And yet, despite the (humorous) label, there's so much it doesn't say.
It doesn't tell you that inside the crate, Licorice curls up with the fuzzy Elmo blankie Chickadee loved as a toddler, that I couldn't quite bear to part with even after she'd long since outgrown it. Or that she she brought it downstairs and got nose-to-nose with the dog and told her to take good care of it.
It doesn't tell you that Otto still cracks jokes about how we need to get rid of one of the kids because the deal was only two small creatures in the house at a time, but when he thinks no one is looking, he picks her up and rubs her ears.
It doesn't tell you that I often skip the after-lunch romp outside with the dog so that I can make gosh-I'm-so-busy eyebrows at Monkey when he gets home from school and beg him to please "do me a favor" and "just take the dog for a short walk, she's dying to go out and I haven't had time." It doesn't tell you how he gently leans down and attaches her leash, then squares his shoulders to this important task, and marches up the driveway looking happier and more self-confident than he's been in months.
Viva la Licorice Land! If it wasn't so corny, I'd totally make a second label that reads, "So much more than a label" and slap it on there, too.
Happy Love Thursday, everyone. Label it whatever you like, but I still believe love is the question, the answer, and the reason.