It's been many, many years since I had a pet, and unfortunately a lot of my memories of the last dog I had are bound up in accusations from my ex that I didn't really love him (the dog, though projection is a marvelous thing), and then, of course, the end of the dog's tenure with me and the kids, when he (the dog, again) was pretty much crazy and wanted nothing more than to tear the UPS man limb from limb.
As much as I love my favorite humans, human relationships are anything but simple; we all have emotions and then opinions and loooong memories and before you know it, a discussion about who cleans up after dinner has blossomed into how you never let anyone have any fun ever. Not that I don't love those sorts of things, too (um, love may be a strong word for that PARTICULAR interaction…), but it's all just so laden with meaning, history, intention, selfhood struggles, etc.
But dogs. Dogs, man. The right dog is just love covered with fur.
I worried about Licorice when we brought her home. I'm a worrier. She just looked so sad when her foster mom drove away, and even though I was assured that was a good thing ("It means she forms good attachments! Don't worry!"), I didn't know if she would bond to us, or see us as the horrible people who took her away from what may well have been the first nice home she'd ever had. And then that first weekend, she didn't eat, and she slept and looked pitiful, and I worried.
And then the kids went back to school and Otto went back to work. And Licorice started spending her days laying on my office floor and wagging whenever I looked in her direction. I used to sometimes sit down to work in the morning and realize it was well past lunchtime and I'd never moved; now I take frequent breaks to feed and pet and praise and walk the dog, and the timid little creature who refused to eat the first two days now runs inside and sits next to the treat container, tail beating a steady rhythm on the floor until I get her her reward.
I jam medicine into this dog's ears twice a day (sadly, without vodka, but with the help of a muzzle, just in case, which makes her look pitiful), and she endures it and when I take the muzzle off, she licks my face. And then I give her a piece of pepperoni and if all wasn't forgiven already, it certainly is, then.
She thinks the yard is marvelous.
Because there's a lot of stuff to sniff.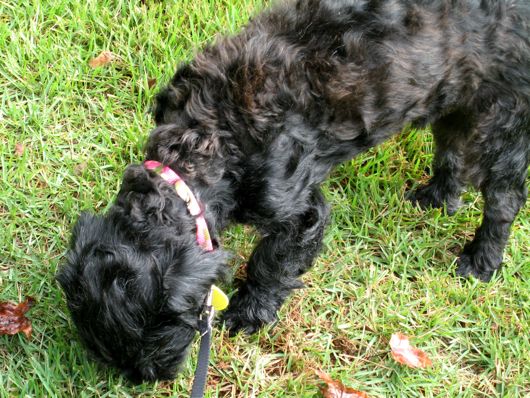 And she'll come whenever I call her…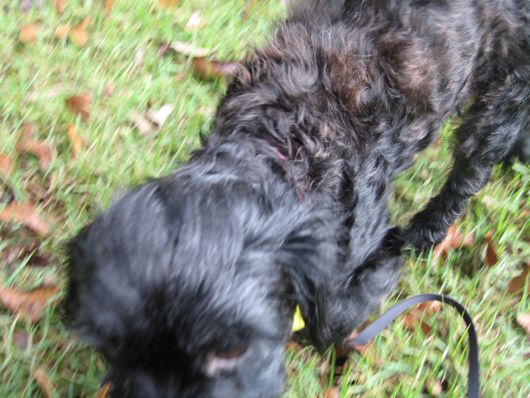 … even if she then gives me a look like, "What? What was more important than that deer poop I was trying to lick??"
We didn't get her vet records until a couple of days ago, and to my surprise, her "estimated birthday" is listed as being the day after mine. That explains a lot, I think—clearly she sees me as a fellow Leo. Ready to take on the world! Ready to make a splash!
Or maybe she just knows I'd be chilling out on the floor most of the day, too, if I could.
I suspect this little girl is going to be teaching me a lot about love and forgiveness. I'm not at the point in my life where a piece of pepperoni and a belly rub makes everything all better, but maybe I'll get a little closer to something like that, over time.
Happy Love Thursday, everyone. Today I wish you the kind of love that takes over the moment with its simplicity. (If that comes via a face-licking, well, so much the better.)