Last week the kids and I read a charming little book for our Scholastic review, and the upshot of the story is that—much like the old song—you don't always get what you want, but you do get what you need.
Both children found my distillation of the book down to this message somewhat annoying. For Chickadee, it was a case of, "Mooooom, why does it always have to be some kind of LESSON?" And for Monkey, well, he actually had an interesting bit of circular logic wherein he had convinced himself that in the end, something different had happened than what had actually happened. (Sorry, it's kind of hard to explain if you haven't read the book.) We talked about it for a while and I realized that he was just completely loathe to believe that what the protagonist DIDN'T WANT turned out to be what he NEEDED.
Okay; he's nine, and he also tends to be a very rigid thinker, so this wasn't surprising, I suppose. What surprised me is how much this has been on my mind for the last week.
Monkey is both flourishing and regressing at his new school. And some might argue that "flourishing and regressing" might be a good way to describe Monkey the majority of the time, anyway. On the one hand, he loves school, he loves his teachers, he's the only kid I've ever known who gets excited about homework, and he does seem to be making new friends. On the other hand, after an uneventful summer we're seeing an increase in meltdowns and anxiety and just plain unacceptable behavior as a result of those, because it turns out that Monkey is not in charge of the universe, despite his deep-seated belief that he really ought to be.
After a recent incident, Otto and I sat down with Monkey to discuss his behavior, and he immediately began to sob that he didn't want to go to this school, he wanted to go back to his old school. Needless to say, the issue at hand had absolutely nothing to do with which school he's at. And there are all sorts of things he loves about his new school, but underneath the day-to-day of life there is—for Monkey—an undercurrent of "this is not what I want."
When you look at it that way, I suppose his outbursts make sense.
On the other hand, perseverating on what you want but can't have hasn't worked out particularly well for anyone, so far as I know. And as far as a justification for poor behavior… well, yeah. Not gonna cut it.
In the meantime, the older Monkey gets, the harder it becomes to watch him struggle. Because he does struggle, in so many ways and with so many things. He is Different, and he knows it. And he doesn't want to be. And that makes it harder. Lather, rinse, repeat.
When I was childless, I prayed for children. I prayed for them to be healthy and happy. I never prayed for their lives to be easy, because who does that? Life isn't supposed to be easy. But neither could I have imagined how difficult it might be for one of my kids to be healthy and beautiful and brilliant but sometimes just unable to get beyond the misfirings of the neurons in his brain. I had no idea what it would be like to watch him realize that he often cannot trust his impulses, or to see him driven to exasperation by his inability to ignore them.
I wanted to tell Monkey that sometimes we all fall prey to "this is not what I want." What he's going through right now? I don't want this. I never wanted this for him. And there are times when I curl up with that pain and let it pulse through me to the beat of "it's not fair, it's not fair, it's not fair." Of course. And then there are other times when I'm able to see with clarity that this is part of who he is—part of what makes him HIM—and I know that without the hard stuff, he'd be a different person entirely, and this Monkey is my very favorite Monkey of all.
Remember our watermelon? It grew to about ten inches and then began to rot on the vine. I don't know if we did something wrong or if that just happens sometimes or what. In the meantime, a second watermelon vine began to grow a roundish fruit.
"I don't think that's a watermelon," Chickadee said to me one day. "It's something else." I came over for a look, but I really had no idea—I hadn't seen the first watermelon until it was quite a bit bigger. But the leaves on that vine did appear to be different from the vine that had supported the watermelon.
Our second "watermelon" turned out to be… a cantaloupe.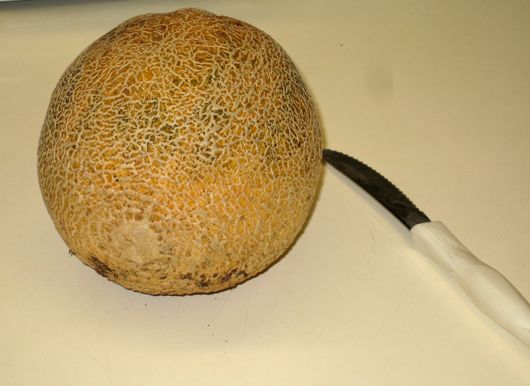 It fell off the vine yesterday, though it's still not very big. (That's a small knife in the picture, for scale.) I cut into it half-expecting to find it rotted and/or full of creatures, but it was absolutely perfect.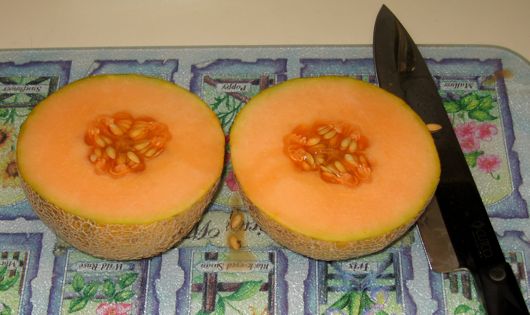 Monkey—who isn't all that interested in watermelon, but who loves cantaloupe—was delighted. He danced around me in the kitchen as I cut it open this morning, and leaned in like a baby bird for a taste of it while I scooped the flesh.
"Can I have some in my lunch?" he asked. I'd already packed his lunch, so I suggested we save it for snack this afternoon, and he agreed. He finished the last of his milk, then remarked, "You didn't even know you WANTED a cantaloupe, right, Mama? You thought you wanted a watermelon. But even though it's small, that's a pretty awesome cantaloupe!" He grinned ear to ear at the marvel of it all.
I pretended to be very busy washing the cutting board and the knife so that he wouldn't see the tears in my eyes. "You're SO RIGHT," I said, turning away from him to wipe my cheek on the shoulder of my shirt. "It IS an awesome cantaloupe. It's just what we needed."
Happy Love Thursday, everyone. Here's to getting what we need, whether we know it or not.