We got up at an unholy hour yesterday and hit the road early enough to miss the traffic, which meant we'd already been on the road for hours when we stopped for breakfast. Our last Cracker Barrel meal for the foreseeable future, and not a moment too soon. My arteries were starting to congeal. (That's just my opinion, of course. The children's opinion on Cracker Barrel is something like "HOORAY FOR SHOT-SIZED BOTTLES OF MAPLE SYRUP! CAN I CHUG IT?")
Back here at the ranch, we began the post-vacation madness, the part where you wish you could take a vacation from your vacation. Actually, I was prepared for it to be much more drudgery than it turned out to be; in short order the camper had been emptied, four loads of laundry were complete, the garden was watered (two hours later, it rained, of course), the pool was clean, and the children were playing Mario Kart with glee, just as the good Lord intended.
I expected yesterday to be a grim march of chores, and instead it was downright pleasant, with everyone helping, and little bits of fun along the way.
Before we headed home, I had lamented to my chief garden caretaker than I feared there would be no tomatoes left for us on our return. She assured me there were a few waiting for us. (Leave it to me to obsess over my garden all spring and summer and then completely miss the harvest….) Later she told me that she was hoping I would be surprised, and hooboy, I was surprised.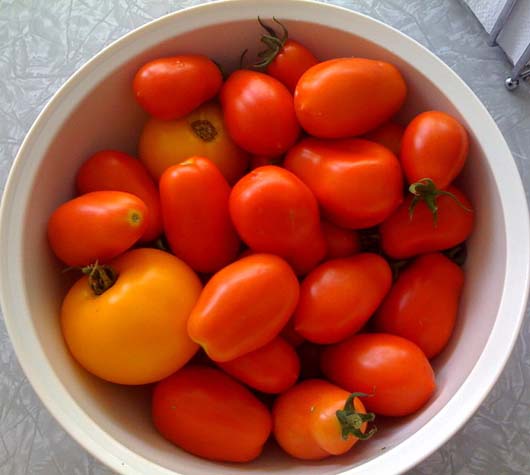 That's the biggest bowl I own, full to the brim. The kids and I picked and picked and picked some more, and that's our haul AFTER we had to stop and sample each variety. There are some grape tomatoes hidden underneath, but you can see the plethora of Romas and a couple of Golden Jubilees.
Chickadee and I took a break from everything else yesterday afternoon and she helped me wash the tomatoes, dunk them in boiling water, plunge them into icy water, skin them, deseed, and freeze them. (Just the Romas. The rest are destined for salads this week.) I was struck once again at how much I love this age, where she offers to assist and is indeed a huge help. We chatted about the things we'll cook this winter with our own tomatoes, and what all we can use the fresh ones for this month. I'm sure the pioneers did it just like this, putting up tomatoes with the help of their flat-top range, hard-anodized cookware, and Ziploc bags. (Also I'm certain that prepubescent girls in frontier times did so while begging their mothers to please please PLEASE make cucumber gazpacho again.)
Of course, the bounty of tomatoes wasn't the only surprise in the garden. Everything seems taller and wider and like we were gone for a month instead of just a couple of weeks. And back when we originally planted, I sunk some watermelon seeds that never did sprout. (I have no idea why. Bum seeds? The birds ate them? Communist anti-watermelon plot?) I kept saying I'd buy more seeds, and I kept forgetting, and shortly before we left, Otto came home with a packet of seeds for me. They sprouted before we left, but I had no expectations.
I've got two plants in containers, growing down and around their housing, intertwining with the weeds below. I couldn't believe how much they'd grown in the time we were gone.
And then I thought I saw something….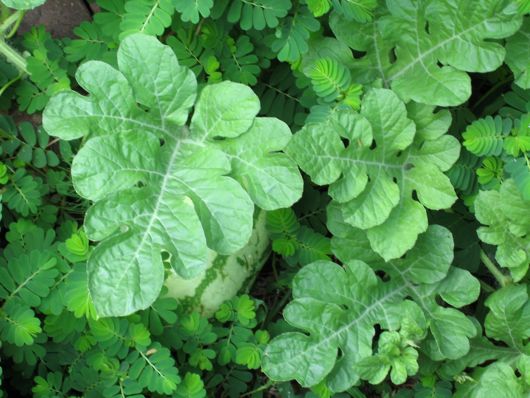 Yes, I'm sure I DID see something there….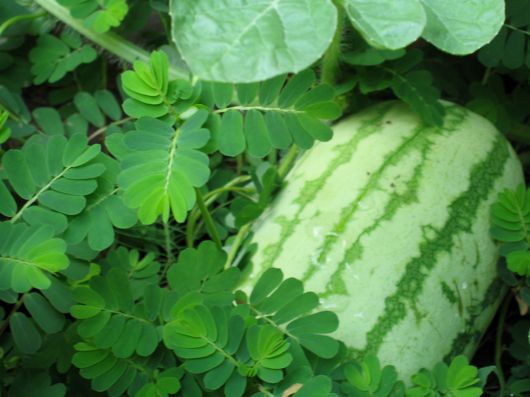 Our very first watermelon! It's already about 8″ long, and I almost missed it entirely. I wonder how big it'll get.
It would be far too obvious to make a parallel life metaphor out of the watermelons, right? The first planting didn't take, the second one is fruitful and surprised the hell out of me? It's too easy. I shall refrain. Pretend I didn't say anything.
(Oops!)
Happy Love Thursday, everyone. Here's to the surprises of life, big and small—from the small boy who sighs that his bed in the camper is SO SO COMFY and he's never slept better in his life, to the rapidly-growing-up girl who is turning into a delightful young woman faster than I can keep up, to something as simple as an unexpected melon. I do love a good surprise, don't you?