This morning, we trooped over to school like the dutiful parents and grandparents we are, and watched while a whole passel of third graders were shepherded through their "moving on" ceremony, even though there's still a week of school left.
This is a terrible time of year for the kids; in addition to the end of the school year kind of bringing the CRAYZEE no matter what (because… CHANGE! means you should… RUN AROUND IN CIRCLES! or something, when you're a kid), owing to our superfantabulous redistricting that goes into place next year, approximately 65% of our student body will be headed to a different school next year. Approximately 100% of these kids will be losing close friends to a different school, and approximately 110% of the parents in this district assume that our School Board is run by minions of Lucifer himself.
Anyway! Moving on. Today it was time to moooove on.
Now, I haven't mentioned this, I don't think, but as hard of a time as most of the kids are having now, at the end of the school year, Monkey is really struggling. He does not want to change schools, Sam I Am, plus he loves nothing better than order and routine and predictability, and with one week of school left, he has very little of that going on right now. And that's aside from the fact that his regular teacher is gone all week for reasons I do not understand and cannot discuss without my head exploding, because the substitute manning the classroom in her stead is not my favorite person. (And by "not my favorite person" I mean "makes a box of hammers look intelligent in comparison.")
The whole thing just makes me sad. Who wants to want her kid to be sad? It sucks. Period.
So today we went to the ceremony and watched each teacher get up to hand out awards to her students and say glowing things about each of them. Except, of course, that Monkey's teacher is away and the teacher who stood in for her had no personal commentary on the kids (probably because she doesn't really know them), actually dismissed the entire class as done but had MISSED A CHILD (that poor kid!!) and no one caught it until later, and Monkey's class only got "improvement" awards and "outstanding scholar" awards (meaning, no "needs improvement" grades) rather than the additional awards that the other classes received. Possibly his teacher ran out of time before she went and ABANDONED HER CLASS. Ahem.
Monkey did his thing and got his certificate and sat down with his class. And then he worked his way over to us and handed me his certificate. Then he curled up in my lap. (At nine and a half perhaps he's getting a little old for this, but I'm certainly not complaining.) He murmured something into my neck, and I leaned down and asked him to say it again.
"They spelled my name wrong," he said, blinking back tears. "I've been here for two years, and they spelled my name wrong like they don't even know how to spell it." I sighed and hugged him tighter, promising to email the principal to ask if perhaps they could redo his certificate. He jabbed a finger at his teacher's signature underneath his butchered name. "She even signed it. She KNOWS that's not the right spelling." I sighed, again. I tried very hard not to think unkind thoughts about his teacher, whom I adore, but can't stop wishing that she hadn't chosen to leave at this particular time of year.
He readjusted on my lap and went on, "And some of those other kids got a ton of awards, all because they didn't do well, at first, and then got better. If you're smart like me and do well all along, I guess you just don't get anything." I whispered all of the Right Parental Things to him; that those children need more encouragement, that being smart and good at school is its own reward, that his Outstanding Scholar certificate was sort of like saying he was at the top. None of it soothed him, and frankly I don't blame him, because in the other classes there had been awards for "best" at various topics, but not in his.
He continued looking dark and dour and finally I whispered, "I have a trophy for you." That piqued his interest. "It's invisible, though, so you'll have to be REALLY CAREFUL with it." He raised an eyebrow at me. I pretended to hand it to him. "It's in the shape of a puppy," I confided, "and it's the award for being the very best Monkey."
"I'm the ONLY Monkey," he huffed, unimpressed. I gasped.
"Excuse me, you most certainly are NOT. I know other Monkeys. But you're the best one." I kissed him, and then feigned exaggerated concern when he pretended to pocket his award. "You'll squish him!" I cautioned. Then he giggled, and put his imaginary puppy on his lap and pantomimed petting it while I ruffled his hair.
Change is upon us. Change is hard. Grace is sometimes elusive. But he truly is the very best Monkey I know. In fact, I think he's outstanding.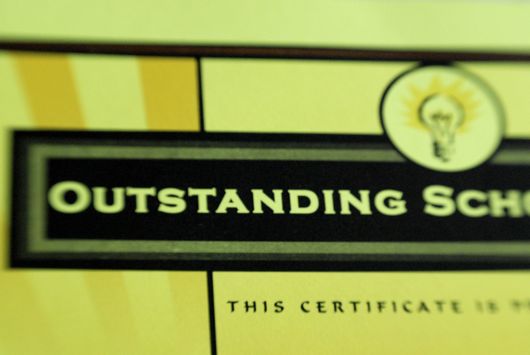 Happy Love Thursday, everyone. Love may not be the solution, but I still think it's the answer.