I think it's a testament to my GROWTH as a peaceful and centered human that I have neither maimed nor belittled anyone (to their face, anyway) in our current school district. Why, just last year, what's happening right now would've caused my head to explode in a stunning geyser of expletives and indignation! Instead, I am "gathering information" and "working through the proper channels" and "drinking a lot."
And bitching to you, of course.
(Also, I am not drinking a lot. My mother once told me that anyone reading my blog would assume I'm a heavy drinker, but I beg to differ. Anyone reading this blog on a regular basis surely knows that my drug of choice is Ben & Jerry's.)
Let me see if I can explain this without diagrams.
Actually, no. Screw that. We need diagrams.*
When we decided to move to this school district, last year, I had to learn all about the concept of School Choice. Where I used to live, you see, there was no choice. There was a school, and that was where your kids went. (Small town.) But in our new town, LO, there was CHOICE, and we were told that it was GOOD.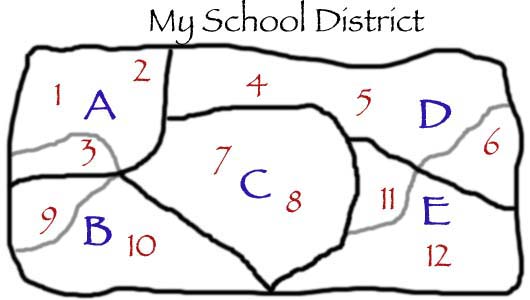 This diagram more or less represents** our district as it looked when we moved in.
[Some of you may remember that we came and visited the schools and selected which one we wanted, then did an insignificant little thing in BUYING A HOUSE ACCORDINGLY, then had to continue fighting for several months to get the school we requested, and then—FINALLY—the kids were placed where we wanted them and all has been grand ever since. Sort of.]
I know it's a little difficult to tell from this diagram—and I assure you it's one hundred times harder to decipher in real life—but basically, our county is broken up into zones. We'll refer to them as A-E, as you can see, above. The red numbers represent schools. The gray lines represent zone lines that have shifted to include a school not necessarily right in the original zone that is now considered a "zone school" for that region.
For example, in our handy diagram, if you live in Zone C, you can choose either school 7 or 8. But if you live in Zone D, you can choose from schools 4, 5, 6, OR 11. And Zone E selects from 11, 12, or 6. Clear as mud, right? Right!
Well, things are getting a mite bit crowded here in my school district. So they decided to open up some new schools. Hooray!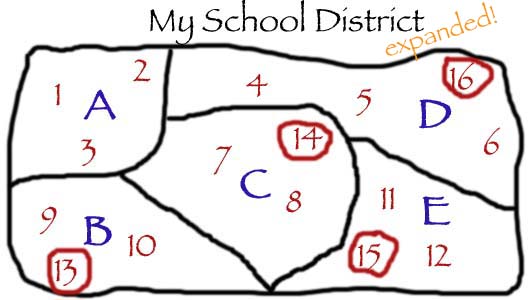 Look! Four new schools! And the need for these weird little cross-over zones is eliminated, too. WHAT A GOOD IDEA! Nice job, school district!
Except that there's still a big problem here, and it starts with $ and ends with $$$ and has to do with the fact that thanks to School Choice, we are now spending roughly the equivalent of the federal deficit*** each year on buses. In some cases, we have four different buses headed down the same street, headed to four different schools. That's expensive.
And also sort of stupid.
Besides, wouldn't it be great if we could get back to the days of yore, the wonder and magic of the concept of "neighborhood schools?" Of course it would! You bet your bippy! Let's not discuss the fact that part of the reason School Choice happened in the first place was out of a desire to create some economic diversity within the schools, so that we didn't have "neglected area" schools and "economically well-off" schools. Even though that was a REALLY GOOD ARGUMENT a few years ago, let's all pretend we never heard of that before! Neighborhood schools, rah rah rah!
Now, you might think it would be a super-swell idea to revamp the attendance areas towards this new ideal in some sort of gradual plan with liberal grandfathering of current students, because heaven knows that many, many parents have worked their asses off for the school their kids attend and are feeling, oh, a little attached. But if you thought that, you are almost certainly not a member of my local School Board.
Because what my local School Board wants to do is revamp the attendance areas RIGHTHISVERYSECOND, so that everything can be in place for the start of the 2009 school year. And that's a fabulous idea, except that:
1) One of the new schools needed to make this make sense won't be opened until 2011;
2) The new plan assumes that nearly any amount of grandfathering will upset people around the cut-off, so instead BRILLIANTLY grandfathers only those kids headed into their last year of elementary school (and their siblings, but only for a year) and no one else;
3) No one seems to know what percentage of kids are currently enrolled at the "wrong" school for their neighborhood area, but an informal poll suggests a number somewhere around MOST OF THEM;
4) In order to prevent "economic clustering" this plan will not allow parents to leave their children in their original schools EVEN IF THEY PROVIDE TRANSPORTATION for them, even though the plan is supposedly about saving bus money, and also by the way, hello, neighborhood schools = economic clustering;
5) When a school is rated as failing to meet Adequate Yearly Progress (which most of our district's schools are), the law states that students must be offered enrollment at an alternative—with transportation;
and
6) The new attendance map was drawn by drunken lemurs.
You think I'm kidding on the last one, but I assure you that the new map looks something like this: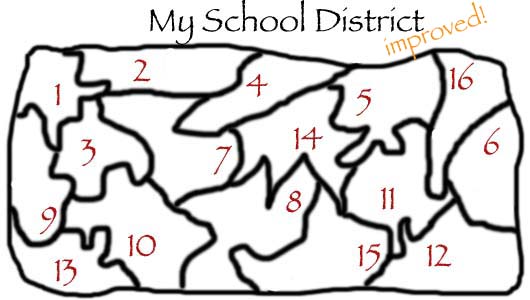 Yeah.
The VERY BEST PART, of course, is that the School Board seems completely bewildered by the opposition this plan is receiving. I mean, why wouldn't we all be in complete support of suddenly being forced to put our kids in different schools? SOUNDS FUN!
That's always my favorite part, when parents being outraged is viewed as so CONFUSING. I mean, the district is all about parents getting involved, and then when we do they're always ASTONISHED. (I think it's possible that the district could use some therapy. Preferably of the electroshock variety.)
It's going to be a really entertaining few months around here.
*These are not professional diagrams. They're not particularly accurate, even. Use at your own risk.
**In theory. But not really. Seriously, look at them—are you going to trust those squiggles? I wouldn't.
***Maybe not quite that much. But close.