So far today I have:
Forgotten to dole out allergy medications and vitamins at breakfast, been called to come bring something in to school on a day when it would make me very happy to never leave the house, managed to be in the shower when people came to the house needing me, become convinced that I somehow managed to get myself hired for a project that will never ever end (Everybody sing: "This is the job that never ends, never ends, never ends!") and eaten everything in sight that I'm allowed to have on this new elimination diet I'm trying to get my skin and my mood and my life back on track. Those allowed foods, by the way, amounted to a cup of tea, some leftover bean soup, a handful of spinach, carrot sticks, and an apple. There was no delicious SUGAR or DAIRY or WHEAT in any of it, and I'm not sure I can go on living.
I am hungry. And grumpy. And even though you're my favorite, I'm probably not being very nice to you right now. I'm sorry. Do you have any cheese?
In other words, my mood isn't much improved over yesterday.
So I went outside to look at the garden, because that generally picks me up a bit.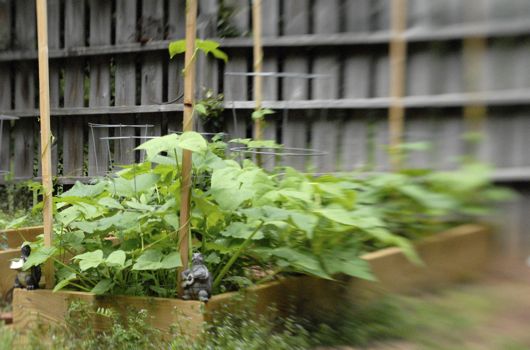 The zucchini and the bush beans are poised to take over the earth, but what I was interested in checking was the green beans. We have six green bean poles, and the kids have been marking off the plants' growth with a Sharpie.
The bean vines appear to grow about four inches every day. Which is nuts. I mean, CRAZY.
And first it was "but how will they know to go around the poles?" and then it was "how tall will they get?" and now it's "but what happens when they get to the top?"
The answers to those questions are: "They just do," "I have no idea," and "Beats the heck out of me." You're welcome.
Well, based on yesterday's growth, I had a feeling I would get a new answer to one of those questions today. And I did.
Today still sucks; I still feel tired and stupid and slow and cranky and there's nothing I would like more than to be able to sleep for a day and then just sit around for a day doing absolutely nothing at all. No one would ask me for anything, there would be no bickering, the work wouldn't mount up on my desk, and unicorns would fly out of my ass. It would be a thing of beauty. And it's never, ever going to happen. Hence the cranky.
Now the answer to "What happens when they get to the top?" is…
… this.
In my next life, I hope I come back as a plant. (Preferably one that isn't eaten by slugs.)