All day—as I worked, ran around doing various delightful things like taking my son to the orthodontist to have part of his gums lasered off (note to self: BUY MEDAL AND ICE CREAM)—I kept thinking I would find my happy place and return to my computer ready to do a Love Thursday post. I like Love Thursday. Some might even say I LOVE Love Thursday. And I've always managed to find something love-worthy even on days that weren't so great.
But not today.
Today my love is on temporary hiatus, and it has been replaced with a DEEP and ABIDING sense of SQUICK. I'm sorry, but it's true. And I don't know how to fix it.
Last night I went outside to water the garden, as I always do. Watering the plants generally puts me into a Zen zone where all is right with the universe.
But last night, I noticed a spider's web in the corner of one of my planter boxes, and I'd seen the web there before, but this was the first time that I thought I saw something down in the deep, dark corner at the edge of the web.
Look; I actually LIKE spiders. For the most part. There are, obviously, some exceptions. But a spider in the garden is a good thing, because that spider will eat bugs that might eat the plants. Right? Right.
And so it was with a sense of love and tolerance that I peered into that dark hole.
Huh, I thought to myself. I'm thinking I see something there that's… wait, you know what? I think I want to go grab a camera. Because I think maybe… nah, I'm sure it's not, but why not just duck inside for a sec all the same?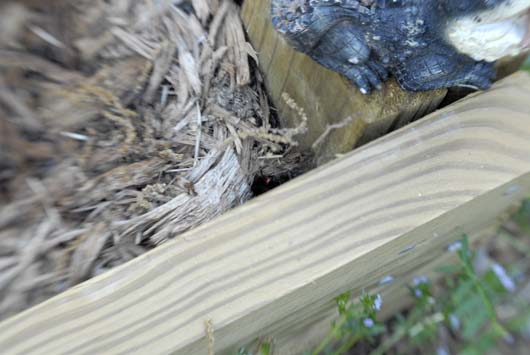 She soon came out to eat her dinner.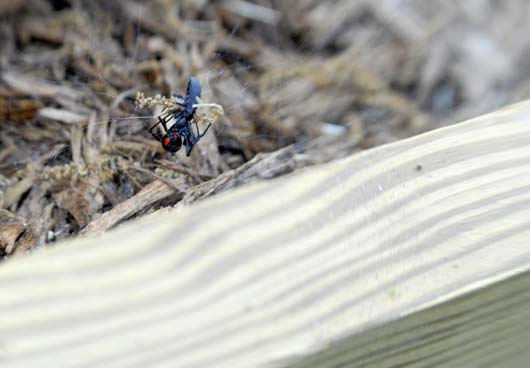 I kept clicking away, even as in the back of my brain, something niggled. Isn't that…?
Eventually she went back to her hidey hole, and I came back inside.
And consulted my dear friend The Google. You do know what Ms. Spider is, right? Here's a hint.
And now my love is GONE BABY GONE, because WE'RE ALL GOING TO DIE. I mean, black death is waiting right over by the tomatoes. Tomatoes that I brought back from the dead with tender love and care! Tomatoes I've coddled and pampered! And now I can't go near them.
Because I'm a big giant wuss.
I love the south, man, but the bugs here just do not mess around. Sheesh.