It's supposed to be 89 degrees here today. EIGHTY. NINE. DEGREES. In April.
(Nope, I don't think I will ever get used to it. That's some craziness, right there.)
When we did the big closet clean-out a few weeks ago, we took a load of the kids' outgrown clothes to our local consignment shop, and picked up a few new things. Amongst them was a smocked sundress for Chickadee, suitable for Georgia summer, but completely UNsuitable for the 50- and 60-degree weather we were having at the time. She has asked to wear that damn dress every single day since we bought it. Yesterday I checked the forecast and she said, "NOW can I wear my new dress tomorrow??" I said sure, and now I'm the greatest person in the whole wide world. (Until I do something that offends her, of course. I've got that scheduled for about five minutes after the kids get home from school today. I figured I'd give her time to have a snack, first.)
Also, my garden is growing by leaps and bounds and the pollen is starting to dissipate a bit, but none of these things are the reason why I know it's summer.
I know it's summer because the geckos anoles are back!
After a season of tracking our friend Bob hanging out on our deck, I sometimes wondered why we never saw OTHER lizards. I mean, there had to be more than one, right? And then at the end of last summer, just once or maybe twice, we saw a baby. The kids dubbed it Baby Bob. Of course.
Then summer ended and so did our lizard sightings.
But the other day, I was hanging out on the deck and got to witness a battle royale.
It started with two lizards circling each other on the railing.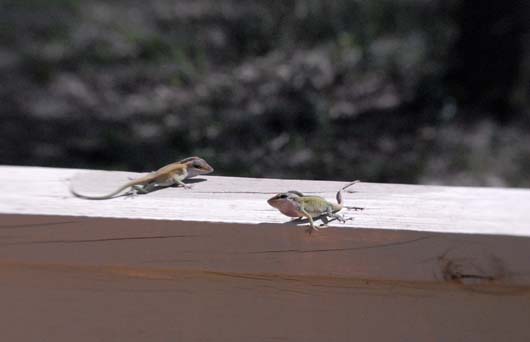 They circled each other verrrrry slooowwwwwwly for quite a while.

The, of course, one decided it was time to puff out his neck fan thing. Because that makes him more scary.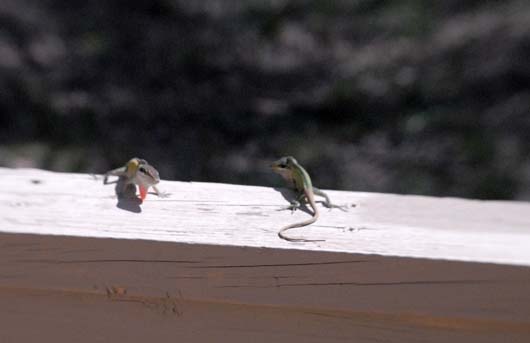 When his opponent didn't seem sufficiently impressed, he added in a push-up. You could almost hear him thinking "And now I shall MAKE MYSELF BIG!"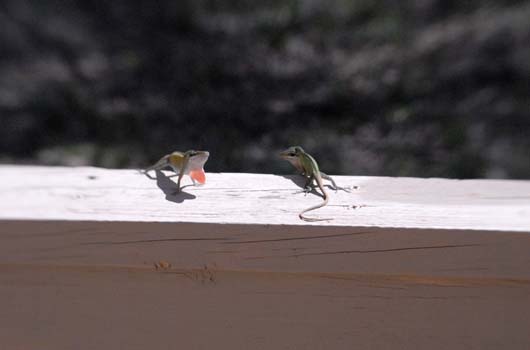 Well, that was the winning move. The other lizard scuttled down towards the ground, and first our hero chased him for a minute, and then he returned to gloat.

I've decided to call him Hercules. Hopefully he'll be just as mighty when it comes to eating bugs on my plants.
Anyway, now it is officially summer. You're welcome!