We're just past the halfway point of the kids' first week away this summer, and truthfully, the days are passing at a tolerable pace. It helps to have a major catastrophe to tend to, I guess, to take my mind off of other things. LUCKY ME!
Oh, I kid. The whole computer failure and subsequent retreat into the fetal position has only occupied a tiny (gigantic) sliver of my time. Actually, I've been quite busy with my little container garden out on the deck. And that's because I love to garden! Oh, wait. Actually, I think it's because some sort of mystery bug is eating through my banana pepper plants. I spend a lot of time out there trying to find the culprits, and shaking my fist at the sky, and watering, and pinching the basil, and just generally fussing over my plants because my children aren't here to fuss at. Don't judge me. If all YOU had was lemon verbena, you'd spend more time with it, too.
Anyway.
The kids call home every night, and they want to know how we're doing and what's happening here.
So I tell them about what's going on out on the deck.
Chickadee likes to ask me how the strawberries are doing.
"I caught the first one turning red!" I tell her.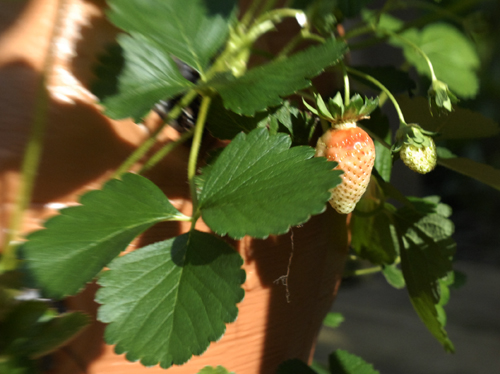 "And then a couple of days later it was ALL red, so I plucked it and ate it. But it wasn't very sweet. I think maybe it needed a few more days."
"How many more are red?" She asks. "Can I have some when I get home?" We debate the relative merits of pie vs. ice cream, planning a feast because of a single, underripe berry.
Both of the kids want to know if I've seen Bob, our gecko, recently.
"I was out on the deck this afternoon and he ran right up the banister," I tell them. "When I came up to him with the camera, he decided to show me his beautiful neck!"
He's ferocious, you know. Also, it's handy that the edge of the deck is kind of mildewy. It makes it easier for him to hang out and turn himself into a matching color. "By the way," I tell them, "his tail is really coming back nicely. Pretty soon we won't know it's him anymore."
"Oh! And guess what else!" I tell Monkey.
"What?" he asks, game to play along.
"I found a teeny, tiny little tomato starting to grow," I tell him. He gasps with delight. If there's anyone else in this family who spends more time than me poking around in those pots, waiting for a miracle, it's him.
"Is it an Early Girl?" he asks, remembering that they're supposed to produce fruit first.
"Nope," I tell him. "It's a Roma. But the Early Girls are starting to flower, too. Just you wait until you see this tiny tomato, it's the cutest thing ever."
"I want to eat that one," he tells me. "After it's ripe, of course. Can you keep track of it for me?"
I tell him that I will.
"We'll be home in a few days, Mama!" he tells me. "I am going to check on it then. I'll see you soon!"
I'll see them soon. And look at all the great things I'll have to show them! While they're looking, I'll be able to check out how much they've grown in a week, while I wasn't watching.
And then I'll need to send them off again, in a little while, but right now I think I'll think about my tomatoes and Bob's tail, instead.
Happy Love Thursday, everyone.