Warning: This post contains gardening p0rn. Proceed at your own risk!
It's been raining and raining and raining here, and that's good, both because of this pesky drought, and because it means I don't have to water our garden. So instead of watering, on days when it's not pouring—which would be, in the last two weeks… um, today—I can just go outside and pet the plants and feel smug.
That's not entirely true, of course. I don't pet the plants, because they prefer to just be hugged. And I don't really feel smug, because I've never done any gardening from seeds before, and I am ill-suited to the uncertainty of it all. I've watched the tomato plants double in size since planting them less than two weeks ago, and that's my kind of gardening. ZERO EFFORT leading to VISIBLE RESULTS. Yes.
But as the rain came down at the boxes filled with seeds continued to look… exactly the same, I started to fret.
"Maybe I put too much mulch over the top!" I would exclaim to Otto, often in the middle of a conversation about something else.
"What difference does it make?" he would counter. "It's FINE. They'll grow. Just wait."
"But maybe the mulch is too HEAVY. Maybe all of the plants are underneath it, unable to break through! Maybe I am accidentally killing everything! WITH MULCH! I don't know!"
Like I said—I'm not very good with suspense. Particularly when I have no idea what I'm doing.
Otto would attempt to soothe me with Zen-like proclamations, such as, "Roots grow down, leaves grow up. No one knows why. It's the MIRACLE OF LIFE!" But when I would press him to clarify whether that scenario included a thick layer of mulch, he would become agitated for some reason.
Today I went outside and LO! MAH BAYBEES! They are GROWING! I'm so proud. And relieved. Apparently two weeks of rain does a seed good. So that's the good news!
The bad news is that I forgot to mark where I planted what. So I'm kind of guessing on what I'm actually growing. It'll be fun! The weeds can grow knee-high before I figure out they're not food, I'm thinking.
Without further ado: Pictures of my labors. You know, the labor of poking seeds through the soil. Actually, come to think of it, the kids poked the seeds through. But I totally shoveled the mulch on top, man.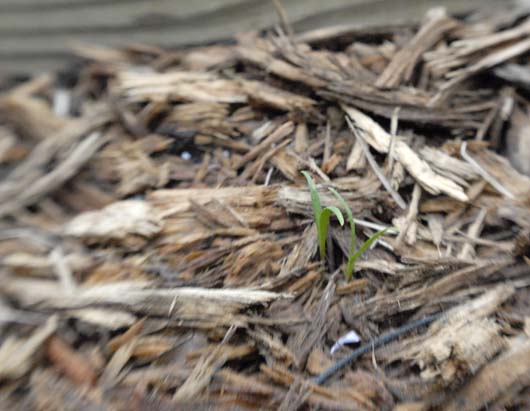 Look at that—it's a two-fer! I think that when that gets a little bigger, I have to "thin" the seedlings, which is gardening-speak for "murder." How will I choose? It'll be all Sophie's Choice up in my garden, man. Alas. These happy little shoots are oblivious to their grim fate, and are also… bush beans. I think. I'm pretty sure. Wax beans, probably. [Edited to add: I'm a garden dummy, I admit it. I looked up some pictures, and now feel reasonably kind of sort of sure that it's spinach. Maybe.]
I'd become completely convinced that none of the green beans would ever sprout. So I was pulling back the mulch and found this and felt really happy, until I realized that it looks less like a green bean and more like a tiny alien. We'll see, I guess. I leaned down very close to it and told it to CLIMB TOWARDS THE LIGHT and also please WIND AROUND THIS POLE I PUT HERE FOR YOU, but I'm not convinced it was listening. Just like my other offspring.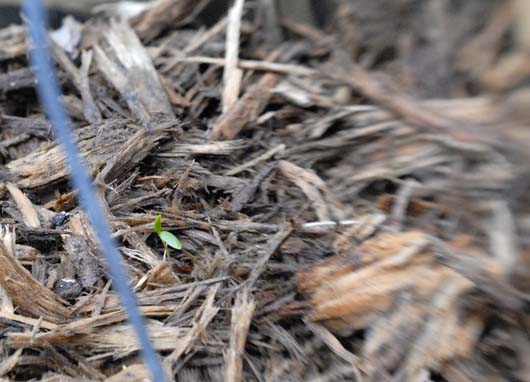 This itty bitty thing here is a yellow squash plant. I think. That or a weed. Or some spinach. Or possibly cucumber? No, I'm really pretty sure it's squash.
My grape tomatoes are already flowering! That's nuts. There's still snow on the ground where I used to live, and I have flowering tomato plants. Crazy!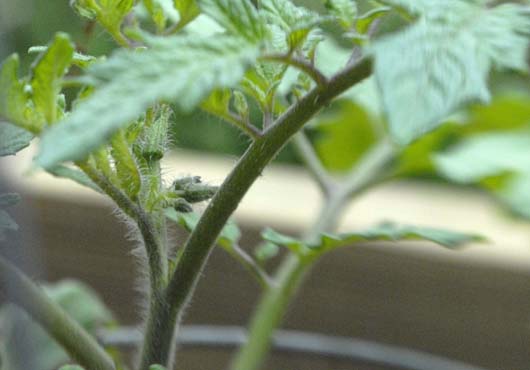 My Golden Jubilees are getting ready to flower, too. I don't know if Golden Jubilees are actually tasty tomatoes; I was seduced by their cheerful name. Who wouldn't want some GOLDEN JUBILEE happening in their garden, right?
Not pictured: The stupid undead aphids, who keep coming back in spite of my soapy-water spray-downs of the pepper plants. HMPH.
Also not pictured: A single sprout in one of the watermelon containers, which was SO EXCITING that every picture I took was sort of blurry. Though this may also be because the neighbors walked outside and I suddenly realized I was in my pajamas, outside, and they might see me.
Whew! All that hard work in my garden. I think I need a nap. Good thing I'm still in my pajamas….