… for everyone to LOSE THEIR FREAKIN' MINDS.
Seriously, I don't know what it is about December—whether the twinkling lights, much like certain over-the-top animated programs, cause people's brains to short-circuit, or if all of that GOODWILL and CHEER is just destined to backfire, or WHAT—but this is the time of year when otherwise reasonable people just up and go NUTS.
And I don't want to cast aspersions, really, I don't. But I'm pretty sure this is NOT what Jesus had in mind. (Then again, Jesus strikes me as the sort who would find the birthday hoopla unnecessary. Though a national wash-a-stranger's-feet-and-donate-to-charity day seems unlikely to gain the same sort of popularity.)
Anyway. This insanity has struck many near and dear to me. OF COURSE.
My children are both in the choir at their school. My joy begins to wane with that very statement, as this is an elementary school and the choir membership is by audition only. I think that's… kind of harsh, actually. At this age, I think the kids who want to be in choir should be allowed to be in choir. But whatever; fine. You have to audition. And then if you get in, you spend two months being pulled from other classes to rehearse for the big holiday concert.
For two months both kids have missed math and other academics to learn half-a-dozen songs and dances, and they enjoy it, and so I'm happy for them that they get to participate.
Last week, Monkey was "kicked out" of choir. Less than a week before the concert. Monkey told me he was fooling around during a song, and pointed in the wrong direction during a dance. (The horror!) Chickadee told me that actually, the choir director announced that there were 83 kids and she only had room for 75 of them on the risers, and anyone who wasn't perfect was going to be cut. Chickadee reported that at the end of rehearsal, eight kids had been cut. Monkey didn't seem too bothered, but I'll confess that I was livid. Make a kid rehearse for two months and then boot them for pointing the wrong way? Uhhhhh. Wow. Filled with the love of Christ, that one.
Because Monkey wasn't upset, I didn't intervene, however. And the next day, Chickadee came home and told me that the director asked her to tell me that actually, Monkey was talking through the entire rehearsal, and THAT's why he was kicked out. Ooookay. Whatever. (Look; I have no doubt my kid talked all through rehearsal. I also have no doubt that he talked all through rehearsal for the previous two months. It's the timing here that irked me. And also how the kids were told there weren't enough risers.)
Two days later, everyone the director kicked out that day was suddenly allowed back into the choir! Imagine that! I'd love to believe it was a case of realizing a mistake had been made, but my money's on the other seven parents having complained. (And perhaps the principal finding an extra set of risers.) Either way, both kids were slated to perform in last night's concert.
Yesterday afternoon, things started going downhill. There was some Attitude. There was some Poor Behavior. And this was COMPLETELY SHOCKING because it's TOTALLY UNEXPECTED for this to happen on the day after the kids have spent a weekend living the high life with The Fun Parent. Nevertheless, we do have rules here, and our patience has limits, and as things worsened first I and then Otto warned that if things didn't turn around, someone would be staying home from the holiday concert.
Things did not turn around.
There was a lot of crying.
But eventually I had to dry my face and take my son to the concert. I sent him off to the prep area and asked him to let the director know that Chickadee would not be attending. And then I went and sat in the audience and watched my son sing, and tried really hard not to feel like the world's meanest parent.
After the concert I went up to the director to apologize for Chickadee's absence. I hadn't even gotten two words out when she snapped at me, "I know you think you're just punishing your kid or whatever, but you don't understand that what you did was punish ME and the ENTIRE CHOIR by her not being here. You should've thought of that!"
Hey, I'm ready and willing to believe my daughter is super special and everything, but with 80+ kids I'm supposed to believe that her absence ruined the show? And also that THAT takes precedence over raising her to be a pleasant, respectful human?
I shouldn't complain; the director did me a favor, actually. Up until her little diatribe I'd really felt conflicted about the ramifications of sticking to our guns. Afterward, I had little room for any emotion beyond wanting to punch her in the face. So that was helpful.
Back at home, Chickadee and Otto had had a good talk and a productive evening, it seemed like. We cuddled up and I told her again that I was sorry that she'd missed the show—that sometimes being a parent is really, really hard. That it broke my heart to make her stay home, and that I was really sad I didn't get to see her sing. But that I was just trying to do my job. And that I hoped she knew I wasn't trying to be mean, it's just that it's my job to set limits and enforce them.
She apologized for her behavior from earlier. Though that may have been a little Otto-put-the-fear-of-God into her, I guessed. We wrapped up our talk, and the kids went to bed.
I came back downstairs, flopped down in my desk chair, across from Otto, and cried. "I hate always being the bad guy," I wept. "It's not fair. I'm always the heavy. I'm ALWAYS the bad guy. I hate it. I HATE BEING THE BAD GUY."
Otto let me cry. And then he brought me ice cream and wine. It didn't make everything all better, but it helped.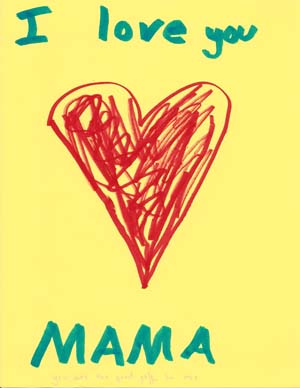 This morning Chickadee came into the office—where I sat rifling through my email—and asked me to come see something on the stairs. When I acquiesced, this is what was waiting for me. I teared up immediately, and Chickadee poked me in the side as I bear-hugged her.
"You didn't even READ IT yet!" she protested.
"Yes I did. You love me even though I'm a big meanie. Thank you. I love you, too."
"NO!" she insisted. "PICK IT UP. Read the BOTTOM."
Quite frankly, I'm a sucker. I'm good with "I love you Mama" and a big heart. I wasn't sure I wanted to see what was on the bottom. It was a lovely, sweet gesture. I just wanted to enjoy it.
So I kept hugging her, and tickled her a bit (for good measure) while she continued insisting that I needed to PICK IT UP and look at the bottom. Finally I let her go and picked up the paper.
And there it was, down at the bottom:
And then I bawled.
It may be the season to lose our minds, but I think I just got a gift more sacred and mystical than a virgin birth.