Today is prep day. In order to prevent myself from having a nervous breakdown tomorrow, today I have to not only get enough work done that I can more or less stay offline for the day (as running off to check my email when we have a houseful of guests might seem rude) (though perhaps I could slip my iPhone into my apron pocket…), but I also have to cook a whole mess of stuff (yes, that's the technical term) so that tomorrow I can concentrate on the turkey and our company.
And the wine. Of course.
So this morning I got up and threw some cranberries into a strainer in the sink, and did some work, and made some cranberry sauce, and did some more work, and made some more cranberry sauce, and… well, that's sort of how the day is going to go.
I did take a break from the preparation of TOMORROW's food to whip up a batch of buttermilk pancakes for breakfast. This is because my long-suffering husband went to the grocery store for me without complaint when I was freaking out about everything I had to do, yesterday, and I made him a list and wrote "BUTTERMILK" on it. "I think," I told him, when I handed it to him, "that a pint of buttermilk will be more than enough. But I don't know if you can buy it in a pint container. If not, a quart is fine. I can always make something with the leftover."
So he went to the store and came back with a HALF GALLON of buttermilk.
(Sometimes our house is a lot like that movie "Lost in Translation," except that—unlike Scarlett Johansson—I don't often lounge around without pants. Okay, maybe it's not like that at all.)
When you need something like a cup of buttermilk for your recipes and your husband presents you with half a gallon of buttermilk, but has done so without complaint so that you could take care of other things, you only tease him about it a little. And then you make pancakes.
After breakfast (and the second batch of cranberry sauce) (and yes, before some wiseguy says it, I am making more than cranberry sauce and no, I'm not making twelve different kinds, just two—one traditional and one spicy), I did some more work, and now I'm doing this, and after I finish one more thing I'm going to go peel potatoes.
My life is glamorous. (P.S. The buttermilk is for the mashed potatoes. Anyone know how many potatoes I'd have to be mashing to need an entire half gallon…?)
Scenes from this morning (photos courtesy of Otto):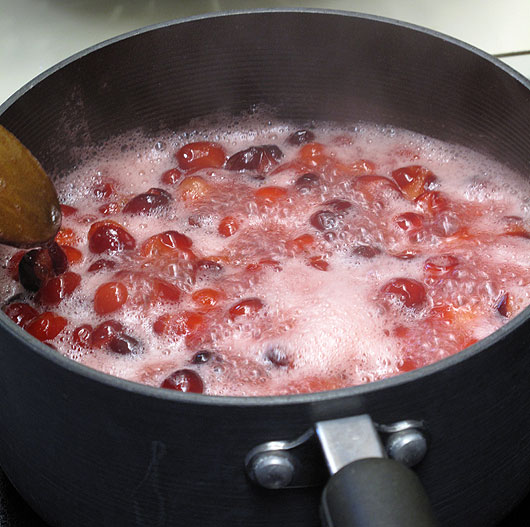 Mmmmm… exploding cranberries. (This is the traditional one. The other one has fresh ginger and cardamom and hunks of tangerines. In other words, the other one is for the grown-ups, and this one is for Chickadee.)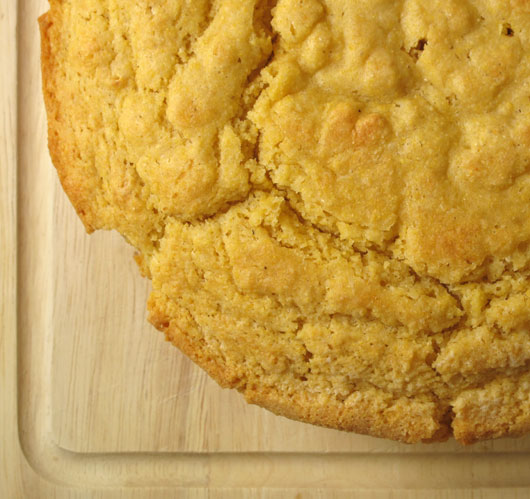 This is the maple buttermilk cornbread (oh yeah, I did need some buttermilk for this too, I guess…) that will be magically turned into stuffing, tomorrow. Great stuffing starts with awesome from-scratch cornbread. That little nick out of the edge, there? No idea how that happened. Nope. None. (But if you can resist that cornbread, straight out of the cast iron… well, you're a stronger person than I.)
The children are bouncing around upstairs, and although I'm feeling a bit scattered, all of the smells from the kitchen wafting into my office are making it a very pleasant day, indeed.
Perhaps we'll have a turkey tragedy or something, tomorrow, to make it all a little more interesting and less idyllic. You can hope, I suppose.