Can I tell you something I consider one of my dirty little secrets?
I love crappy food.
You may be shocked to know that, because anyone who knows me knows that we almost never eat out, and also that I'm quite vocal in my disdain for the lack of nutritional value in most take-out food. But the truth is that there was a long period of time when I was a kid where my dad hadn't yet learned to cook and my mom was working nights, and my brother and father and I lived on McDonald's and Kraft Mac and Cheese and Spaghettios and such. We were hardly unique—it was the 70s, and everyone was digging "convenience food"—and even though I hardly ever eat the stuff, now, I still see comfort in a blue box of macaroni or occasionally need some salty fries from McD's.
(Mmmmm… salt and grease.)
As I feed my own family, now, I'm trying really hard to make the kind of memories that center around good food choices, with the occasional trip to Sonic being a treat of shocking proportions.
The truth of the matter is that both my husband and I work full-time, which means we both often work even more than full-time, which means that sometimes, yeah, we pick up the phone and order pizza because it's all we can manage on a busy day. I'm not going to beat myself up over that. It happens. So far, it hasn't killed anyone.
On the other hand, there's nothing quite like gathering the kids 'round at dinnertime and letting them make their own pizzas. We're all in the kitchen, jockeying for elbow space, as I toss onions in my cast iron pan for the "grown-up" pizza, and Monkey is placing pepperoni on his pizza with artistic precision, and Chickadee is asking "How much pineapple can I have? Can I have more than this? How about this much? OOPS! I used it all!" and then Otto leaves and comes back with a camera and starts taking pictures of it all.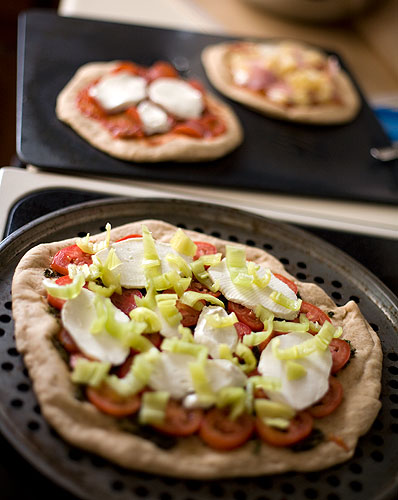 (Ready to go into the oven.)
.
I made the crust from scratch. The kids had jarred sauce, but Otto and I had pesto I made from the basil growing on the deck. Chickadee and I made our own mozzarella (I blame Belinda, but she's right, it's so much fun and SO SO YUMMY), and those tomatoes and peppers are also from my little deck garden.
There was work I had to finish and laundry to be sorted and a hundred other things that maybe I could've accomplished in the time it took, when all was said and done, to bring that meal to the table.
But this was more important, that night.
Some days we'll still give up and call for pizza, sure. But the nights we can crowd together in the kitchen, assembling a meal from the ground up… these are the moments I hope the kids will look back on, rather than the times when we were so rushed that it didn't matter what we ate.
Happy Love Thursday, everyone. I hope you know the love that makes slowing down a blessing, rather than a chore.