I am still earnestly toiling over the containers out on my deck. In some ways, it's really an ideal set-up—there's no deer or rabbits willing to venture that high, so I don't have to worry about putting in all of this effort merely to feed the local wildlife. After all, that's what our compost pile is for. (I do love the mental image of a couple of deer dragging our scooped-out cantelope rinds down to the pond for a late-night snack.)
At some point, the strawberry plants heaved an enormous sigh and all but died. I'm not sure what happened, although I DO know that the squirrels (unfazed by the climbing needed) ate most of the berries. But then the plants themselves developed some ugly brown splotches and just gave up. It was very sad. But the good news is that the rest of the plants are still going like gangbusters. (Gangbusters apparently go very… ummm… strong! And fast! I think.)
So here is what I mostly do about the plants I'm growing: I go out on the deck and look at them and WORRY. Our county is still under drought water restrictions, which means that we're only allowed to do outside watering every other day. In theory I agree with this as a sensible approach to water conservation. In practice I would like to point out that my tomato plants didn't get the memo that they should only require water a few days a week, and furthermore, if they are not watered on a day when the mercury crosses 90, the leaves start to turn yellow and shrivel up and then I fret and grumble and eventually end up illegally watering them because MAH BAYBEES! They're THIRSTY!
(Summer days in Georgia when the temperature goes above 90: ALL OF THEM.)
So, basically, I am risking a trip to the bighouse for some home-grown tomatoes. Yes.
On the whole, though, my hard work is paying off in spades. For example, I now have LOTS and LOTS of parsley: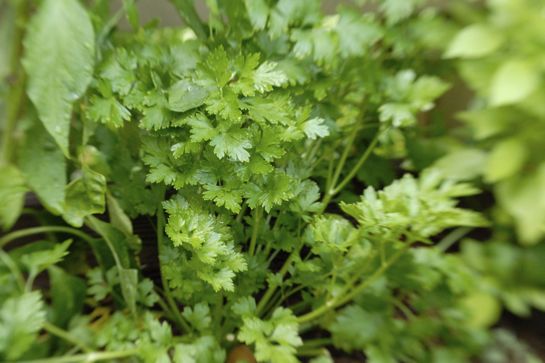 I never know what to use it for, so last week in a fit of inspiration I cut off a huge bunch of it and chopped it up and added it to a shrimp linguine dish I was making. That's one of my favorite recipes, you know, one where I start with a concrete idea (I have shrimp! And lemons! Let's go!) and proceed by throwing in everything that looks good. So I tossed in a clove or three of garlic and some olive oil and some butter and more pepper and then my chopped-up handful of parsley and the kitchen smelled AMAZING and when we sat down to eat, I asked the kids how they liked it.
"This is DELICIOUS!" said Monkey. "Except for these green things. What IS that, anyway?"
"It's parsley. That I grew myself," I muttered. (Note to self: Next year, no parsley.)
But nevermind the parsley. Thanks to my renegade watering, it looks like we're actually going to have tomatoes VERY SOON: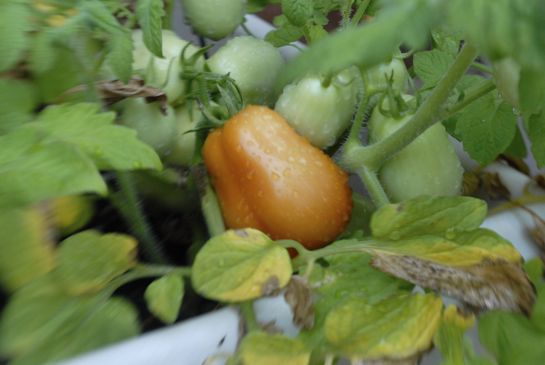 That's EXCELLENT news, both because that particular tomato has been on the vine for approximately twelve years and because I am seeing a lot of salsa in our future, for some reason:
The jalapenos are more prolific than the (formerly slug-ravaged) banana peppers, but the banana peppers are fighting back and I have several that are over 6″ long, already:
(I have one banana pepper hiding in the back which is impossible to get a good angle on to photograph, but it is growing out from the vine on a complete horizontal. Whenever I see it I ask it if it's a banana pepper or if it's just happy to see me, and it cracks me up EVERY SINGLE TIME.)
This is not technically part of my garden, but bears sharing, anyway. Last year I bought Otto a giant outdoor thermometer: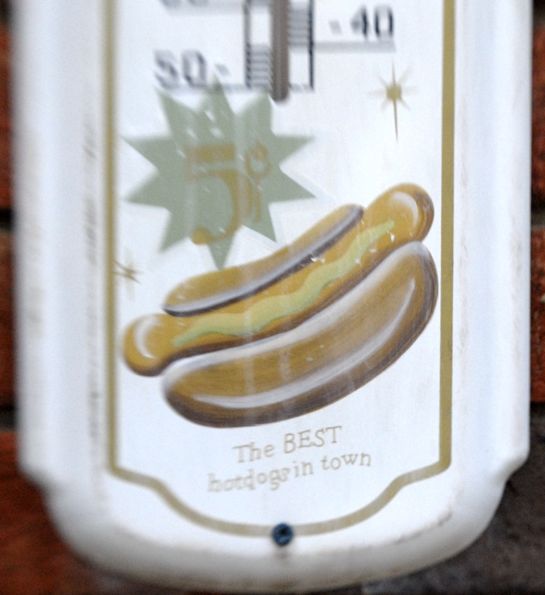 It's old-time-y looking and kitschy and absolutely perfect to have out by the grill. I love it. Otto loves it. Otto mounted it on the side of the house this winter, and so it wasn't until the weather got warm again that we discovered that mounting a tin thermometer on bricks is a really bad idea. Wanna know the temperature? It's 120 degrees (the top of the thermometer) ALL THE TIME. So, um, we're going to relocate that sometime soon, I think. Or just freak out all of our visiting relatives. "Oh, that? Yeah, it's 120 out. You get used to it."
By the way, I wasn't bright enough to snap some pictures of my basil before I picked a bunch for the pesto I'm going to make later. You'll just have to imagine it, I guess.
Yeah, I know, pride over a few plants I didn't kill is a little silly. I'm easily impressed with myself (hey, someone has to be).