I'm pretty sure that the most obnoxious thing ever said to me about my blog was not a criticism of my parenting or some sort of personal indictment (though—let's be clear—I've gotten plenty of those, too), but a dismissive, "Well, blogging's just a fad, and it'll pass, so enjoy it while it lasts."
This was said to me by someone who's always regarded my writing as a useless little hobby.
Well, I've been enjoying the spoils of this silly little fad for over four years, now, and I'd be hard-pressed to tell you the greatest part about it. Because, clearly, the greatest part is getting to do what I love every day. And clearly the greatest part is having a chronicle of my kids' lives that they'll be able to refer back to when I'm old and senile and need them to change my diapers. And obviously the greatest part is that I took a hobby started at one of the lowest points of my life and leveraged it into a career that now helps support my family.
All of that would be enough for me, frankly. I've been blessed a hundred times over from this site, in ways I never thought possible. I've met some of my dearest friends here. I've endured some of my greatest challenges by gritting my teeth and writing through them. I've loved being able to have a place where I can celebrate how wonderfully my life has turned out and make fun of myself when I'm having trouble seeing that. It's all good.
But this is EVEN BETTER: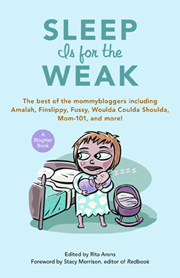 I'm sure you've read about this everywhere, already (sorry, I was busy writing a love letter, yesterday), but in case you haven't, this here is an anthology coming out this fall from Chicago Review Press. My writing is in it. In fact, my blog is on the cover, there, which thrills me in a way I cannot explain. There's a couple dozen contributors involved and I am here to tell you that EVERY SINGLE ONE has written something spectacular.
And then there's our editor, Rita. I have never seen anyone work harder for something than Rita did to make this book a reality. You can read the whole story on her blog, but what that DOESN'T say is that Rita envisioned this project from start to finish and then kept going against all odds (and largely on her own) until it happened. We are all deeply indebted to her. Me, I gave her permission to use a few of my favorite blog entries. Not hard, you know? She did the hard work, and she deserves the kudos.
Thank you, Rita, for making it possible for me to say, "Yeah, well, I'm sure THE BOOK I'M PUBLISHED IN is just a fad, too." (Eden was right—writing well really IS the best revenge.)
Should you wish to pick up a copy or twelve of Sleep is for the Weak, you can pre-order it at Amazon, Barnes & Noble, or from your local indie book shop through BookSense.
Want your copy signed? Sure thing, Pretty! Kristen Chase and I will be at the Decatur Book Festival at the end of August, and I'll be at the Athens Borders on Alps Road on September 21st, too. Yeah, I know it's a long way away. I'll remind you again. You know, if the fad is still going on, I mean.