So I'm trying to keep busy while the world continues caving in, because I hear that helps to pass the time and make things seem less dire. HAHAHA. It's not working, yet, but hope—and MIIIIIIIIINT!—springs eternal.
This means, of course, that I am turning all of my energy to my gardening efforts. Because school never calls to tell me that my tomatoes are poorly behaved! Basil never screams that it hates me! And although I'm no fan of the slugs, they are entirely predictable and survival-oriented in their quest to ravage my harvest, whereas the Mother's Day discovery that a certain surly someone managed to send $40 worth of texts IN A SINGLE DAY maybe shouldn't have surprised or infuriated me, but did, on both counts. (P.S. I know we will look back and laugh someday, but someday feels a very long way off, today, and may as well have been Pluto, yesterday.)
I shall find salvation in my garden. It's a little reassurance from Mother Earth that not everything I touch turns to despair. I'll even take credit for the mint, which as we all know hardly needs my permission or coddling to flourish. I know. I'm still taking credit, so shut up.
First there was the prepping and the planting. Later, there will be harvesting. There will be tomato salads tossed with just a touch of dressing, because they're so flavorful they barely need it. There will be snap peas straight off the vine, warm and impossibly sweet and gobbled down by children fresh out of the pool with puddles pooling under their toes. There will be rogue zucchini that somehow suddenly appear, prickly and ominous, where I swear there was nothing the day before. There will be endless batches of pesto and oh yes, there will be basil-lime sorbet, perhaps my favorite sign of summer, melting in the middle of a bowl ringed with strawberry slices.
But right now, there is just watering. And waiting.
I go out every evening to tend to my boxes and inspect the progress. Right now, my gardening efforts are a study in hope and patience, two things I find the rest of my life wanting for in a major way. What I can't manage indoors, these days, I find in my nightly meditations as I fill my watering cans, pluck baby weeds, run my fingers over the soil and breathe prayers I cannot speak the normal way.
Each sprout is a promise that may or may not come to fruition, but it's the possibility, at least. And it's progress I can track. It's tangible. That's a comfort, right now.
This weekend all my cucumber seeds decided to pop.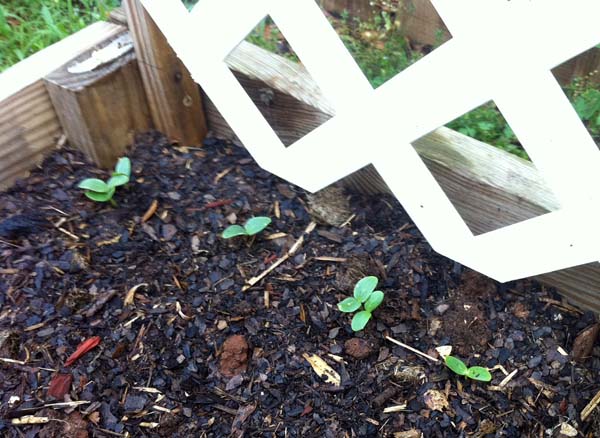 I look at these little leaves and I remember how last year one mammoth cuke hid from me for probably weeks before we found it. Proof that—while I treasure the growth I can see—sometimes I don't see what's changing, and that doesn't mean nothing's happening.
Of course, the neighbors' million feral cats are coming around, again, and my herb garden still looks like a giant litter box to them. I'm all for the natural wonder of my gardening efforts and blah blah blah, but it was a good reminder that when protection is needed, sometimes you've just gotta do what you've gotta do.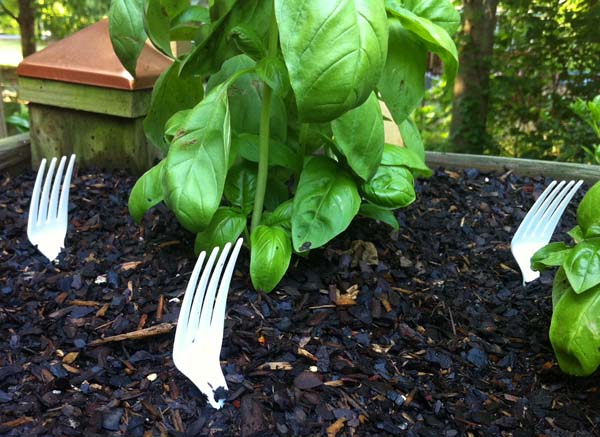 That seemed to solve the problem. And in a weird way, I rather prefer the box like this. It seems fitting, somehow. Lush! Green! But also pointy and weird! It almost reminds me of some people I know. Huh.