We're headed back to the Big City today to discuss Chickadee's rash. AGAIN. School starts up in a couple of weeks, and thus far our summer with The Experts at Emory has yielded… oh, that's right, A HORRIBLE RASH. Technically the rash is not their fault, but I must say that my hopes that we'd finally resolve this little problem—you know, three years after it began—are fading. The rash itself, however? NOT FADING. But at least we've had her off steroids and any sort of antihistamine in preparation for the repeat nickel patch test which… was canceled. Awesome.
[Sidebar: I may just climb up on the exam table today and hold my daughter aloft while drawing circles on her stomach with Sharpie, just to point out that everything I've read about nickel allergy dermatitis says IT STARTS ON THE STOMACH if you wear jeans with any sort of regularity (and she wears them every damn day, on account of her legs are all rashy and she mostly refuses to wear shorts). The ONE place she doesn't have a rash? HER STOMACH. So. Yeah, let's do backflips to have THAT test, because it's going to be so useful.]
It's possible I'm a little worked up about this. Good thing I hide it so well.
Ahem.
Anyway. Okay, let's switch gears. Because as we all know, I can talk about this forever and steam will come out of my ears, but it accomplishes nothing other than just making me more frustrated than I already am. So! Topic change!
A couple of people asked about the cucumber referenced in the last post. It's true; although our garden was being tended in our absence, we had a crouching vine, hidden cucumber in our midst. It was SO hidden, in fact, that I didn't find it, myself, until a couple of days after we got back.
I have my cucumber vines trellised, this year, which I love, because it solves the problem of vines creeping all over the garden and trying to strangle my other plants. And I figured that the fruit would be easy to see on a WHITE trellis, too. And generally that's the case, but somehow this particular cucumber started growing right at the corner of the trellis frame, and then… I don't even know how it managed, really… this cucumber grew UNDER the trelliswork, between the trellis and the frame. And then, of course, there's vines all over the trellis, covering what was happening. So I found it when the trellis started pulling away from the frame much higher up, actually, and then traced it down to this huge hidden bulge, which turned out to be a monster, mutant cucumber wedged in there.
Now, maybe you think I'm exaggerating about the cucumber. Or maybe you think I just don't know how big cukes are supposed to grow. Either of this would be a fair assumption, both because I'm given to exaggeration and because last year's cucumbers were midgets. But listen, I am telling you, THIS WAS INSANE.
Here's a couple of other cukes from my garden, found at the same time: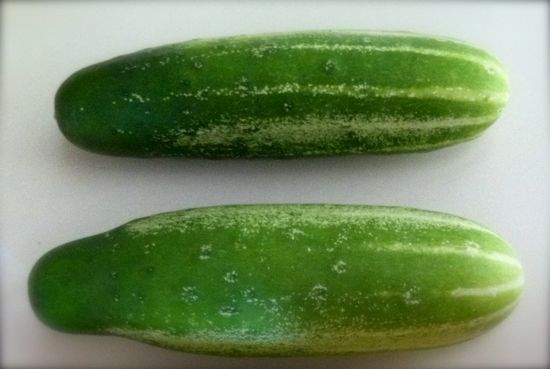 The one on top is what I consider normal cucumber size. It looks like a cucumber you'd get at the supermarket. The one on the bottom is actually kind of large. Largish. It's bigger around and definitely much bigger than any cuke I've ever seen at the store.
I asked Otto to take a picture of The Mutant with something else, for scale. Because he is an electronics geek, he chose a battery:
And that's fine, and all, but I know that I found it a little hard, even with the battery, to wrap my head around the size of that thing. So after he took that really nice photo, I went ahead and took another, crappy, one.
Here's the same two cukes from above, with The Mutant: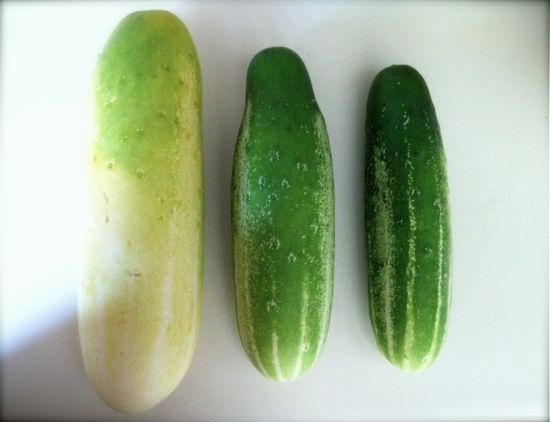 I'm sorry to report that the mutant went directly into the compost, because its sickly yellow color concerned me in terms of actual edibility. But it was pretty entertaining, nonetheless.
Maybe I should've saved it, to take to Emory with us today. Doc gives the wrong answer, she gets whacked with a giant cucumber. I think that would TOTALLY get things cleared up in a hurry, don't you?