Yesterday I cooked and worked and cooked and worked and cooked some more and worked some more and told my daughter that if she behaved she could help me with the pies and that if she didn't, I would chop her up and put her IN the pies.
It was mixed bag of a day—rather more frenetic that I would've liked, plus it's hard to behave when you're off school and everyone is busy ignoring you in favor of preparing dinner for people you don't even KNOW, MOM—but in the end, we more or less did both.
I hope our guests like pie.
I've never made a pie with a lattice top before, mostly because—like baking bread, before I started doing it—for some reason I believed it would be too difficult for my wee, delicate little mind. It really isn't.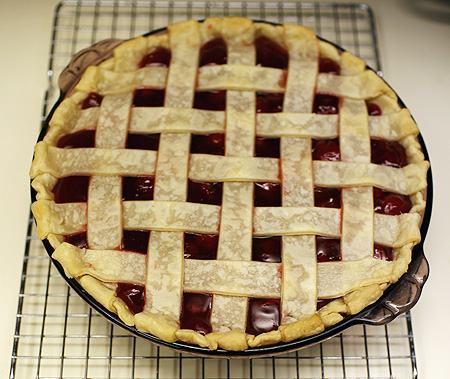 (Of course, the filling of that pie came from cans, because that's what my children like, and I am a sucker.)
Then, of course, we had to have pumpkin pie, and here I made good on my threat.
I think Chickadee will still live a productive life with only one hand, and after all, it WAS in the name of extreme cuteness that she gave it up.
Happy Thanksgiving, everyone!