After a long, harsh (not really) summer, Nerd Night has returned! Even that is a lie, sort of—there were sporadic Nerd Nights this summer, they just couldn't do it every week. And actually, the current campaign started last week, but I was too busy trying to get my child to pack for college and clean her room to share that recipe. (But: soft cherry chocolate chip cookies, in case someone feels they cannot live without that recipe. Happy to share it, if so.) Last night, though, that felt like the first "normal" Nerd Night in a while.
But… Chickie wasn't here. Clearly this leaves behind a void, yes? A void which can only be filled with chocolate and sugar.
I went searching for something with chocolate and buttermilk, because I happen to know that buttermilk makes all things chocolate even chocolate-y-er (totally a word), and also soft and silky. When I came upon Big Flavors from a Tiny Kitchen's recipe I knew it would be delicious as-is, but I was feeling feisty. My version has a spicy Mexican kick. This cookie is soft and super-chocolatey, with a lingering hint of cayenne. The plate came back empty. I'm thinking it worked.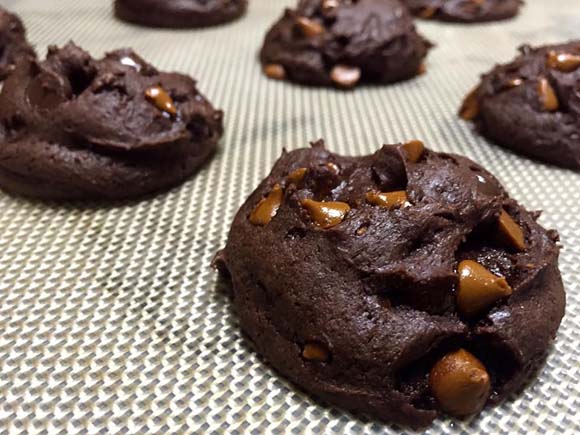 MEXICAN CHOCOLATE BOMB COOKIES (adapted from the above-linked recipe)
Ingredients
2 cups all-purpose flour
1/2 tsp baking soda
1/2 tsp salt
1/4 tsp cayenne
1/2 cup unsalted butter (melted)
3/4 cup cocoa powder
1 cup white sugar
1/2 cup brown sugar
1 tsp vanilla extract
2/3 cup buttermilk
1 cup dark chocolate chips
1 cup cinnamon chips
Directions
Preheat the oven to 350F. Line a baking sheet with parchment paper or a silpat. (Guess who discovered she was out of parchment paper when making these cookies…?)
In a medium bowl, sift together flour, baking soda, salt, and cayenne. And listen, 1/4 tsp of cayenne is more than you think it is, but if you really love heat, you can add more.
In a large bowl, combine the melted butter (still warm) with the cocoa powder and whisk until very smooth. It will feel thick and un-whisk-able, but do your best. Whisk in the sugars, vanilla extract, and buttermilk. Add in the flour mixture in two additions, mixing until no white is evident. Stir in the chocolate chips.
Drop dough in 1-inch balls into prepared baking sheet, leaving about two inches between cookies to allow for spread.
Bake for 10-12 minutes, until cookies are set around the edges and no longer look wet on the top. Cool for 2-3 minutes on a baking sheet, then transfer to a wire rack with a spatula to cool completely.
Additional Notes
Buttermilk is magic stuff and makes everything taste amazing, but not everyone keeps it on hand. "Make" your own buttermilk by putting a tablespoon of white vinegar or lemon juice into your cup measure, then filling it to the one cup line with milk. Let stand at least 5 minutes before use. Voila! Buttermilk!
Yes, this recipe really doesn't require eggs. Perfect for when you… run out of eggs. Not that that's ever happened to me. Ahem.
Cinnamon chips can be hard to find but I always keep them on hand because I love them. If you don't have them or can't find them, you could just add ground cinnamon to the dry ingredients (I'd go with a tablespoon) and use all chocolate chips, instead.
If you don't like the sweet-spicy profile of this recipe, it would make a darn fine chocolate cookie as written in the original recipe, or you could use white chocolate chips or Heath bits or peanut butter chips or whatever you like. The recipe is super adaptable.
The Verdict
Both the Dungeon Master and Otto said these were fantastic, and Monkey (who is not a huge fan of spicy stuff) said they were good. ("They didn't taste spicy until I had a second one.") If I make them again for an all-adult crowd, I'll up the cayenne a little. But you'd be hard-pressed to mess these up. It's a really flavorful little cookie.