Y'all. We made it. Chickadee's at college.
Now is the appropriate time for an AMEN and a HALLELUJAH and any other celebratory exclamation of your choosing. This was a long road and I would've happily changed MANY MANY parts of it, given the option, but in the end it led her right where she needed to be. Have I mentioned how proud I am of this kid? She astounds me every day.
So yes, it is bittersweet. But everyone warned us we'd all be bawling and I said NUH UH and everyone did the whole "Just you wait" and guess what? It was great. I'm not going to tell you my eyes weren't a little glossy by the time we said goodbye, but the overwhelming feeling for us (and I think her, too) was joy. This was a Very Big Deal.
Everything JUUUUUUST fit in her car, save for her fridge, which worked out just fine; she and I left at the ass-crack of dawn in her car, and Otto came later with the fridge. This is because yesterday was insane: It was move-in day for Chickie, yes, but her assigned unloading time was exactly the same time as Monkey's first class at our local university. So while I was pulling up to the curb and a veritable swarm of student volunteers descended on the car (no joke; we pulled up, gave her room number, and the crew head barked out the number and twenty seconds later the car was picked CLEAN. By the time I parked and returned to the dorm, she was checked in and everything she owned was in her room), Monkey was bounding up the steps towards Calculus.
Move-in was smooth. Monkey's assessment of Calc (shared later), however, was "Everyone seemed to be sleeping and it's also way too easy." (My kind, supportive response: "Not everyone is a morning person like you, and maybe don't assume the whole class is going to be easy from your experience on the very first day, Mr. Hubris.")
I told Chickie before we got there that I was going to make up her bed and await directions on everything else, so as to best stay out of her way. That didn't mean we didn't have a few "Would you like me to—" "NO JUST SIT DOWN AND STOP TALKING AT ME PLEASE" moments, but all in all, it worked.
That lofted dorm bed, man. It's seven feet in the air. We pulled the mattress down and got all the layers settled (bed bug encasement! foam egg-crate pad! cover! fitted sheet!) and then hoisted it back up together, and then I climbed up there to finish arranging. HOOBOY. I'm not a fan of heights and I nearly made myself INTO the bedding in my effort to stay away from the edge. Also, I may have muttered an incantation of anti-bacterial pleading while I did it, as the effort required to change the sheets more or less leaves me convinced IT WILL NEVER HAPPEN AGAIN.
She puttered and arranged and I took on tasks as directed. We brought a roll of drawer liner and I was allowed to take care of lining the bathroom drawers. I unwrapped her hanging clothes and stuck a few Command Hooks where needed.
By the time Otto arrived, she was settled, her roommate was hanging pictures and putting on finishing touches, and Otto set to work arranging and leveling the fridge and then running coax cable around the room. Once that was done, we grabbed Chickie and one of her suitemates and went out to lunch at a truly mediocre restaurant, and then stopped on the way back to campus to find her a cactus.
Someone told me a cactus is actually a "recommended purchase" for college students, though I've never seen that, myself. She just got it into her head that she needed one. I'd held her off during this last month of packing craziness by promising to buy her one once we arrived, and she hadn't forgotten. We ended up wandering around a garden center until we found a rack of succulents, at which point I got to witness the miracle that was two supposed-adult teenagers COOING AT PRICKLY PLANTS. "This one is so cute!" one would squeal, then "OHMYGODTHISONEISADORABLE!" and so on. Very odd. In the end, she couldn't decide between two, so like the sucker I am—and because they were both tiny—I bought her both of them.
I received this photo later that evening: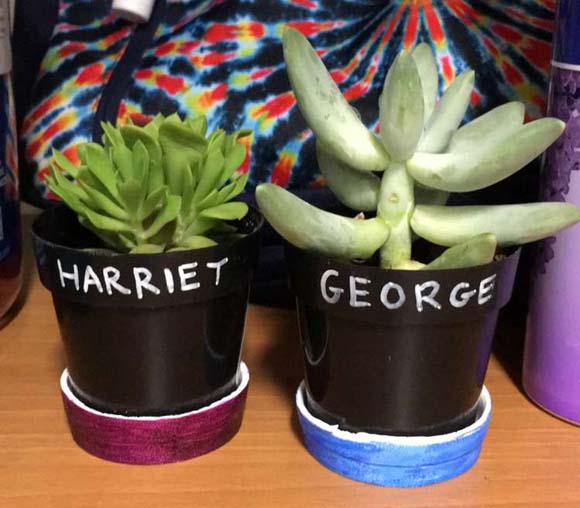 (This morning I found the same pic on her Instagram, with the label of "My best friends." Should I be worried?)
I thought I was doing a fun and sneaky thing before we left—I had Otto smuggle in a bag of goodies I'd packed and then while he and Chickadee were dealing with the fridge, I extracted it and tossed it up on her bed. I figured she wouldn't see it until long after we left, because the bed is in the stratosphere and you couldn't see the bag from the floor. But of course RIGHT BEFORE WE LEFT FOR LUNCH she climbed up there and I was all suave about it, as you can imagine. "DON'T LOOK AT IT! YOU SEE NOTHING! GET DOWN! YOU CAN'T OPEN IT UNTIL WE LEAVE!"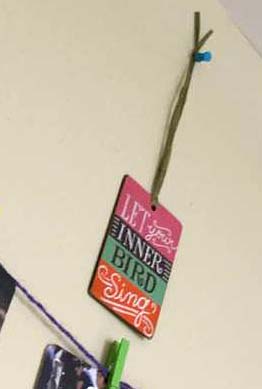 Everything in the bag was small and unremarkable, really. Some candy, some fresh colored pencils, duct tape, lavender room spray, that sort of stuff. I knew better than to go for "meaningful." But the one exception was a mini-plaque I'd actually spotted… gosh, I don't even know. Six months or a year back? A long time ago. But as you can imagine, I bought it immediately, knowing exactly when she needed to receive it. We hadn't even made it back onto the highway before she sent me, first, a series of texts about how she'd opened the bag and "now everything is all over my bed" (followed by a short argument about how she was supposed to WAIT TO OPEN IT and she was all I DID WAIT, YOU'RE GONE), followed by a thank you, followed by a picture so I'd know that the plaque had been added to her wall right over her bed.
My little songbird is on her way. No tears. Only joy.