We move Chickadee into her dorm tomorrow. TOMORROW. Today is taking approximately 593 hours, in case you were wondering, but also she is not done packing because GEEZ MOM IN A MINUTE. As for me, about a month ago I bought a case of Pop-Tarts from Amazon as part of Operation Stock The Dorm With Snacks—this was a moment of weakness, as I am staunchly anti-toaster-pastry and found them gross even when I could still eat wheat—and hid it in the back of the pantry. BUT THEN. The pediatrician got on my case about Monkey being so skinny, so I dug out a couple of boxes and suggested he snack on them, and then suddenly most of the case was gone because it turns out that both of my children are addicted to Pop-Tarts. Hence yesterday's emergency grocery trip to buy MORE Pop-Tarts. (Did you know that if you type Pop-Tarts enough times it stops looking like words? True story.)
So. Chickadee and her Pop-Tart stash move in tomorrow. Yesterday was Monkey's first day of school. And you know what that means: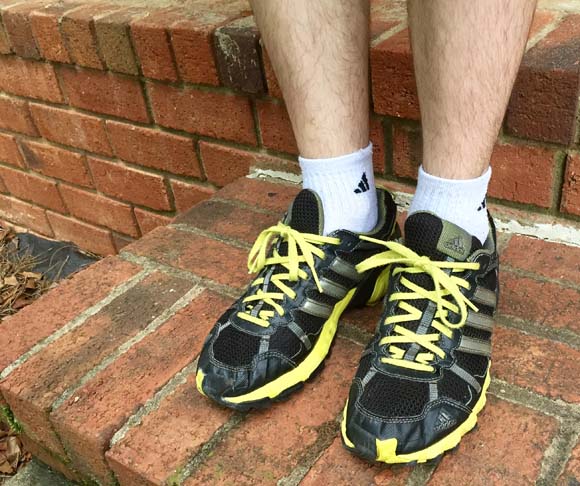 Please enjoy this picture, not just because my PRESHUSSSS WIDDLE BABYKINS is apparently part Yeti, but because this shoe photo is the end of an era. It's the last shoe photo for the last first day, because he just started the last senior year.
(How did this happen??? I blame Pop-Tarts.)