This weekend I Planted All The Things and Baked All The Things and also managed to burn a spectacular burn across my arm in an impossible location while I was rotating the pans in the oven for this cake. I am talented! Now on my left arm, my tattoo is busy scaling/flaking ("SOON I SHALL REVEAL MY TRUE FORM!" I keep screeching at the children, who have long suspected I am actually Cthulhu underneath all the gray hair and under-eye bags), and on my right arm, I have a 2″ long blister. I'm a mess.
I'm such a disaster, I never even told you to go read my latest advice column over at Alpha Mom, which you should really read if you have a high school senior in your house you are thinking about drowning like an unwanted kitten. (Not that I've ever had such thoughts. More than once every few minutes.)
ANYWAY. Recently I scored a deal on a metric butt-ton of ginger chips (I think I paid, like, $7ish for 6 bags) and when it arrived I was all, "Whoa. That's kind of a lot of ginger chips." Personally, I love all things ginger and will happily eat crystallized ginger like this straight from the bag, but I knew it would be a harder sell to get the kids to eat it. So: Carrot cake! Surely that would work. Yes? Yes!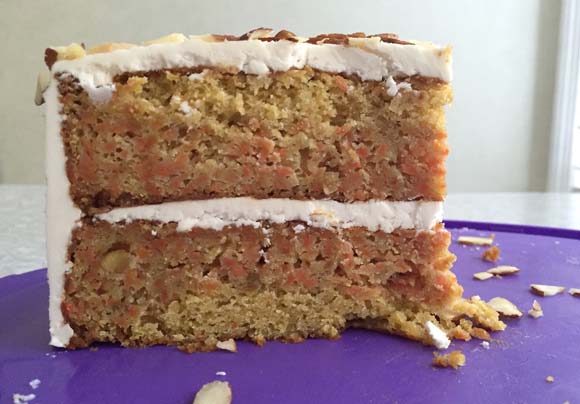 Surely carrots and creamy icing would be the perfect foil for all that spicy ginger. I used this recipe from Sweetapolita with a few minor changes:
1) I didn't have any oranges (hello, and welcome to Mir's Home Of Modified Recipes Because She Absolutely Never Has All Of The Right Ingredients On Hand!), so instead of including orange zest, I used 1 teaspoon of vanilla extract and 1 teaspoon of orange extract (the recipe calls for 2 tsp of vanilla). The cake definitely had an orange "perfume" to it but I have no idea how the flavor compared. When I asked the kids if it tasted orangey, they both said, "Huh?"
2) The recipe calls for 2/3 cup milk. I used buttermilk, because buttermilk makes all baked goods more delicious. I'm not sure it matters, but there you go.
3) My biggest reservation about this particular recipe was the frosting—carrot cake should have cream cheese frosting, OBVIOUSLY, but this is a white chocolate almond buttercream, instead, and while I was intrigued (and also out of cream cheese) (Dear Self, maybe try going grocery shopping??), I wasn't sure it would work. OH. MY. It works. This frosting (the only part of the creation I could sample) is AMAAAAAZING. It was so amazing, instead of topping the cake with some crystalized ginger and calling it a day, I did a ring of ginger filled in with sliced almonds, both to highlight the flavor in the frosting and because I enjoy tormenting my son. ("There were so many ALMONDS on this cake!" he complained, when they got home. "YES!" I said. "AND I BET YOU ATE THEM." He narrowed his eyes at me. "I ate around them," he said. "Really??" I asked. He laughed. "No," he said. "I just ate them." THE KID WHO HATES ALMONDS, LADIES AND GENTLEMEN.)
I'm told it was very good and super-moist. I was a little worried because it sort of looked like the carrot shreds sank a little rather than being evenly distributed, but no one said anything and when I looked back at Sweetapolita's pics her cake looks the same, so I guess it's fine.
Now I just have… um… five and a half bags of crystallized ginger to use up.