Greetings from Day 17 of our 5-day bathroom remodel. HAHAHAHAHAAAAAAA. HAAAAAAA. HA. Ahem.
It was the vanity, you see. Not vanity like hubris sort of vanity, but the physical cabinet/counter/sink thingie, and it was backordered, and so we had to wait. I mean, let's pretend that's why, and forget about the tiling and retiling and the third time the tile got done, finally. Because the tile looks great! The floor is lovely! The shower is complete! And we even have a working toilet! Let's ignore the antibacterial soap pump on the edge of the tub because we have no sink. In fact, I'm pretty sure my kids are ignoring it, so why not?
Also let us not speak of the day the painters came and swore it was "all done" and later I found giant swaths of missing paint. "Sometimes when you're painting a lot you just get tunnel vision," said our contractor.
"Or complete blindness?" I suggested, looking for a more reasonable explanation. I mean, I do a fair amount of painting for someone who isn't a painter. (I actually love to paint. It's the one home improvement task I totally enjoy.) Never in the history of my painting various rooms in various homes have I ever packed up my brushes and rollers with a triumphant, "DONE!" only to discover that I'd missed huge patches of walls. Silly me, I figured if you PAINT FOR A LIVING that's the sort of thing which… wouldn't happen. Obviously I do not understand the grueling reality of having to use your eyeballs to survey your professional work.
It's possible that a wee bit of bitterness is starting to set in.
But, listen, it's not my fault. Because last week I was assured that the vanity was being picked up Tuesday morning and installed Tuesday afternoon and then the painters would also finish painting and Wednesday (TODAY) they would finish the trim, put up the towel racks, etc. It was all so close. I COULD TASTE IT.
Yesterday, they were late. And that was okay! Things happen! I AM AN UNDERSTANDING SORT. It did mean I had to just leave the house unlocked for them while I took the dogs to the vet, but that was FINE. I am FLEXIBLE.
[Sidebar: The dogs were due for vaccinations. Taking both dogs to the vet is an exercise in complete ridiculousness, as Duncan's file says WARNING DOG BITES HAS BITTEN OWNER IS BITEY MCBITERSON BITESALOT, and he just wanders around all waggy, looking for treats; meanwhile, Licorice's file says she's calm and sweet and she starts whining the second we get there and spends the entire visit crying and vibrating and leaping on and off my lap. They got their shots and had their nails trimmed and Duncan got a new special ear infection treatment because of course he had an ear infection because Duncan ALWAYS has an ear infection, and $300 later I remembered why owning pets is objectively a very dumb idea. Thank goodness I've never been objective. Also, if you're not a fan of the blog on Facebook, you should be—go here and click Like!—because that's how you get to see extra stuff like Licorice being a dork at the vet.]
Anyhoo. I brought the dogs home from the vet. THE VANITY WAS RIGHT OUTSIDE MY FRONT DOOR. The heavens opened and the angels sang. I was giddy with anticipation.
Ten minutes later, the lead contractor walked into my office and sat down on my couch with an audible sigh.
"Oh no," I said. "WHAT ARE YOU HERE TO TELL ME??"
He scrubbed at his face with his hands. "Well," he said. "The vanity is… missing some pieces."
Because of course it is!
Doesn't it look great?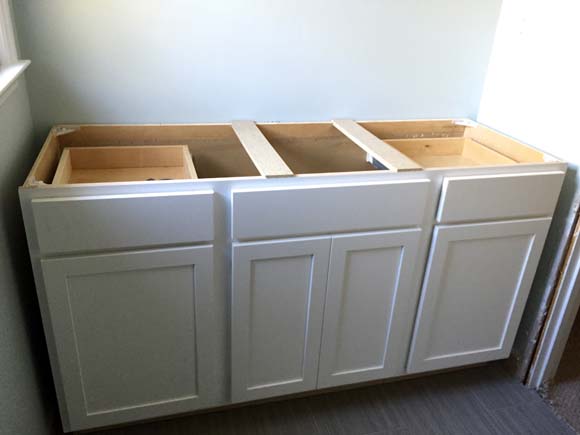 No? YOU DO NOT LOVE IT? You feel like it's… missing a little something?
Oh, don't worry. The sink and countertop are here. They're on my front porch, albeit upside-down. I assume they're lovely. But the problem, you see, is that there are… side piece doohickeys… designed to make this cabinet a solid piece, there, and look all built-in and nice, and those pieces somehow did not make it onto the truck. And you can't finish installing the cabinet and then put the counter/sink on until you have those.
And you can't finish painting until that's done. And you can't put on the cabinet handles. And you can't install the trim back until the painting's done. And you can't put up the mirror. Or the new lightning fixture. Or the towel racks. There's a hole in the bucket, etc.
I've been assured they're tracking down the missing pieces and they'll be here later today. We'll see! And then… well, let's not get ahead of ourselves, I guess. I'll just be over here, staring longingly at the nice new towels I bought for the nice new towel racks for my nice new bathroom that is just a pipe dream. So unfair. (Yes, yes, I know; I hope this is the worst thing that happens to me for a long time. I'm annoyed but I do realize that in the grand scheme this is not exactly a crisis.)
While I wait for hell to freeze over and my bathroom to be finished, you can head over to Alpha Mom to read about a different sort of unfairness, if you like. Hey, it's good to have a bathroom distraction, I guess.