I can't remember when I first made these cinnamon rolls, or how they became the Holy Grail of baked goods in our house, but what I CAN tell you is that Monkey asks for these for his birthday instead of cake. (Chickie usually asks for both cinnamon rolls AND cake. And right there… you have a pretty good summary of my children.) That should give you some idea of how awesome these are. So: I make these almost exclusively for birthdays, because they're kind of a pain in the ass. But when I asked Chickadee what she wanted for Nerd Night, she immediately said "cinnamon rolls!" and I remembered that I had a batch in the freezer (I always double the recipe and freeze half, because if I'm going to spend all that time, I may as well) from Monkey's birthday last month, so I agreed. She may have then done a victory fist pump and squealed, "SWEEEET! Fresh ones for my birthday!"
The base recipe is this one, which I'm sure is delightful as written. In fact, the first time I made them, I probably just followed the recipe (save for modifying it for non-breadmaker preparation). Over the years I've modified it, though, and now it's even better, I promise. I double the pudding (and make it butterscotch rather than vanilla, which heightens the caramel-y flavoring), skip the nuts, and load it up with cinnamon chips. Plus I double the frosting, because FROSTING. I mean: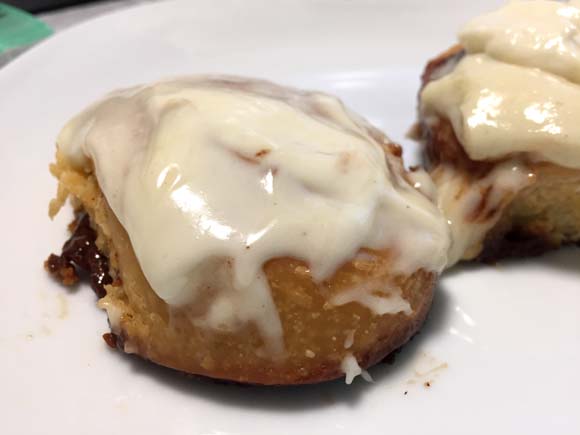 Ooey, gooey, AH-MAZE-ING. If you love someone, make them these cinnamon rolls.
BETTER-THAN-CINNABON BIRTHDAY ROLLS (adapted from the above-linked recipe)
Ingredients
For the rolls:
1/4 cup warm water
1 TBL white sugar
1 packet active dry yeast
1/2 tsp salt
1/4 cup unsalted butter, melted
1 3.4-ounce package instant butterscotch pudding mix
1 cup milk
1 egg (room temperature)
4 cups bread flour
For the filling:
1/2 cup unsalted butter, softened
1 cup brown sugar
4 tsp cinnamon
1 cup cinnamon chips
For the frosting:
1/2 cup unsalted butter, softened
1 8 ounce package cream cheese, softened
2 cups confectioners' sugar
1 tsp vanilla extract
1 TBL milk
Prepare
You will eventually be baking these in a 350-degree oven, but not for a while, so I'd recommend not preheating until you're on the second rise. You will also need to butter your pan(s), but again, not for a while. [Note: The original recipe claims to make 16 rolls and says they will fit in a 13″ x 9″ pan. Lies! You will need two pans because these rise a ton. I tend to use my big rectangle for 12 rolls and then a pie plate for the remaining 4, or sometimes I use three pie plates… it's up to you, just don't try to fit all 16 in a single pan unless it's really big.]
Making the dough
Proof your yeast: Don't be afraid of this recipe if you haven't used yeast before. Put your 1/4 cup warm water (pretty warm, but you should be able to put your hand in without discomfort), tablespoon of sugar, and packet of yeast into the bowl of your stand mixer. Give it a quick little stir and then leave it for 10-15 minutes—you're looking for it to start looking foamy.
Scald your milk/melt your butter: While that's happening, heat your cup of milk and 1/4 cup of butter (that's half a stick) on the stove. This is a twofer; you're melting the butter and scalding the milk (I like this explanation of why you scald milk when baking, in case you're curious as to why this step is necessary) at the same time, plus if you're worried about heating the milk too long/too hot, you know it's enough heat when the butter is all melted. Take that pan off the burner and add the pudding mix, and mix to get out most of the lumps (if you don't get 'em all out, don't worry). Set that pan aside to cool a little, once that's done.
Mix the dough: Again, I like to do this in a stand mixer, using my bread hook. If you don't have a stand mixer, you can start mixing all of this up with a hefty wooden spoon and just plop the prepared dough on a lightly-floured surface for some kneading once it's all together. My way is for lazy people. So! You've got your foamy yeast in the bowl, yes? Add a cup of flour and mix it up until incorporated. Add another cup and repeat. Now add your wet mixture (milk/butter/pudding) and mix (low speed, lest you decorate your kitchen with butterscotch slurry), then your egg and salt, then the remainder of the flour, a cup at a time. Does the order here really matter? Not much. This dough is pretty forgiving. Once everything has been added, you should have a firm ball of dough that pulls away from the sides of the bowl and is tacky but not overly-sticky to the touch. If it's still really sticky and not forming a cohesive ball, add more flour until the desired consistency is achieved. Allow your mixer to "knead" the ball for at least five minutes, or if you're not using a mixer, dump out the dough and knead by hand for 5-8 minutes. (You're building up the gluten, which gives the rolls a nice consistency.)
First rise: Once the dough has been kneaded, spray your bowl lightly with cooking spray, put the dough back in it (and spray the top of it, too), and set somewhere warm to rise. (I often just cover it with a towel I've dampened in hot water, and stick the bowl in the microwave.) You're looking for the dough to double in size, which will happen in around 45 minutes to an hour.
Mix the filling: While the dough is rising, mix together your softened butter, brown sugar, and cinnamon. It should make a lovely paste that smells and tastes like happiness. Don't eat it all.
Assemble the rolls: After that first rise, punch down the dough to get the air out. Turn the dough out onto a lightly floured surface and roll it into a rectangle approximately 17″ x 10″ with the wider dimension side-to-side as you face your dough. Spread your cinnamon/sugar butter mixture over this rectangle, leaving a small bare "lip" on the nearest long side because the dough will be very hard to seal if you don't. Sprinkle the dough with your cup of cinnamon chips. Starting at the far side, roll the dough up towards yourself, finishing by pressing that bare lip you left firmly against your finished roll (pinch it together a bit, even).
Cutting/second rise: At this point, you can immediately cut this slab into 16 rolls (if you're nervous about portioning, cut it half, then cut the halves in half, etc.) and place them in your prepared pan(s), or you can wrap the whole shebang in saran and put it in your freezer, if you like. (When I double the recipe, I freeze a log at this point.) I also often make the rolls at night and cut them and place them in the pans and then put the pans in the fridge, so that I can pull them out in the morning and bake them off, then. Up to you. If you're cutting/baking right away, you'll want to place your rolls in the pan(s) and let them rise again, this time for about 30-45 minutes (this is a good time to preheat your oven). If you're freezing or refrigerating, bear in mind that your second rise will take MUCH longer, depending on how cold the dough is when you take it out. From the fridge I'd plan on leaving it out for an hour, and from the freezer, I usually leave the log on the counter for an hour, then slice and let it rise another hour.
Here's my rolls I cut from a semi-frozen log, yesterday: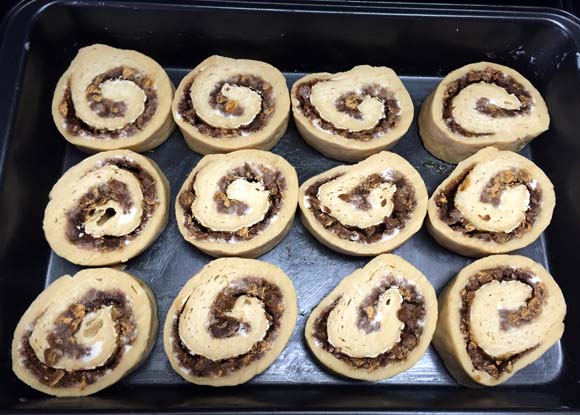 You can see it looks like I have plenty of room in the pan, right? But after rising on the stovetop and being baked: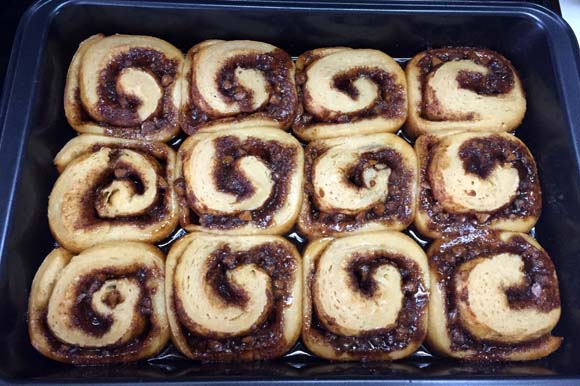 Bake: Bake at 350 for 15-20 minutes, or maybe even a little longer if the dough was really cold. Keep an eye on them; you want some light browning, but better to undercook than overcook, as they'll get tough. Once baked, remove and put pan(s) on a cooling rack, but cut the rolls and remove them within 15 minutes or so—the cinnamon chips melt and make everything gooey and delicious, but that ooey deliciousness turns to cement if allowed to completely cool (and then you'll never get the rolls out of the pan). Don't say I didn't warn you.
Mix the frosting while the rolls bake: In a medium bowl, whip the stick of butter and brick of cream cheese together. Add vanilla extract, milk, and powdered sugar (add the sugar in stages and whip slowly to avoid a mess). If the frosting is too thick, add a little more milk. Once the rolls have been slightly cooled and removed from the pan, you can go ahead and smear them with frosting. On the other hand, I tend to store the rolls and frosting separately in the fridge if they're not all being consumed right away, so that rolls can be microwaved individually and then frosted. Either way.
A few notes:
* Must you use bread flour with this recipe? Eh, probably not. I think it's better with bread flour—lighter, for sure—but all-purpose would work.
* I like the flavor of these with butterscotch pudding, but the original recipe calls for vanilla, and that would be fine, too. If you're an orange-zest-in-my-cinnamon-rolls type, use vanilla and add your zest to the dough and/or frosting. It won't hurt my feelings.
* My kids aren't huge on nuts so I skip 'em, but you could absolutely add pecans or whatever you like to the filling before you roll up the dough.
* Again, this is kind of a process, so double the recipe and freeze half (either as a log, or freeze the cut rounds in a pan and then remove them to a Ziploc bag) if you're so inclined. You can whip up a batch of frosting whenever you go to make the frozen ones.
* * * * *
The Verdict
My kids never, ever complain about cinnamon rolls. I did notice that this batch didn't rise as much as fresh ones, but they didn't seem to care. Also, I sent a pan of a dozen rolls to Nerd Night, which meant they had leftovers for breakfast today.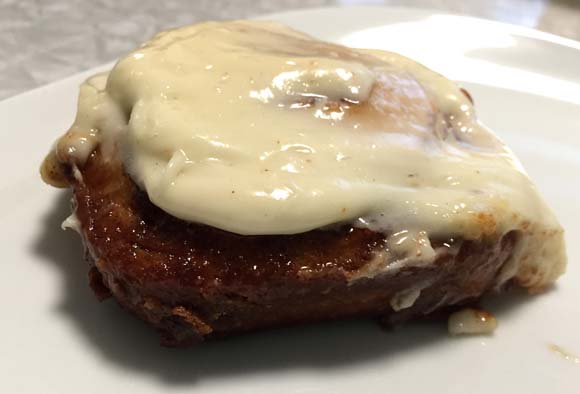 Breakfast was very, very quiet. I'm just sayin'.