It was a long week, last week, and even kind of a long weekend, as Monkey ended up at an Academic Team competition that we knew would be "all day" but hadn't entirely grokked would be an 8:30 – 6:30 kind of all day. (That is a long day even if you enjoy extended nerdery. I mean.)
Honestly I doubt either child would've bothered getting dressed at all on Sunday if not for the siren call of Nerd Night, complete with zombie-fighting hijinks and—of course—sugar.
For my part, I wasn't up for anything complicated. I wanted something I could bake in very short order on Sunday morning so that I could go about my day and get some other things done (say, all the things I didn't get done during the week while I was dealing with fun little distractions like having food poisoning). So: it had to be simple, it had to be fast, and it had to be GOOD.
It had to be… a snickerdoodle bar cookie.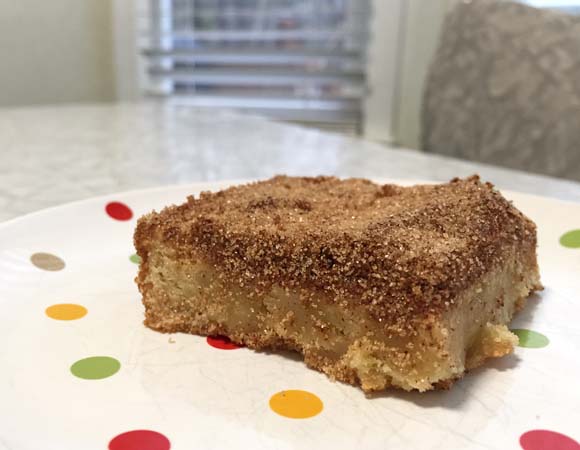 (If you don't like snickerdoodles, you probably kick puppies for fun, right?)
I don't remember how I found this recipe… I think I started with searching for bar cookies (easy!) and then somehow I got it into my head that I wanted something with cinnamon, and anyway, after comparing a bunch of different versions, I decided to go with this one by Averie Cooks. I chose it largely because it claimed to be the best. Ha! I'm kidding. They ALL claimed to be the best. Actually I chose it largely because it uses cream of tartar, which I think it an underutilized baking ingredient. (I just reread that sentence and realized I am probably an even bigger nerd than either of my children.) Also I chose it because you make the entire thing in a single bowl.
Anyway! Averie's recipe is for an 8″ x 8″ pan, so I simply doubled it for a 9″ x 12″. (Note: No, a 9″ x 12″ pan is not twice the size of an 8″ x 8″. Doubling a recipe in this way means your final product will be thicker than in the original recipe, and also that you may need additional cooking time.) The other thing I did was hold back some of the cinnamon-sugar "sprinkling" until I pulled the pan out of the oven, based upon some reader comments on her site that said the mixture sunk in to the batter and kind of disappeared. I put about 2/3s of it on the batter before baking, then the remainder after it was done and still very hot. (Again, because this pan is not twice the size of the original, I had more cinnamon-sugar that I needed when I doubled, but I went ahead and used it all because why not?)
The only problem with this recipe is that it is not quite as visually stunning as some others. I took a picture of the pan and, well, see for yourself: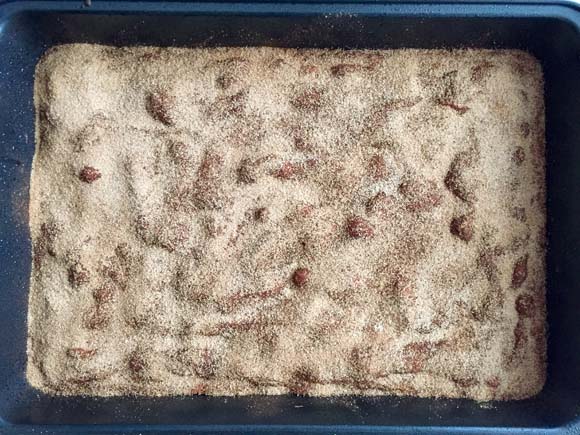 Comments ranged from "Is that sand?" to "I thought maybe that was a cat box."
Ummmmm. Delicious!
Nevertheless, the final product was devoured, and thanks to two sticks of butter and all that cinnamon sugar, I suspect the resultant bar was flaky, sweet, uncomplicated, and delicious. "They were really good!" was all I was able to get out of Monkey, and when I surveyed the two tiny squares that remained in the pan that came back home, I said, "I see there's just a couple left" and Chickadee immediately screamed "I VOLUNTEER AS TRIBUTE!" Because I am the meanest, I didn't let them eat any more (hey, they'd each had 2 or 3 while gaming), and instead packed the remainders in their lunches today.
Also, after I sent the kids off with these last night, the husband and I went out for a nice dinner with two other adults and I totally remembered why I love Nerd Night so much.