We had some scrambling to get Nerd Night rescheduled, this week, which prompted our friendly neighborhood Dungeon Master to share this with the group:
It's possible it made me laugh louder and longer than was strictly necessary, but I admit to nothing.
Now, normally my argument against rescheduling or canceling Nerd Night is that MONKEY WILL BE SO DISAPPOINTED, but when the subject of canceling last night or moving it to today came up, this time, like the doting mother I am, I was all YOU CANNOT CANCEL I AM ALREADY MAKING A COMPLICATED CAKE. See, Boston Cream Pie (motto: not actually pie!) is not hard to make, but it does require a bunch of steps, and because I am a planner, I had already made the custard when word came in that we might be canceling. Schedules were rearranged and they're gaming today, thank goodness, because I do NOT need this in my house this week: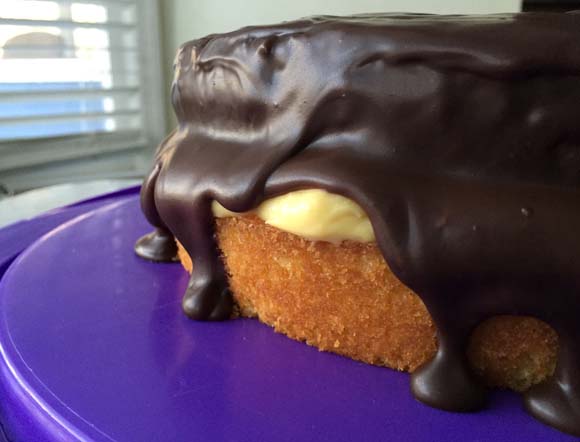 Here's the part where I give you the recipe, tell you how I modified it, etc., etc. Well, not today. Sorry. I used Chew Out Loud's Best Boston Cream Pie recipe and it was perfection. I didn't change a thing. If you want to make this, go use that. You may notice that my version isn't nearly as pretty as hers, but in my defense, shut up, and also I am feeding this to a gaggle of teenagers who don't care what it looks like. So. (Also I have a lot more chocolate on the sides of mine, which makes me think I should've kept it thicker on the top, but again: Teenagers. It's cake. NO1CURR.) It's a little prettier from above, if you're willing to ignore the air bubbles in the chocolate.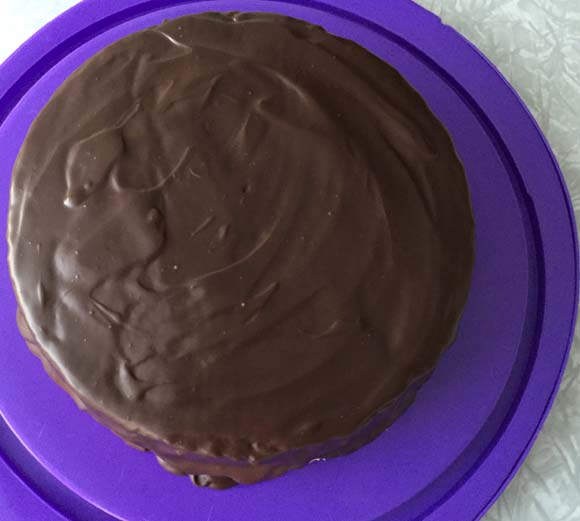 What I WILL tell you is that it's surprisingly difficult to find a recipe for Boston cream pie that doesn't use instant pudding and boxed cake mix. I mean, you want to go that route? G'head. I don't judge. (Okay, maybe I judge a little. I'm working on it.) But if I'm searching for a recipe I feel like it should be easier to find one that's truly from-scratch, y'know? But then I found this one and it was good.
Pro tip: When making your own custard, you're going to use a lot of egg yolks, leaving you with a ton of egg whites when you're done. You may be moved to magnanimously offer to make an omelet for your boys, figuring that you can add a whole egg or two to all the whites and it will be fine. You may discover that mostly-egg-whites are structurally quite different from whole eggs. You may end up serving them a scramble after promising them an omelet. Pretend that was the plan all along. They'll never know. (Until you write about it on the Internet.)
Making your own custard is totally worth it, though, because it tastes 1000x better than instant pudding.
Similarly, the cake in this recipe is light and spongy and airy in a way you will never achieve from a box mix. Why am I even still talking about this? It's a great recipe. Go make it. But not around me, because I can't have any and also I've stopped eating food.
* * * * *
This brings us to my current state of stupidity. Clearly the thing to do THE DAY AFTER MAKING A ZILLION CALORIE CAKE is to go on a smoothie cleanse. Because it's not bad enough that I normally bake the kids something I can't eat, anyway, because of the wheat, but I should totally now bake something decadent WHEN I AM NOT ALLOWED TO EAT ACTUAL FOOD.
Obviously I need to back up.
I am not a fan of fad diets. I am not a fan of "dieting," period, because sustainable lifestyle choices, blah blah blah, but sometimes I find myself in an unhealthy rut and my jeans don't fit and desperate times and all of that. I have been trying with very little success to pull myself together and lose a little weight, recently, and although I am exercising more often (yay, me!), the scale is not moving. At all. And this is primarily because I eat too much. (Surprise!) I know that I am good at eating healthily for a while and then I start doing "little cheats" and then my internal sugar monster goes OH HEY CHOCOLATE IS A HEALTH FOOD, ALSO WINE IS TOTALLY FULL OF ANTIOXIDANTS, AND HEY I BET YOU CAN FIGURE OUT A GLUTEN-FREE VERSION OF THAT COOKIE! Aaaaaand… off the rails I go.
A friend of mine started raving about this 10-Day Green Smoothie Cleanse and in a moment of weakness I decided to try it. One Kindle book download and two pretty expensive grocery store trips later, I was ready. For 10 days, I will follow the plan. I can do anything for 10 days. I think.
Well, check back with me in a few more days. Today is only day 2.
On Day 0 (the night before I started this), Otto and I went out for Mexican food because that was my Last Meal request. I mean, I don't know why a person COULDN'T lose weight eating their weight in steak fajitas, guacamole, and margaritas.. but… oh. Never mind. It was delicious, though.
On Day 1 (yesterday) I was surprised at how palatable the day's smoothie turned out to be, and I wasn't even hungry until mid-afternoon. And it wasn't until evening that the caffeine withdrawal headache hit, because although this plan is "healthy" and "filled with all the nutrients you need," it doesn't allow COFFEE, which is inhumane. I mean, I'm allowed SNACKS but no CAFFEINE? That's stupid.
Today's smoothie was also pretty good, but I may have lingered at the kitchen counter, staring longingly at the coffeemaker, for longer than was necessary. My head still kind of hurts. BUT I don't feel hungry and my energy level is pretty good. So we'll see.
My (current) plan is to follow the book to the letter for the full 10 days, and then depending on how I feel and how much more weight I'd like to lose, doing one of the adaptations she suggests for moving back towards regular eating while still utilizing the smoothies. (You can do a green smoothie every morning for breakfast, or make enough to have it for breakfast and lunch and then eat a regular dinner.) The idea here is to kick-start better choices, squash my sugar cravings, and do something intentional to get me back on track.
I can do it. I'm sure I can. But I can't promise I won't complain while I do.
[Update/edited to add: The cake plate came home clean even though they were down a couple of players today. I guess they liked it!]