For some reason, there are several cans of fruit pie filling in my pantry. I'm not sure why. It's not the sort of thing I generally buy, and I have only the vaguest of memories of discussing having some for camping to go with this cast iron "hobo pie maker" thing that Otto owns and loves (even before I could no longer eat wheat, the idea of sticking some Wonder bread and pie filling into a campfire was not all that appealing to me, but whatever). Anyway, after a multi-week hiatus from Nerd Night, I opened the pantry yesterday and decided I need to use up some of that canned fruit. But a pie would be too obvious.
I found this recipe, which seemed like a decent start. Sweet berries, plus a creamy citrus layer and crunchy topping. Mmmm. It called for fresh blueberries rather than pie filling, so I modified the crust to make it heartier because I knew the canned stuff would be gloopier (technical baking term). I upped the oats, some, and subbed in some whole wheat flour, and I think it worked out.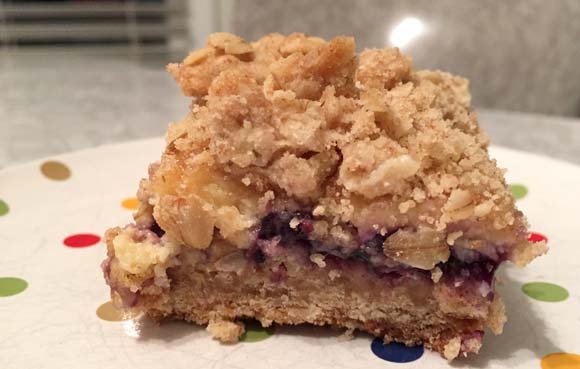 They're pretty, anyway.
BLUEBERRY CITRUS STREUSEL BARS (adapted from the above-linked recipe)
Ingredients
2 cups all-purpose flour
1 cup whole wheat flour
2 cups old-fashioned rolled oats (do not use quick oats; they'll disintegrate)
1 1/3 cup packed light brown sugar
1 tsp salt
1 tsp baking powder
1 cup (2 sticks) unsalted butter, room temperature
1 large egg, separated
14 oz can sweetened condensed milk
21 oz can blueberry pie filling (I use Lucky Leaf, because it doesn't have HFCS, and I'm a goddamn hippie)
2 tsp lemon/orange zest
1/2 cup fresh lemon/orange juice (I used one lemon and one navel orange)
Prepare
Preheat oven to 350 degrees and line a 13″x9″ metal baking pan with foil. Spray with cooking spray. [Note: The original recipe calls for foil because it suggests pulling the whole shebang from the pan once it's done, and ultimately I decided there was no reason to do that. That said, however, I was glad to have the foil because the crust is pretty substantial and cutting the bars likely would've scratched my pan, so even though I didn't remove them, I was glad for the extra layer of protection the foil provided.]
Mix and layer
Listen, this recipe is a little bit fussy. I used a million dishes, seemed like, plus you have to DO something every 5-10 minutes.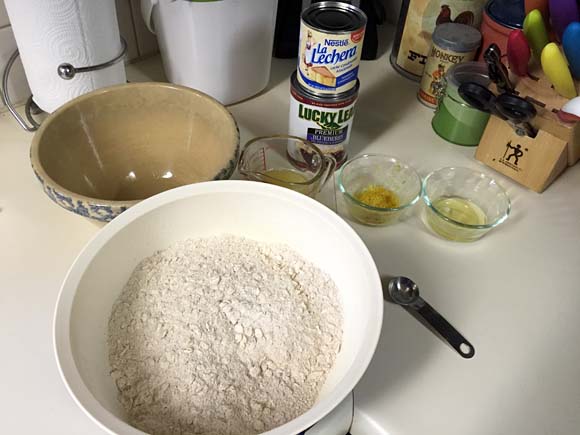 You don't just throw it in the oven and forget about it. If you don't have time to mess around with it, make something else. It's not hard, it just has a bunch of steps.
Make the crust: Whisk flours, oats, brown sugar, salt, and baking powder together in a large bowl. Use a pastry blender or your fingers to cut in the butter until there are no giant visible chunks and the whole mixture looks like clumpy sand. It should look like this:
Mmmmmm… clumpy sand!
Scoop out two cups of this mixture and set aside for use as topping, later. To the remaining mixture, add the beaten egg white (you don't have to go nuts; just mix it up some until it's frothy) and stir to incorporate. Dump this mixture into your prepared pan and press down to form an even layer of crust. Panic about how dry it looks. Convince yourself you've made a horrible mistake. Bonus points: Forget to remove your rings and get crust all embedded in them. Bake the crust for 10-12 minute, or until the top starts to look dry (I did mine for 11 minutes).
Make the citrus layer: Did I intend to make this with both lemon and orange? Nope, I just happened to only have one lemon. Zest the lemon first, and juice the lemon first, and then make up the remainder of the zest and juice you need using the orange. (I had mostly lemon zest, but was about half lemon juice, half orange juice. Orange juice is sweeter than lemon, so if you really like a tart pucker, just use lemon, assuming you're not stuck with a single lemon like I was.) Whisk together the citrus juice(s), egg yolk, and condensed milk in a medium bowl while the crust bakes. Let stand for at least five minutes to thicken slightly.
Layer it up: Once the crust has finished its little pre-bake, pull it out of the oven and set it on a wire rack. Open up your pie filling and dump it over the hot crust, spreading gently to cover the whole thing and make an even layer. (Press too hard and the crust will start flaking. Ask me how I know!)
Once that's done, drop spoonfuls of the lemon mixture on top of the blueberry layer. It doesn't have to be perfect, just distribute as best you can.
Don't try to smooth it out because that will make a gloopy mess. Put the pan back in the oven for 7-8 minutes, until "the lemon layer begins to form a shiny skin." (Mmmmmm, shiny skin.) I don't know what that means. I did mine for 7 minutes.
Streusel time: Remember your reserved 2 cups of crumbs? Pull the pan out, set it back on your trusty wire rack, and start pinching up globs of that crumb mixture and dropping it onto the bars. If you don't pinch it will be almost entirely powder; if you do pinch, you make more cohesive globs which will be crunchy in the final product. Cover the whole thing with your streusel globs, then put the pan back in the oven for 30-35 minutes, or until the filling is bubbling at the edges and the crumb topping is golden brown. Let cool on a wire rack for at least an hour. I opted to cut it into squares after that, then I put the whole pan in the fridge to finish setting up. Store leftovers in the fridge later, too.
* * * * *
The Verdict
The pan came back half-full, which concerned me, but the kids told me not everyone was there and they were pretty sure everyone had seconds. Monkey said, "They were pretty good" and Chickadee said, "They're good, but messy. Kind of hard to eat."
Otto had one after the kids got back and immediately said, "Oh, THESE ARE AWFUL. Just TERRIBLE. You shouldn't feed them to anyone else. I'll take care of them for you." Soooo… there you go.