I must confess: We didn't actually have Nerd Night this week. School finished up on Friday and people were already scattering for winter break, so we're on hiatus for a few weeks, which sent my youngest into something akin to the Nerdling DTs. (I got a serious of texts from him last week during AP Physics—good to know he's paying such great attention during class—breathlessly informing me that the Pathfinder Society website indicated there was a game night at a restaurant downtown that night and he didn't have any homework and could he please go even though it was a school night because really Pathfinder is his favorite and Nerd Night was suspended and if he didn't go he wouldn't get to game for WEEKS and PLEASE PLEASE PLEASE could he?) (I said yes. He had a great time, even though after he told me with judgy eyebrows that most of his fellow gamers were, you know, DRINKING BEER. I reminded him that sometimes even nerds grow up to enjoy an adult beverage from time to time, and as long as they can still roll initiative without spilling anything, that's okay.)
So this one is just a recent success from a few weeks ago, selected both for its holiday cheer and the fact that—let's not forget—it's a couple of fantastic adults who are opening their home to a pack of oddball teenagers every week, and they deserve everything wonderful. Sometimes that wonderfulness involves bourbon. Like the week I made this cake.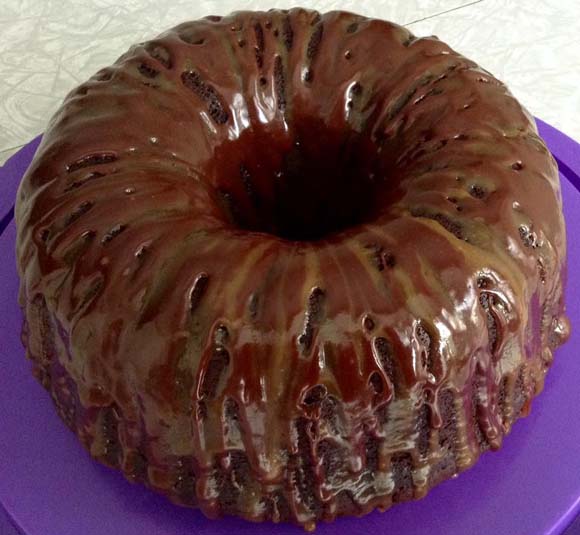 As so often happens, I had A Thing in mind and couldn't quite find it. Chocolate gingerbread is TOTALLY a thing, but I couldn't find the recipe I wanted. I found a Martha Stewart recipe that seemed close, but it was the wrong size, and after consulting with a baker friend who assured me that every Martha cake recipe she's tried has been a huge disappointment, she directed me, instead, to this Joy The Baker recipe for a chocolate bundt. "You can make it gingerbready," she said, "but at least you know the base recipe is a good one." She was right (she always is), and I'm sure this cake would've been delicious as written, but I gave it a gingerbread twist because why be straightforward when I can make my life more complicated?? Exactly. Also I did a different glaze and actually turned it into TWO glazes on a whim, because why not? Anyway, here you go.
CHOCOLATE GINGERBREAD BUNDT CAKE WITH DOUBLE BOURBON GLAZES (adapted from the above-linked recipe)
Ingredients
For the cake:
1 1/4 cups brewed coffee
3/4 cup Dutch process cocoa powder
2 cups sugar
1 1/4 teaspoons kosher salt
2 1/2 teaspoons baking soda
1/4 cup unsulfured molasses
2 whole eggs
1 egg yolk
1 1/4 cups plus 1 TBL buttermilk
1 cup plus 2 TBL canola oil
1 1/2 teaspoons vanilla extract
2 tsp cinnamon
1/2 tsp ground ginger
1 TBL fresh grated ginger
2 1/2 cups all-purpose flour, sifted
—
For the glazes:
4 TBL unsalted butter
3/4 cup packed dark brown sugar
1/2 tsp cinnamon
1/2 tsp ground ginger
1/2 tsp vanilla
1 TBL bourbon (or more, to taste)
1-2 TBL half-n-half
handful of dark chocolate chips
Prepare
Preheat oven to 350 degrees and butter/flour your 10″ bundt pan. (Bonus tip: When making a chocolate cake, if you prefer, you can use cocoa as the dusting component instead of flour in your baking pan. I've done it both ways—flour and cocoa—and don't notice a difference in taste, so it's entirely up to you.)
Make the cake
Mix the brewed coffee and cocoa powder in a small saucepan and whisk frequently over high heat until it boils and all of the cocoa powder is incorporated. Remove from heat and set aside.
In the bowl of a stand mixer with whisk attachment [you could absolutely do this with a hand mixer if you don't have a stand mixer], mix together sugar, molasses, salt, baking soda, eggs, egg yolk, cinnamon, and both gingers for about a minute on low. Add buttermilk, oil, and vanilla extract, and mix another minute on low. Add flour and mix on medium speed for about two minutes. Add the cooled cocoa/coffee mixture and let it go on medium for about three minutes. The batter will be very liquidy, but don't worry, because once you pour it into your prepared pan and bake for about an hour, it looks like this: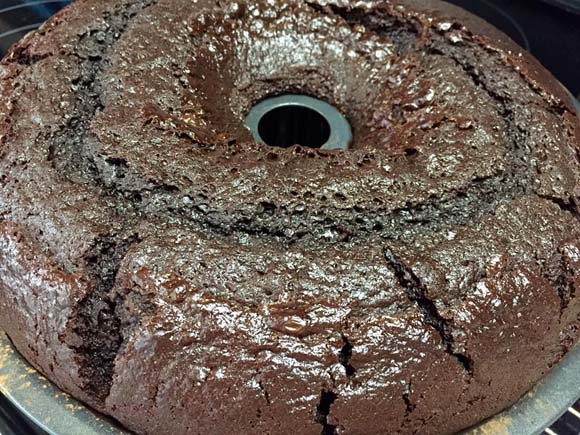 Also your kitchen will smell like happiness.
Test the cake for doneness (you want a cake tester or toothpick to come out clean or with just the tiniest of crumbs) before removing from oven. Mine took exactly an hour.
The recipe I based this on suggested cooling entirely in the pan before removal, but that makes me nervous with a bundt pan (whose ridges can be a little finicky about releasing cake cleanly). I cooled it in the pan, on a rack, for about half an hour, then carefully inverted it and freed the cake to finish cooling after that.
Glaze
I cobbled together this glaze recipe from several I found online, knowing that I wanted a caramel-y consistency, some spice notes to tie it back to the cake, and some bourbon. I did not originally intend for there to be chocolate glaze; I figured the cake was chocolatey enough.
In a small saucepan, melt butter over medium heat. Add brown sugar and spices and whisk to melt. Add vanilla and bourbon (still stirring); add a little half-n-half until it looks right (I realize this is a crappy direction). I then took the glaze off the heat and continued stirring a little while it cooled, then poured it over the cake (cake should be sitting on a rack with wax paper underneath to catch the drips). I realized that after one round of glazing, I still had a ton of glaze, so I threw a handful of chocolate chips into the pan, stirred to melt, and did a second round of that chocolate glaze.
* * * * *
The Verdict
The kids brought home some leftovers by telling their hosts that Otto hadn't had any yet. I then sent leftovers in their lunches the next day, including enough to share with friends, and the day after THAT one of the friends' moms apparently asked for more leftovers to be ferreted out so that she could have some. I think that's a win.