I don't think I ever posted about taking Chickadee to get her learner's permit. We did it well ahead of when we let her start driving—much to her chagrin, because we are simply The Worst—and I guess it seemed like sort of a non-event? The most entertaining part was that it was a twofer—our Bonus Kid at the time who was about half a step above being an orphan also came along for permit-ing due to a lack of actual parental units willing to do the honors, and theoretically you have to be a relative to take a minor to the DMV for this stuff, so when asked if said kid was my child, I smiled and lied, claiming to be the aunt. Without batting an eyelash the clerk signed and stamped all the paperwork while the kids tried not to giggle.
We came home, took a dozen pictures of the two of them posing with their permits, and then neither of them actually learned how to drive. Kind of anti-climactic.
It was a good eight months later that we finally allowed Chickadee behind the wheel, and for the first four months of practice, it was slow going. She was terrified, for one thing, and for another, we're still The Worst, setting up RIDICULOUS and UNFAIR rules like "be caught up on your schoolwork" and "treat family members with respect" and other such nonsense to earn a turn behind the wheel. It wasn't until a couple months ago when she really started getting her crap together on a consistent basis that we moved to serious training. Nowadays, if we're headed somewhere? I just toss her the keys and get in the passenger seat. We've both just gotten comfortable with this new status quo.
Of course, I had to go and ruin it. Seeing how many of Chickie's fears and my fears were unfounded, now that she's doing so well, I started leaning on Monkey to get his permit, too. (I still have this crazy dream that someday my kids will be completely self-sufficient. HAHA.)
This was met by immediate opposition by BOTH children. Monkey protested because he is absolutely fine with me driving him around, and also because he has all the self-confidence of Q-tip when it comes to picturing himself in unfamiliar situations. "But what if you want to go on a date?" I would press. "I mean, not right now, I know, but SOMEDAY? You want me tagging along to the movies or prom?? Wouldn't it be nice to drive yourself and your special friend?"
"SPECIAL FRIEND?" I wish I could describe the face he made. It was impressive. "You like going to the movies with me. And prom, sure, yeah, a noisy, crowded space with kids I don't like and DANCING. Sounds fabulous. Except not." In other words, my argument was invalid. He will never want to go somewhere without me, obviously.
"Okay, fine. What if you get a JOB. And I am BUSY and can't always drive you?" I figured I had him, there.
"I'll take the bus," he said. "Gotta go!" and he backed away with a flourish meant to communicate that the conversation was over and he was never, ever moving out of my house. Well, then.
Chickadee protested because she was certain that if Monkey starts learning how to drive, that's less time behind the wheel for her. And that would be unacceptable. It wasn't until I clarified that—much as we'd done with her—the permit-getting is intended to start that one-year clock before license testing but does NOT mean driving is going to commence immediately that both of them relaxed a little. Still, they both kept saying no.
Finally I put my foot down. "YOU ARE GETTING YOUR PERMIT NEXT WEEK," I declared one day, pointing what I hoped was a stern and commanding finger at my youngest. "YOU WILL STUDY FOR THE TEST AND YOU WILL GO AND TAKE IT AND PASS AND HAVE A PERMIT. THE END. AND YOU—" I continued, pointing that finger at his sister, "WILL BE ENCOURAGING AND HELPFUL OR YOU WILL BE SILENT." Both kids looked at me, looked at each other, and burst into peals of laughter. I guess my commanding finger needs some work. NEVERTHELESS, the gauntlet was thrown.
Monkey was still quite nervous. On Sunday I told him we would be going to the DMV Wednesday morning. "Already??" he said, as if we hadn't been talking about this for a solid month.
"Already!" I said. "You'll be fine." He looked unsure. It was time to pull out the last weapon in my arsenal. "If you pass the test and get your permit we'll stop for donuts on the way home to celebrate."
"GOTTA GO STUDY!" he called over his shoulder, as he ran off to review the manual again. (Hey, my parenting philosophy has always hinged on bribery. I see no reason to change now.)
Wednesday morning we headed out bright and early. The DMV wasn't even that crowded. We waited about 10 minutes and then our number was called. We did our paperwork, he got his picture taken, and then the clerk directed him to computer station 5 to do his test. "You've got this!" I called, as he headed off.
I sat down in the waiting area. And then the power went out.
It never fails to amuse me when power is lost in a public area. The ROAR of surprise/displeasure is hilarious. I mean, I get that it's inconvenient and everything, but it's not like somebody died. The lights flickered, then went out again. And about ten seconds later, everything came back on.
For a moment I wondered if this was going to throw Monkey off so badly that he'd fail the test. Then it occurred to me that maybe his computer was no longer showing the test and he didn't know what to do.
"Honey? Do you need me to reset that for you?" Another clerk—not the one who'd helped us, but one in visual line with where he was sitting, I guess (I couldn't see him)—noticed him sitting there, and went and got his test back up for him. I didn't hear any yelling or complaining, so I figured he was okay.
Then I waited. And waited. And waited some more.
Finally he emerged, face solemn. "Well?" I asked.
"I passed!" he said. He broke into a small victory dance. "VROOM VROOM CARD TIME!" We giggled and high-fived and eventually the counter where he needed to go was clear and we went up and got his temporary permit.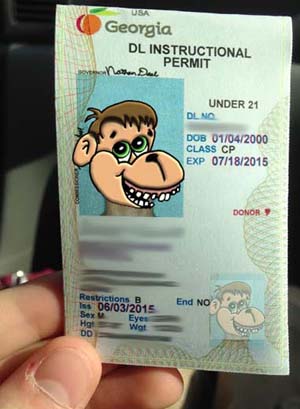 I think he looks very handsome, don't you? (What…?)
As we walked back out to the parking lot, I asked him if he wanted to drive home. I suspect asking him if he'd like to be covered in tarantulas would've received a warmer reception.
"VROOM VROOM CARD IS ONLY FOR VROOM VROOM NOISES!" he insisted. "NOT FOR ACTUAL VROOM VROOMING! NO THANKS!"
(I wouldn't have let him drive, anyway, without any actual practice. I just enjoy his horrified reaction.)
"You know," I said, as we headed donut-ward. "You ARE going to learn to drive. Not right away, but you will."
"NOT TODAY! Today I am going to eat donuts. Please and thank you."
He's a kid with his priorities in order. And manners. Especially when it comes to donuts. Eclairs before freedom! Or something like that.
Baby steps, right? Itty bitty vroom vrooms.