Monkey is not recovering as quickly as I'd hoped, plus he doesn't really like to be coddled when sick. Well, he likes me to fetch him things, sometimes, but for the most part he just wants to lie down in a dark room and cough in a way that makes me wonder if maybe he has tuberculosis rather than the flu. My constant, "Honey, do you need anything?" prodding is both annoying to him and doesn't fulfill my need to MAKE IT BETTER, so I have to content myself with making toast, mostly. In case you were wondering, yes, I DO spread the butter all the way to the edges. Because LOVE.
I did manage to sneak out briefly because the other kid (still not sick! everyone knock on wood!) has an upcoming school competition for which she requires pantyhose. (Apparently the competition is taking place in 1985….) Confused by the bright orb in the sky and the fresh air around me, I drove to my closest Big Box Store to procure said pantyhose, and then decided to actually LOOK AT SOME BOWLS just in case there was something wonderful there. And there was!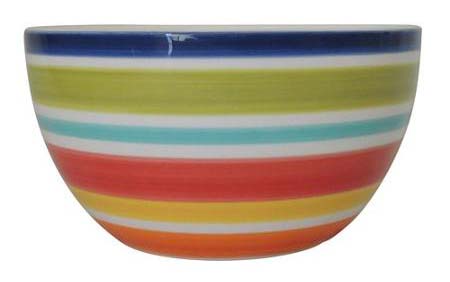 (Here you understand "wonderful" to mean "colorful and cheap.") We are now the proud owners of 6 new bowls which are NEARLY the same size as the rest of our bowls, and these are rainbow-y and make me happy, plus they were $2 apiece. I will remind myself of this when I start breaking them. Or maybe you will remind me? Thanks.