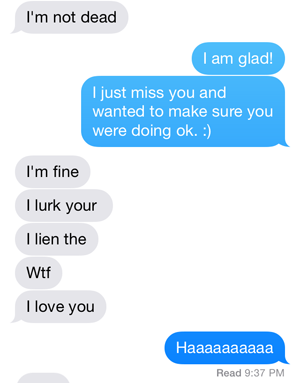 I actually started posting again, but a few people noticed that Monkey was nowhere to be found. Well, he rudely left us to spend some time with his father over the school break. (I kid! He is always very polite.) He was away for a bit and I tried very hard not to miss him. I failed.
Have I mentioned how much I love the kids having iPhones? I love the kids having iPhones. Of course, for the first week Monkey was gone, I didn't even hear from him. I finally sent him a series of ARE YOU DEAD? messages and he responded.
As you can see, he's really growing up, cursing appropriately yet succinctly (and with enough restraint that I don't have to admonish him). It brings a little tear to my eye. MAH BAYBEE.
Every milestone feels super-significant with this boy of mine. Even the ones where he's being a completely age-appropriate little turd. (Hint: Who was tasked with coming up with a project topic two weeks before this conversation? Three guesses and the first two don't count because c'mon now.) Otto and I have gotten into the habit of saying to each other, "Awwwww, he's being a regular teenager!"
And he is, mostly. That's pretty cool.
Monkey also—I hope you're sitting down, if you've been around here for a long time and picture him as a preschooler—turned 15. I KNOW. It's true, though. I wrote about it over on Alpha Mom, because he's still my baby, even if he is bigger than me.