In general I try to avoid the whole "and now let us brag about the wonderful presents we either gave or received, be they expensive or The Most Thoughtful Item ever or preferably BOTH" thing, because 1) NO1CURR, as my children would say, and also 2) I don't want to be that asshole. I mean, I figured there are plenty of other annoying things about me without any of that going on.
Nevertheless, I am now going to be That Asshole and brag, because Santa knocked it out of the park with this double-sided magnet that showed up Monkey's stocking this year: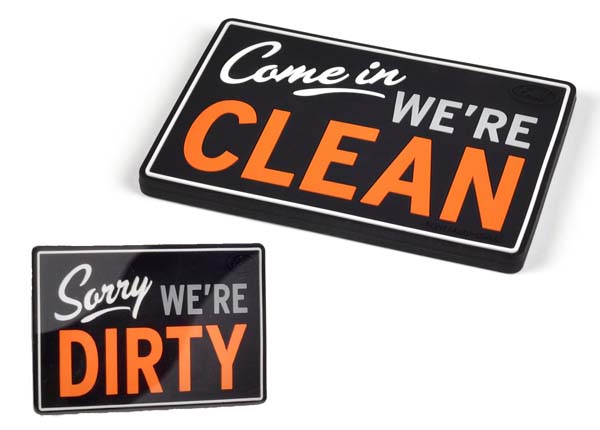 Every teenager's dream, AMIRITE?
Listen, Otto and I have now been married for… hang on… seven and a half years (!!) and there are certain fundamental character differences we've learned to accept in each other. For example: He does laundry and then puts everything away as soon as he's done. I, on the other hand, do the laundry, fold everything neatly in the basket, and then trip over the basket in the bedroom half a dozen times before I run out of clean underwear, live out of the basket for a few days, and finally decide it's time to put the laundry away. Stuff like that. Similarly, when Otto has a dirty dish of any kind, he places it directly in the dishwasher, if the dishes in there are dirty. I, however, place my dirty dishes in the sink IF I AM ACTIVELY COOKING and then take care of the dishes (loading the dishwasher and hand-washing as necessary) when I'm all done. This makes Otto slightly insane, because sometimes he comes along and tries to help while I'm still cooking, and he believes that you cannot wash dishes while dishes are in the sink. I, however, believe that leaving dirty dishes on the counter when the sink is RIGHT THERE is an abomination.
Fortunately, Otto and I can join together and fully express our love and exasperation when it comes to one darling Monkey, who believes himself utterly incapable of determining whether or not the dishes in the dishwasher are clean or dirty. I mean, how would you know? IT'S A MYSTERY! So every night after dinner, even though we've been eating dinner together for seven and a half years and for seven and a half years the protocol for a child at the table is to 1) ask to be excused and then 2) GO PUT YOUR DISHES IN THE DISHWASHER, Monkey will get up, fold his napkin and put it back in its spot, and then either leave his dishes on the counter (raaaaaaaaaage) or stand there, staring at the CLOSED dishwasher, and ask if the dishes are clean or dirty (RAAAAAAAAGE).
"You're silly," I said, the first few times. "Open it and LOOK."
"I can't tell," small Monkey would say, peering into the dishwasher as if it was the very Chamber of Secrets itself. Because an error in dish assessment could be fatal.
For a while we challenged him to figure it out. Dirty dishes were crammed in-between freshly washed ones on more than one occasion. "CAN YOU NOT SEE THAT THESE DISHES ARE—FINE, WERE—CLEAN???" I would bellow.
"I can't tell!" he would insist, tears filling his eyes at my raised voice, because I'm an asshole who yells at small children about dishes.
Over the years, things have improve a bit. Teenaged Monkey has come a long way. Say there's just a dish or two in the dishwasher; he's able to infer that dishes have recently been emptied and the remaining ones must be dirty. Sometimes he'll say, "There's no room in here," and then realize that means they're clean and need to be put away. And when in doubt, now he'll say, "Hey, what's that?" while pointing out the window, and when we turn to look, he'll LEAVE HIS FUCKING DISHES ON THE COUNTER ZOMG and run upstairs.
I'm willing to leave some room for the possibility that this is one of those things which is inexplicably more complicated for him because of autism—he is terrible with facial recognition, for example, and often oblivious to messes that make me crazy, so maybe he truly somehow is not registering the drippings of all those dirty plates on the dishwasher door—but it's crazymaking. Because JUST LOOK at the dishes. FIGURE IT OUT.
We're nothing if not problem solvers 'round here, though, hence Santa's brilliant, BRILLIANT decision to gift Monkey with the holy dishwasher magnet. No more confusion! No more guessing! When the magnet says CLEAN, the dishes are clean (please unload). When the magnet says DIRTY, the dishes are dirty (please put yours inside the magical machine). This magnet would singlehandedly restore peace and harmony to our home.
The magnet arrived on Christmas (December 25th). Today is December 29th, so we've had it for four days. Someone (not naming any names, oh no, I would never, and wouldn't it be funny if I had one kid who couldn't see and ONE KID WHO APPARENTLY CAN'T HEAR?) has—TWICE!—flung open the dishwasher WHILE IT WAS RUNNING because "it said CLEAN!"
I have proposed turning the magnet sideways while the dishwasher is running. The children have countered with a proposal that involves them never touching the dishwasher ever because clearly it's beyond them. At that point I may have mentioned an altogether alternate application of the magnet and then Otto said something about how I'm supposed to be the adult in this situation. WHATEVER.