I have been working out. If you've known me for any length of time, you know that this is not a thing I do because I like it or because I love being healthy or anything like that; this is a thing I started doing because I feel BLAH and squishy and weak and old. I have tried to develop a regular exercise regimen, on and off, at various times in my life. I've had a modicum of success for months or even years at a time, sometimes. And then slowly I give it up, because I never LIKE it enough to keep going just because it speaks to me. (I have friends who say they LOVE working out. I strongly suspect this to be the modern-day form of no soap radio.)
I do not love this thing, this carving out of at least 30 minutes every day to move my body and pause my mind. But I am kind of getting to where I can see that it's Not Awful. ("Not Awful" may be as close to "I like it" as I ever get. Baby steps.) The past few years have taken a toll on my health in ways I never could've predicted, and the one silver lining is that now when I exercise, I kind of appreciate it. (Sometimes Otto and I refer to my time on the elliptical as PEDALING AWAY THE RAGE and while I doubt anyone is going to patent that as a a tagline for a marketable exercise program, it works.)
These days, I move more, and talk less. I still don't move enough and talk too much, but it's progress in the right direction.
* * * * *
The kids are wrapping up the school year, which includes both kids finishing the VERY! LAST! online courses I will ever allow them to take. I don't know if my special little snowflakes are just particularly brain-damaged or if our state's online course system is especially difficult to follow (a combination of both, I suspect), but for years we have done this dance, semester after semester, and if I ever have to do it again I cannot be help responsible for any violence that may result. It goes like this:
Me: Did you turn in all of your work?
Perfectly Capable Child: Yep!
Me: Are you SURE? The deadline is TONIGHT. It's ALL done?
PFC: Everything's done! All turned in! GEEZ, MOM, CHILL OUT.
*days pass*
*NastyGram YOUR CHILD IS FAILING MY COURSE PLEASE CHECK FOR MISSING WORK emails land in my inbox*
Me: YOU DIDN'T HAND IN ALL YOUR WORK! YOU'RE FAILING!
PFC: What? No! I did! I swear! I mean, I think! That's so weird!
Me: GET IT DONE RIGHT NOW!
PFC: Okay, okay, GEEZ.
*days pass*
*next deadline approaches*
Me: Is ALL of your work in this time?
PFC: Yes! I swear! It's all done!
Me: Good. I'm glad you learned from what happened before.
*days pass*
*NastyGrams arrive*
*my head explodes*
It's almost over. And no child of mine will ever take another online class while living under my roof, world without screeching banshee of a bitchy mother, amen.
* * * * *
So here's some irony for all to enjoy: Despite the online Virtual School Angst, and despite the fact that getting Monkey enrolled at our local high school in January practically required an act of Congress (and occurred among many assertions from certain administrators that there was "no possible way" he would succeed in this set-up), a certain boychild of whom I am extraordinarily fond made the top honor roll for the year. As in—yeah, I crunched the numbers, because I'm a dork like that—the one that only 3% of the student body makes. I'm bragging, right? I mean, it sounds like bragging, except I had nothing to do with it, and I hope that the folks who gave us such a hard time back in December will take this as their cordial invitation to SUCK IT and get out of my kid's way, but whatever. He worked hard. I'm proud of him.
That said, we did not attend the award ceremony where he was supposed to get his HEY SUPER SPECIAL HIGH GRADES KID certificate… because 1) such events are really not Monkey's bag and I wasn't going to force him and 2) we were at home frantically trying to get him through the remainder of his missing Virtual School assignments before the last deadline. (I told you! IRONY!)
For some reason, this prompted our neighbor (who has kids at the high school as well, of course, as well as one billion feral cats) to come knock on the door at 9:45 that night and SCARE THE CRAP OUT OF ME. I was in my pajamas, not expecting anyone, having just dealt with threeish hours of alternating IT IS NOT MY FAULT and I AM GOING TO FAIL THIS CLASS AND THE WORLD IS GOING TO END, and suddenly there was a rap-rap-rap at the door and the dogs went ballistic and it was all because the neighbor was there to see if maybe I was drunk.
I mean, I assume. She said in what I took as an accusing voice (probably it wasn't; my maternal guilt tends to wear disapproval-colored glasses), "You missed Honors Night. I brought you a program." I am SURE she was just being nice, not just wondering why in the world my child received a top honor at school and none of us showed up. THE GOOD NEWS is that I wasn't drunk! The bad news is that after hours of Virtual School Wars and clad in ratty pajamas, I probably looked like I was. So that's awesome.
* * * * *
Shout-out to my oldest: During the Great Virtual School Meltdown, Chickadee took it upon herself to pull a chair over to the computer, open up the prized gummy bears she'd received as a gift and was saving for a special occasion, and commence calming Monkey down via soothing words and—whenever that failed—popping a gummy bear into his mouth and saying, "Shhhhh, chew." (At one point I am pretty sure I heard a garbled, "Chickie, I can't BREATHE!" because he had so many in his mouth. He was really stressed out, and she was committed to her role.)
The work got done. The gummy bears are all gone. Sometimes my kids surprise me.
* * * * *
When I do the elliptical, usually the dogs come into the bedroom with me and take a nap on the ZOMGTHEBIGBED. I work and sweat and they snore. Then when I'm all done, I like to have a snack to replace my energy (usually a banana or some carrots). The dogs try to convince me that they used up lots of calories sleeping and need a snack, too. Goobers.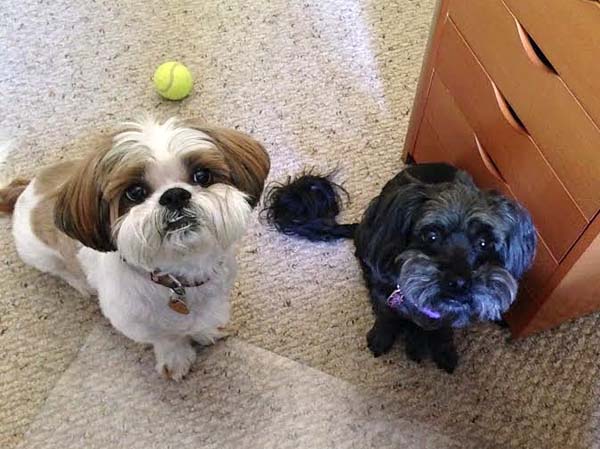 That has nothing to do with anything, I just like to show you how ridiculous my dogs are and how my office is filled with pitifulness.