When we last spoke (I know, I know; we don't really speak so much as I type and sometimes you comment, but "when we last spoke" feels more mellifluous than "the last time I bothered to post something"), nearly a week ago, I was a few days in to the latest Germfest, which continued to permeate every corner of our family and house at an alarming rate. Yesterday I still felt like my death might be imminent, but I dragged myself around the house Cleaning Everything (again!) and washing sheets and opening doors (it was a beautiful day, not that it matters when you're busy trying not to die) and praying for a general restoration of health here at Casa Mir.
At the same time I was having myself a jolly little existential crisis about work and life and my children and my marriage—when I have a crisis, I like to do it up, after all—and thus have I arrived at this particular Monday morning: tired, still sick, about five pounds lighter than I was last week, and panicked about… pretty much everything.
Here let us pause while I assure you that everything is fine. Mostly. Kind of. As my father loves to remind me, my life is never boring. And our challenges often feel unsurmountable, sure, but in the grand scheme of what is truly bearable in a life, I should not complain. I know this.
When I first started writing here, almost 10 years ago, I had little kids and no job and, at least it felt at the time, tons of stories to tell. Although I knew from the outset that I was bound to shield my children in various ways—no real names, no pictures—that whole my story vs. their stories thing was a lot easier back then. It's gotten trickier through the years, and I don't know if I've always gotten it right, though I try my best. Everyone's lives overlap, y'know? I neither buy the Privacy Police's scolding that as writers we can never discuss other people nor the "MY STORY IS UP TO ME" chest-beating of those who disregard everyone else in their personal orbits. For me, there's a truth somewhere in the middle, but I feel like lately I'm having trouble finding it.
So I've been writing less, and I'm unhappy about writing less, in large part because I'm unsure if I'm doing "the right thing" or "copping out." Maybe it's a little of both.
I've also been writing less because I've had less time for it overall, and while as a general rule I want to punch myself in the face any time I'm tempted to say I'm ZOMG SO BUSY (because, honestly, who isn't? busy is hardly a unique affliction), a lot has changed for my family in the last couple of years in general and in the last few months in particular. The end result is that more and more of my time is occupied, and I'm coming to a place where I need to be more intentional about how I allocate myself, and I'm struggling with that.
In the plus column: Part of the busy busy busy is an unexpected boon of freelance work, which is good because WORK = $$$ and also because WORK = GOOD FEELS at a time when I have put a lot of career stuff on the back burner to tend to other life things for a long time. I do not feel one iota of regret over shelving work to take care of those other things, mind you, but as someone who derives a fair amount of self-image, self-esteem, whatever, from being a productive member of society through doing worky-stuffs, I have come to realize that working is important to me in a lot of ways beyond just receiving a paycheck. (Yeah, most people knew that about themselves already, but I am a slow learner.)
In the question mark column: One of my newest gigs is something that could actually become a full-time regular-person job, and as someone who has happily pieced together a freelance life for 8+ years, I am both tempted and terrified by the prospect of returning to that life. I love freelancing. I love knowing that when one job reaches its natural conclusion or a client runs out of money that I still have work. I love the flexibility. I love that I always get to do new things. On the other hand, I love this new gig and this client and there's plenty of things I've given up by not having a "regular" job, and I am so, so tempted. So I'm wrestling with whether this is something I want, and if it is, if it's something that can even work within the current demands on my time.
In the… let's not call it minus, but let's call it "continuing challenge" column: Regardless of their relative anonymity, the same things that make my children's lives more difficult to discuss these days are the very same things that end up occupying an inordinate proportion of my available time, and make for greater silence here AND less time to devote to whatever work I need to be doing. The reality of this life is that I have two teenagers I love and adore beyond all reason, and they both just happen to have a passel of special needs, and as such, they have a lot more appointments and other time-taking requirements than "regular" kids their ages. I could be upset about that, I guess. Sometimes I am—there are those moments when I'm scrolling through Facebook or whatever, and my friends with kids the same ages are joking about being taxi services or not having seen their kids for days and I feel a stab of jealousy or sadness (or both, because I can multitask like that) because the bottom line is that this is not the life I pictured, for any of us. Some days it is really hard and feels like a thankless slog and I am frustrated and sad and find myself wishing for five minutes to myself or to have a single night's sleep that isn't postponed or interrupted by relentless worry about what the future may hold.
And yes, at the same time, I know we are relatively lucky, which makes the hard stuff even harder, in a weird way. Invisible disabilities bring their own special set of challenges to the table, but (at least for me) the hardest part is this pervasive dismissal by others of what cannot easily be seen. It can be very isolating. That's part of why I've written about it over the years, because it's helped me find other folks who understand, and maybe even helped those who aren't experiencing similar things develop a bit of empathy.
But at a certain point, I hesitate to say "hey, something awful happened to Monkey at school." Part of it is because I fought tooth and nail to put him in the school situation he's now in, and I feel guilty, even though what happened is not my fault (not directly, anyway). Part of it is because I don't want the school to feel like I'm trashing them publicly, even though I'm unhappy with how it was handled and again, relative anonymity, blah blah blah. And I want us to move on and I don't want to dwell on it and I am just profoundly saddened that as a parent I have to figure out how to balance my child's social-emotional and educational needs against his safety and try to make a judgment call about what is acceptable risk. I don't know that I'll ever wrap my brain around it, fully.
And at a certain point, I came to realize (if not accept) that what we'd been treating for years as "a series of crises" when it came Chickadee's needs is just… the way it's going to be for a while. The nature of her issues is cyclical. There is no point at which we all get to dust off our hands and say, "Well, that's sorted." Everyone involved (including her) hopefully reaches a point where life is more manageable and the cycles are more predictable and less severe, but for the foreseeable future, this is our life. Or, to be accurate, this is her life and we have to support her as best we can without letting it take over the lives of everyone else in our household. That can feel really hopeless and depressing, if I let it, or it can feel like a small price to pay to share this planet with an amazing person who just happens to have a bigger and spikier load of baggage than feels even remotely fair. I aim for the latter attitude, of course, but that's a hard thing to talk about, too. (P.S. FUN FACT: In a situation such as this, realizing that you have just over two years left to situate such a human for independent living OR, alternatively, that the "accepted schedule" of life needs a big adjustment is a giant WHAP in the face, every day, to all involved. Trust me on this one.)
In the midst of all of that, Otto and I pay lip service to giving our marriage the time and attention it deserves. We are fine—he remains, ranking even higher than the dogs (whether he believes it or not), one of my tenuous anchors to sanity—but our relationship deserves a lot more nurturing than life seems to allow right now. There are never enough hours in the day, never a time when "romantic" seems to take precedence over "practical," and that can't go on forever, either. We both know it, we're both committed to carving out that mystical Time For Us, and yet… it's just hard. Life gets in the way, when the US part of things should be more of an integral part of that life.
So (1600 words later) in summary:
* Life is hard (duh).
* I have some work decisions to make.
* My life feels out of balance and I'm struggling to fix that.
* Writing about it often feels difficult.
* Not writing about it often feels difficult.
This space suffers, because of all of the above.
I'm not quite ready to ride off into the sunset, or anything, but this is my attempt at the blog equivalent of a GONE FISHIN' sign, I guess. Except that my sign says GONE OVERWHELMED, the overall message is the same: I'm away for a bit, trying to reset and figure some stuff out. Not that this hasn't been obvious for the last however long, anyway, but I guess I figured it was time to say so.
By way of apology, I offer you this picture of my ridiculous dogs adopting their traditional positions here in my office.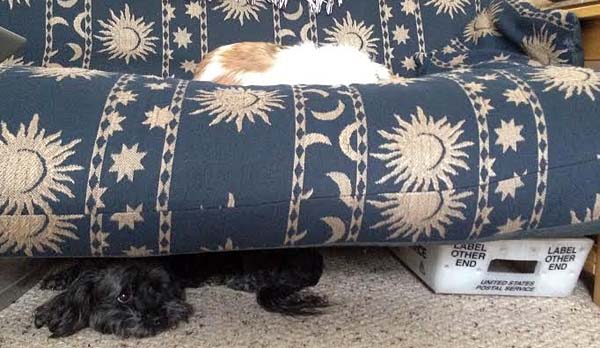 Licorice likes to hide underneath in her "cave," there, and Duncan prefers to curl up on the futon, itself. Instant doggie bunk!