Last night, Otto and I had a date night. AS PEOPLE DO. "People" being "people other than us," usually, because we are not always so super-fantastic about that whole "nurture your couple relationship" thing. It's not that we don't love each other (we do!) or enjoy each other's company (he's my favorite!), it is just that we're old and tired and outnumbered by the other three sentient creatures in our household.
We don't go on a lot of dates, is my point. But we're working on it, because I hear this rumor that someday my children might grow up and move out of the house. I'm skeptical, but it's what I hear, so who knows. Should they ever leave, the idea is that Otto and I need to make sure we still like each other.
So, last night: Date night! On a THURSDAY! Like the wild and crazy folks we are. A date on a school night; it must be that we really, really, REALLY needed this time to reconnect and get romantic. Or that we had the chance to see Colin Mochrie and Brad Sherwood perform. Either way.
[Unpaid, unsolicited plug: If you are now or ever have been a fan of Whose Line Is It Anyway? or enjoy any sort of improvisational comedy, you should go see this show. It was hilarious. We are longtime Whose Line fans and so bought tickets pretty much as soon as the tour was announced, but even so, I was blown away by how good it was and how different it is to be sitting there in the audience instead of watching it on TV. I mean, sure, yes, any night out with my sweetie would be great, but this was spectacular entertainment. Go. It's funny.]
Here's the thing about having teenagers: It turns out, you're allowed to leave them home without adults! CRAZY! I mean, I can't speak for Otto, but for a looooooong time it felt like we were stuck in that purgatory between "need a babysitter" and "can totally be trusted at home alone for whatever necessary period of time." We've been leaving one or the other or both of them home alone for short stints for years, of course, but nighttime was somehow more complicated, for a while, with the occasional late-night phone call from Monkey ("When are you coming home? I HEARD SOMETHING WEIRD.") or Chickadee's special brand of being in charge (which generally included turning on, and leaving on, every single light in the house).
Now, though, we've reached the golden age of parenting (HAHAHAHAHAHAAA; every current parent of a teenager just burst into hysterical laughter, reading that) where we can just say, "Hey, we're going out tonight, we'll see you later" and then we GO and no one dies or burns the house down. It's awesome.
The only problem is that—while my children are lovely and charming and good-hearted—organization isn't so much my kids' strong suit. And both of them have an amazing ability to overlook… uhhh… almost everything. It's true that Otto and I don't sneak off without them very often, and it's true that I don't worry about them when they're home without us (in terms of safety or whatever), but it's ALSO true that the last couple of times we attempted this, we came home to food left out on the counters, one child who'd "forgotten" to go to bed, dishes everywhere, etc. As we're currently working on organizational skills with both kids and doing a lot of visual cueing, I decided to leave them an instruction list in a highly visible location.
Did I feel a little helicopter-y and anal, leaving them a numbered list of instructions? Yes. Yes, I did. But when we left, Chickadee was't home yet, and Monkey was gaming online with his friends and nodded and waved when I asked if he was listening to me, and didn't even flinch when I bent my head down to his webcam and said, "Hey guys! Have fun!" to his buddies on Skype. Both children had been told where the frozen pizza (fancy!) was and what time we'd be home and what was supposed to happen in-between, but I just figured a list would be HELPFUL.
When we got home, it had been fully annotated for us.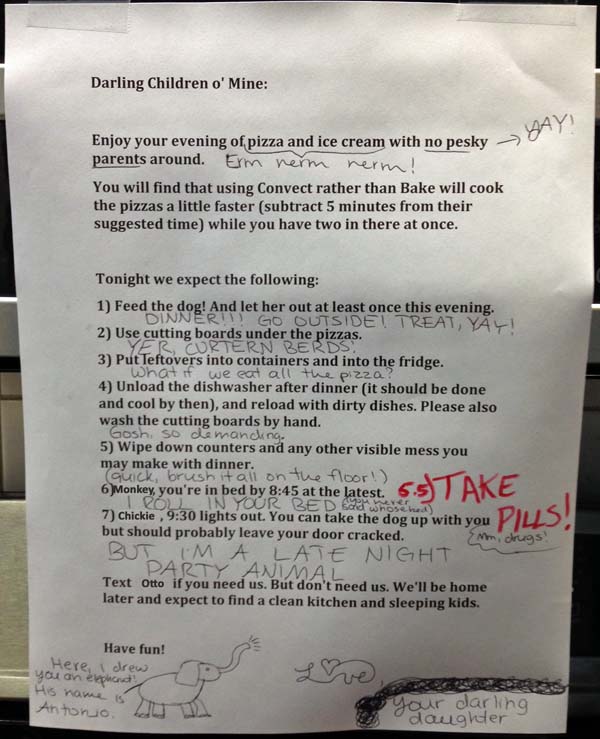 (Note my added-in-red-pen item 5.5, as that whole organizational issue that I'm constantly bitching about brings to mind various metaphors about apples and trees. Ahem.)
Here's the great news, though: The list was amusing enough with all of the additions, but the kitchen was spotless. Sure, probably Monkey did all of the cooking and cleaning while his sister worked on her commentary, but whatever works.
This morning I went in to Chickadee's room to wake her up at o'dark thirty and she opened one sleepy eye and said, "You're back! Did you meet Antonio?"
In summary:
1) Date night: good.
2) Comedians: funny.
3) My kids: also funny.
4) Empty nest? I'm in no rush.